Biden Administration Grants Federal Student Loan Forgiveness to Millions in Recent Debt Relief Initiatives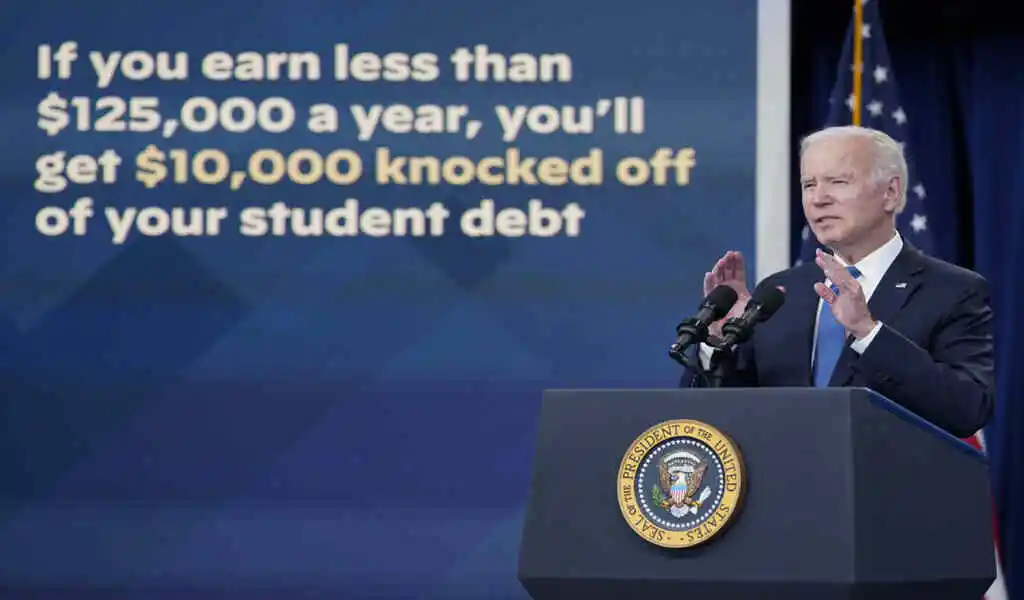 (CTN News) – As part of its many student debt relief programs, the Biden administration has forgave the federal student loans of millions of borrowers during the past two years. There will be more cancellations soon.
People with disabilities, those who have worked in public service, and those who have been victims of fraud or misinformation on the part of their educational institution are among individuals who may be eligible for loan forgiveness through these programs.
Even though they graduated a long time ago, borrowers with older student loans are receiving special attention from the current administration. Student loan forgiveness has already been extended to hundreds of thousands of people in this category, and further initiatives are being developed to offer additional avenues for relief.
Student Loan Forgiveness Through IDR Credit
At this time, the IDR Account Adjustment is being put into place by the Department of Education. Borrowers who have not been making payments under income-driven repayment plans are still eligible for the department's program that counts past loan periods toward 20- or 25-year student loan forgiveness terms.
A borrower's monthly payment is determined by an IDR program formula that considers their income and household size. Their payments are modified every year in accordance with any changes in their income.
The forgiveness of any outstanding balances could be possible after twenty or twenty-five years, whichever comes first, depending on the borrower's loan type and the repayment plan in place.
Loan forgiveness has traditionally only been granted for periods of time spent in an IDR plan. However, the Education Department can include various types of deferrals and forbearances, as well as numerous payment periods that have already passed, under the account adjustment. Debt cancellation can be accomplished more quickly if this is done.
Discharges are possible for those who accrue sufficient credit through the account adjustment to meet the requirements for IDR student debt forgiveness, regardless of whether they are enrolled in an IDR plan or not.
Over 800,000 borrowers have already approved the change to cancel their school loans. Borrowers with undergraduate loans alone whose initial enrollment was in 2003 or earlier, or with graduate loans whose initial enrollment was in 1998 or earlier, are the primary target of this.
Be advised that the account modification does not apply to all loan periods for student debt forgiveness. For example, some brief periods of forbearance might not count, and neither do in-school deferments, bankruptcy, or the majority of default periods.
Nonetheless, a potentially substantial perk of the adjustment initiative is that, up until December 31, 2023, borrowers who consolidate their student loans through the federal Direct loan program could receive the IDR credit for the entire consolidated loan balance, regardless of how many new loans they took out after that.
Student Loan Forgiveness Under Upcoming HEA Program
Those who have paid off their student loans for twenty or twenty-five years but aren't eligible for instant forgiveness through the IDR Account Adjustment (maybe due to certain loan periods that don't qualify) can still obtain and keep the IDR credit.
After that, in order to reach their loan forgiveness milestone, they would need to keep making loan payments under the IDR plan. Even if they don't qualify right away, the IDR credit that comes with the account modification would get them closer to a discharge.
Nevertheless, there might be an alternate route to relief for these debtors. The Biden administration is developing a new scheme to cancel student loans under the Higher Education Act.
Officials are targeting borrowers who commenced payments on their student loans 25 years ago as a potential target group for relief, although the specifics of this program are still being worked out through the drawn-out process of negotiated rulemaking. This may apply to anyone who dropped out of school in 1998 or earlier.
A second round of negotiated rulemaking was completed last week by the Education Department, and another session is slated for December. By 2024, the department should have ironed out the program's essentials.
Shorter Student Loan Forgiveness Terms Possible
The new student loan forgiveness programs proposed by Vice President Biden could help more than simply people who graduated twenty or twenty-five years ago.
Public servants who have not yet applied for the Public Service debt remission program's remission of their student loans may be eligible for assistance through the new Higher Education Assistance Act's debt forgiveness program or the IDR Account Adjustment.
Periods preceding PSLF's creation in October 2007 are not eligible for inclusion. The PSLF program only requires borrowers to make qualifying payments and have qualifying employment for a discharge after 10 years, yet this still leaves 16 years of potential eligibility.
So, even if you haven't applied for it yet, you could be eligible for student loan forgiveness if you graduated in 2013 or earlier and have enough PSLF credit.
At the same time, a component that can hasten the forgiveness of IDR student loans for borrowers with lower initial starting balances will be added to President Biden's new SAVE plan next summer.
On July 1, 2024, the Education Department announced that "borrowers with original principal balances of $12,000 or less will receive forgiveness of any remaining balance after making ten years of payments, with the maximum repayment period before forgiveness rising by one year for every additional $1,000 borrowed."
This program is meant to help those who have taken out loans with balances of $12,000 or less pay them off quicker. For borrowers who enrolled in SAVE and graduated in 2014 or earlier and had qualifying original balances, this might be the first step toward getting their student loans erased.