Magnitude 5.9 Earthquake in Myanmar Shakes Homes in Chiang Rai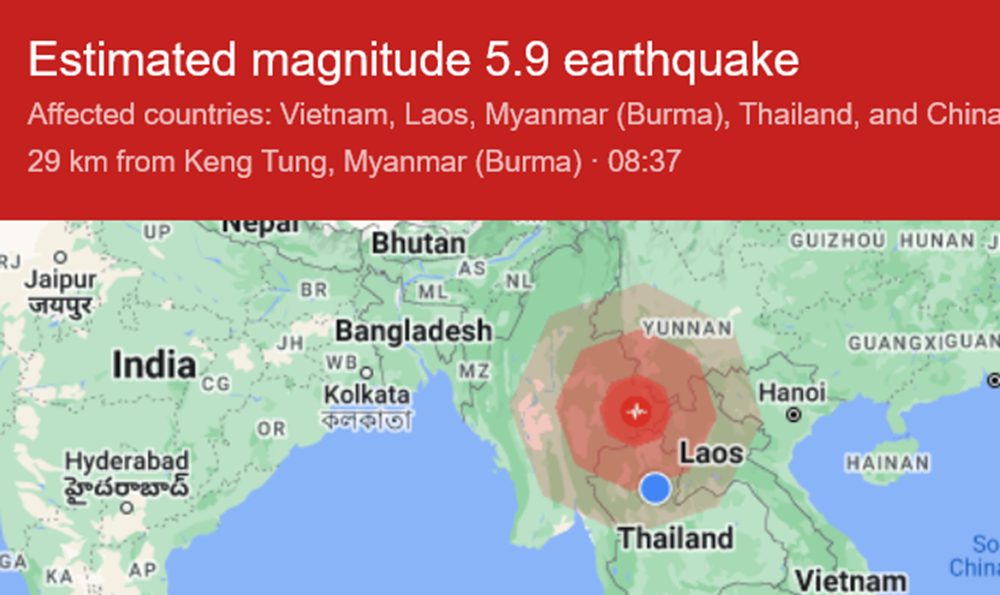 Estimated magnitude 5.9 earthquake has struck at 8:37 am today 29 km from Keng Tung, Myanmar affecting northern Thailand, Laos, Vietnam and China.
The earthquake could be felt in Chiang Rai province registering 3.6 on the Richter scale. The Thai Meteorological Department's Earthquake Observation Division reported no damage or injuries. The tremor was felt in Mae Lao, Muang, Phan and Mae Suai districts of Chiang Rai.
Natural disasters such as floods, tropical storms, and forest fires are prevalent in northern Thailand, but weak to moderate (below magnitude 6.0) earthquakes are fairly rare, and earthquake danger should not be disregarded.
Three noteworthy earthquakes have struck northern Thailand in the recent two decades, causing extensive damage and/or loss of life.
An M6.3 earthquake in neighboring Laos on May 16, 2007 damaged public facilities, including a school, a hospital, and historic landmarks.
On March 24, 2011, an M6.9 temblor struck near the Thai-Laos border, killing one person in northern Thailand and was felt in the northwest as well as in Bangkok.
Most recently, the M6.1 Mae Lao earthquake in Chiang Rai, northern Thailand, on May 5, 2014, was one of the most significant seismic events ever recorded in the country. This quake caused substantial damage to over 15,000 buildings and infrastructures, as well as one fatality and 107 injuries.
The Department of Disaster Prevention and Mitigation in Chiang Rai estimates a total economic loss of USD 300 million.
Thailand has 15 fault lines that go through 22 regions. Scientists are especially concerned about the Mae Chan fault line, which might cause a magnitude 7 earthquake in the near future. It is approximately 100 kilometers long and runs across the provinces of Chiang Mai and Chiang Rai.
The Sri Sawat and Three Pagoda fault lines, which run across the western region and are near to the country's largest artificial water catchment, the Sringarind dam in Kanchanaburi province, are also under intense scrutiny.