North Korea Launches Nuclear Sub That Carries 10 Nuclear Missiles
According to Naval News, North Korea has launched its first operational "tactical nuclear attack submarine" and deployed it to its fleet that patrols the waters between the Korean peninsula and Japan.
North Korean leader Kim Jong Un, who attended the launch ceremony on Wednesday, said arming the navy with nuclear weapons was an important priority and promised to transfer more submarines and surface ships outfitted with tactical nuclear weapons to the naval forces, according to Naval News.
"The submarine-launching ceremony marked the start of a new chapter in strengthening the DPRK's naval force," KCNA stated, using the initials of the North's official name, the Democratic People's Republic of Korea.
Submarine No. 841, called Hero Kim Kun Ok after a North Korean historical figure, will serve as "one of the core underwater offensive means of the naval force" of North Korea, according to Kim.
North Korea intends to convert its existing boats into nuclear-armed assault submarines and to expedite its efforts to create nuclear-powered submarines, according to Kim.
"Achieving rapid development of our naval forces… is a priority that cannot be delayed given… the enemies' recent aggressive moves and military acts," North Korea's Kim stated in a speech, presumably referring to the US and South Korea.
Analysts first noticed indicators that at least one new submarine was being developed in 2016, and state media in 2019 showed Kim examining a previously undisclosed submarine that was built with "his special attention" and would be operational in waters off the east coast.
State media did not identify the submarine's weapons systems or disclose where or when the inspection took place at the time, but observers claimed the new vessel's apparent size indicated it was built to carry missiles.
It was not immediately known what missiles the new submarine will carry. North Korea has tested a number of submarine-launched ballistic missiles (SLBMs) and cruise missiles.
It's also uncertain whether North Korea has finished developing the miniaturized nuclear warheads required for such rockets. Analysts believe that if the North resumes nuclear testing, mastering smaller weapons will be a crucial priority.
Only the experimental ballistic missile submarine 8.24 Yongung (August 24th Hero) is known to have launched a missile.
"This is most likely intended to field the navalized version of the KN23, which they've acknowledged as a delivery system for their compact nuclear warhead," said Ankit Panda of the Carnegie Endowment for International Peace, referring to the North's test-fired short-range SLBM.
The submarine's massive sail appears to have room for both ballistic and cruise missiles, according to Tal Inbar, a senior research fellow at the Missile Defence Advocacy Alliance.
"It won't be long before we see it launch missiles," he wrote on X, the formerly known as Twitter.
The launch ceremony coincides with North Korea's 75th anniversary of its birth day on Saturday, and it follows reports that Kim planned to visit Russia this month to meet with President Vladimir Putin to discuss military shipments to Moscow.
South Korean President Yoon Suk Yeol met with Chinese Premier Li Qiang in Jakarta on Thursday, urging Beijing to do more as a member of the United Nations Security Council to confront North Korea's nuclear threat.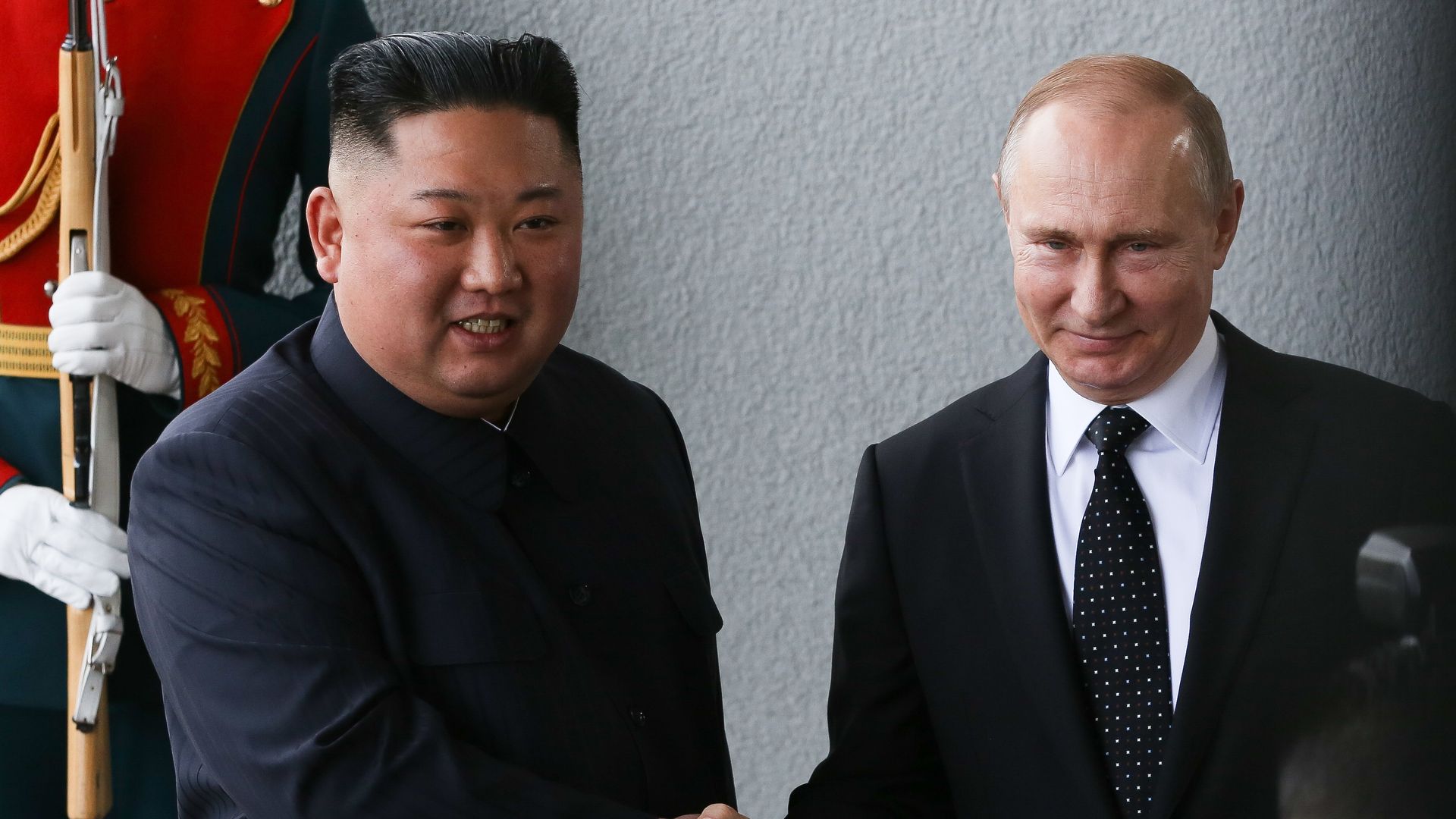 Meanwhile, White House national security adviser Jake Sullivan warned North Korea on Tuesday against supplying Russia with armaments during its conflict with Ukraine, saying Pyongyang will "pay a price" if it follows through on a planned transaction.
Sullivan told reporters that conversations between North Korea and Russia about Pyongyang's military backing are "actively advancing," perhaps leading to top-level talks.
"The Russians have imbued them with increased intensity," Sullivan said of the talks.
Sullivan also warned that if North Korea decides to transfer weapons to Russia, the international community will retaliate.
"Providing weapons to Russia for use on the battlefield to attack grain silos and the heating infrastructure of major cities as we head into winter, to try to conquer territory that belongs to another sovereign nation — this will not reflect well on North Korea, and they will pay a price in the international community," he said.
North Korean leader Kim Jong Un may fly to Russia to meet with Russian President Vladimir Putin, according to US officials.
Officials also stated that Russia would purchase weaponry from North Korea in exchange for food and crucial technology.
North Korea has a strong defence production base for artillery rounds, which might aid Russian forces fighting in Ukraine.
Concerns over the two countries' burgeoning military cooperation have risen since Russian Defence Minister Sergei Shoigu visited North Korea in July.
Sullivan stated on Tuesday that Shoigu requested military assistance during his July trip. He claimed that Russia has become desperate throughout the conflict and is looking for further cooperation to further its goals in Ukraine.
"We have continued to squeeze Russia's defence industrial base, and they are now going about looking for whatever source they can find," he said.
The United States has already sanctioned North Korean businesses that supplied weaponry and ammunition to Wagner Group, a mercenary firm that fought on Moscow's side in Ukraine. However, there is no indication that Pyongyang has directly aided Russia's armed forces.
Washington has begun to warn that this may alter in recent weeks. Sullivan promised that the US and its partners will continue to try to persuade North Korea not to make a deal, and that the White House would publicly report on developments.
"We will continue to call on North Korea to honour its public commitments not to supply Russia with weapons that will kill Ukrainians," he said.
White House Warns North Korea Against Arms Sales to Russia Amid Ukraine Crisis