New York Gets One Of Its Wettest Days In Decades, as rain swamps subways and streets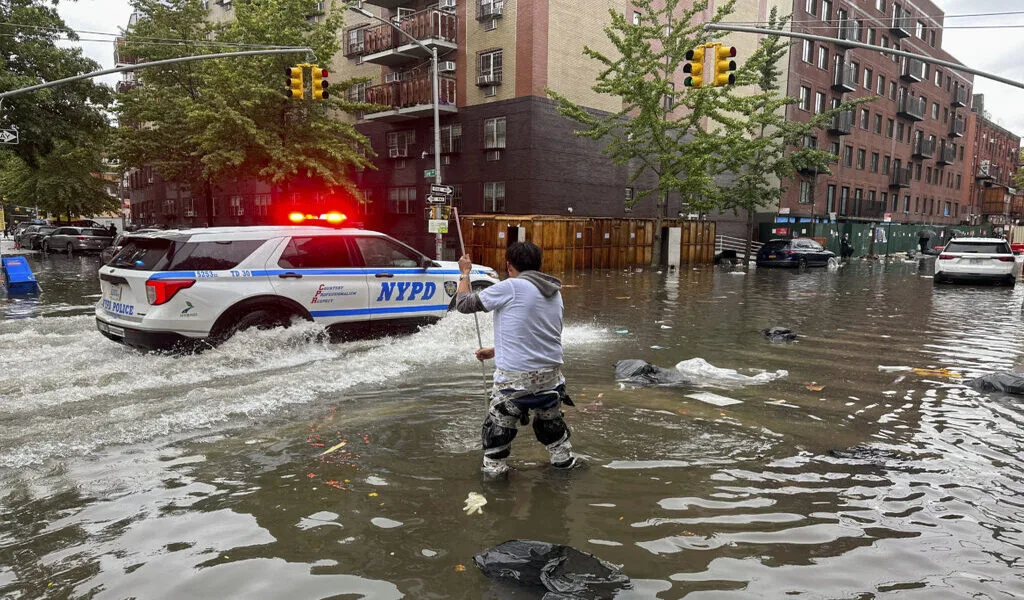 (CTN News) – On one of New York City's wettest days in decades, rain came crashing down on the metropolitan area on Friday, knocking out numerous subway and commuter rail lines, stranding drivers on roads, flooding basements and closing a terminal at LaGuardia Airport for hours.
By midday, areas of Brooklyn had received nearly 7 inches (18 centimetres) of rain, with at least one location receiving 2.5 inches (6 centimetres) in a single hour, as reported by weather and city officials.
John F. Kennedy International Airport received approximately 8 inches (20 centimetres) of rain, which was more than the previous September record set during Hurricane Donna in 1960.
And even more rain was predicted.
Flooding in New York City's basement apartments accounted for the deaths of at least 13 individuals two years after the leftovers of Hurricane Ida delivered record-breaking rain on the Northeast. There have been no reports of fatalities or major injuries from Friday's storm, but it has brought up some terrifying flashbacks.
Joy Wong lost three neighbours to Ida, including a young child. On Friday, water started lapping at the door to her Woodside, Queens, apartment complex.
"I was so worried," she cried out. Leaving became impossible since "outside was like a lake, like an ocean."
In a matter of minutes, the basement of the structure was practically completely submerged. When the family finally passed away in 2021, the basement was transformed into a games area. It has been annihilated at this point.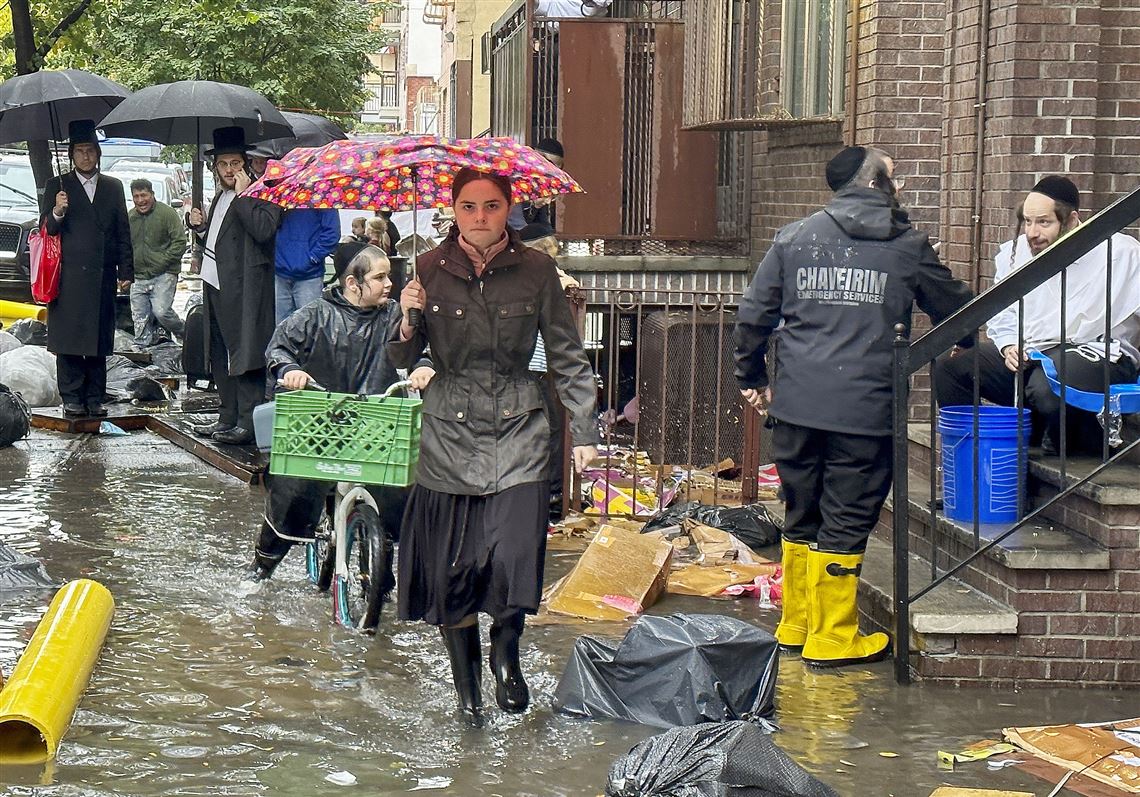 On Friday, the city received reports of six flooded basement apartments; nevertheless, all residents were able to safely evacuate.
Both Mayor Eric Adams and Governor Kathy Hochul have issued emergency declarations and urged residents to remain indoors if at all possible. However, classes continued as usual and many people reported to work, all the while worrying about how they would get home to their families.
Almost all tube lines were either completely shut down, redirected or running behind schedule. Commuter rail service on the Metro-North line from Manhattan was disrupted for much of the day, although it slowly started up again in the evening.
Citywide bus service was interrupted, and 44 of the city's 3,500 buses became stranded, according to transportation officials.
"When it stops the buses, you know it's bad," Malachi Clark, a high school senior in Brooklyn, said after he was unable to get home by bus or subway. While school buses were operating, they only picked up a small percentage of the public school population, leaving many students with disabilities at home.
Mike Tags was among the lengthy queue of passengers waiting at Grand Central Terminal in the afternoon since his train had been cancelled. Workers on the railway had proposed some workarounds, but he doubted they would be effective.
Therefore, he decided to wait patiently till the doors opened.
Earlier in the day, the FDR Drive, a key thoroughfare on the eastern side of Manhattan, came to a complete halt. Some motorists gave up and walked away from their submerged automobiles.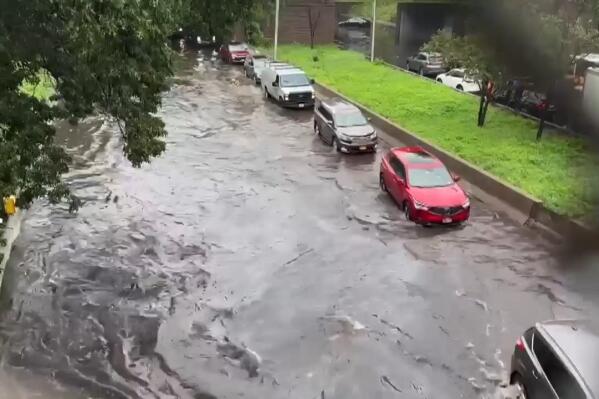 Priscilla Fontallio reported at 11 a.m. that she had been sitting in her car on a stretch of roadway that wasn't flooded but also wasn't moving for three hours.
"I've never seen anything like this before," she exclaimed.
While cardboard and other garbage floated by, workmen in South Williamsburg, Brooklyn, were up to their knees in water clearing out a clogged storm drain. To get around the flooded walkways, several individuals set up milk crates and wooden boards.
Due to flooding in the refuelling area, morning flights into LaGuardia were initially paused and then delayed. One of the airport's three terminals was closed for many hours due to flooding. Around 8 p.m., Terminal A reopened with usual hours.
Schools Chancellor David Banks told reporters at a press conference that a boiler at a Brooklyn school was smoking, likely due to water getting inside. Crystal Hudson, a city councilwoman, stated in an email that she needed volunteers to assist clean up another Brooklyn school's ground-floor classrooms.
The Long Island preseason match between the New York Rangers and New York Islanders was called off. And a sea lion swam out of her bloated pool in the Central Park Zoo, which had been flooded.
Zoo keepers claimed in a statement that she explored the area for a while after the zoo opened (despite the closure due to bad weather) before going back to the pool.
Jessie Lawrence, a resident of Crown Heights, Brooklyn, heard weird noises outside her flat on the fourth floor and awoke to the sound of rain dropping from the ceiling.
"The water was coming in thicker and louder," she claimed as she described opening the door to the hallway and hearing the water rushing down the stairs. The roof was dripping rainwater because of a leaky skylight.
New York City and its surrounding areas, including Hoboken, New Jersey, were flooded. New Jersey Governor Phil Murphy has ordered all but essential state employees to leave the building at 3 p.m.
Why is it raining so much? According to National Weather Service meteorologist Ross Dickman, the leftovers of Tropical Storm Ophelia over the Atlantic Ocean coupled with a mid-latitude system arriving from the west during a time of year when conditions off the ocean are particularly juicy for storms. And for 12 hours, this hybrid storm made New York its home.
According to Dickman, the National Weather Service predicted rainfall totals of 3 to 5 inches (7.5 to 13 centimetres) and informed emergency management that totals of over 6 inches (15 centimetres) were possible in some areas.
Less than three months had passed since a storm flooded the Hudson Valley in New York and flooded the capitol of Vermont.
According to meteorologists, the frequency of intense rainfall is expected to increase as the earth warms because storms are building in an atmosphere that can retain more moisture.
However, the adjacent water temperatures during Friday's storm were below normal, and the air wasn't particularly hot. Adam Sobel, a climate scientist at Columbia University, noted that this was the third occasion in two years that Central Park had seen rainfall rates of near 2 inches (5 centimetres) an hour.