FTX Founder Bankman-Fried's Legal Team Confronts Witness Intimidation Allegations With Fierce Defense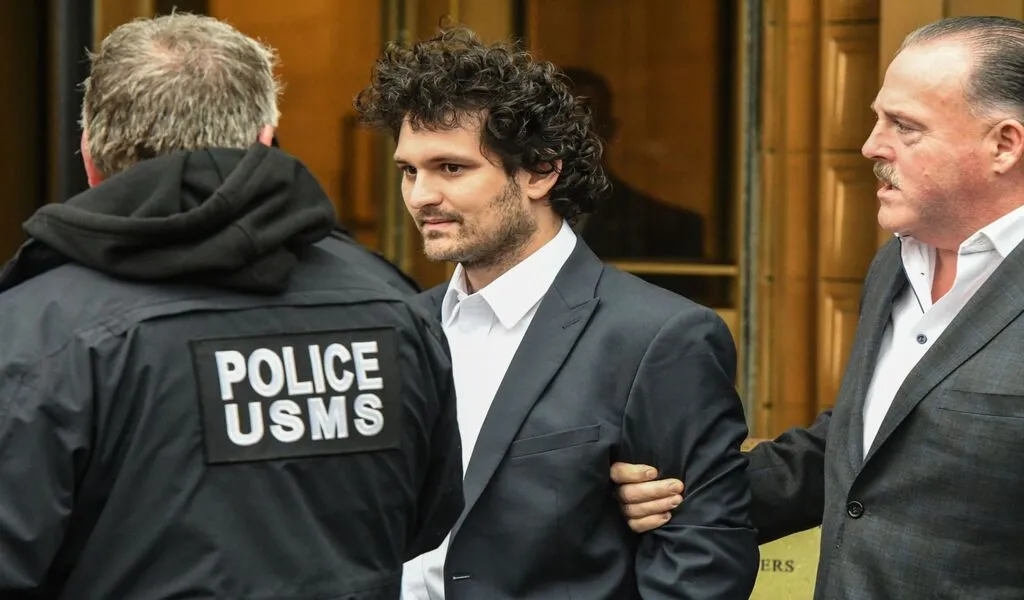 (CTN NEWS) – The legal representatives advocating on behalf of Sam Bankman-Fried have vehemently repudiated any accusations of intimidating witnesses during his ongoing criminal trial.
These allegations center around purported conversations with journalists from the esteemed New York Times, yet the defense posits that they rest on exceedingly tenuous grounds, predominantly built upon conjecture and veiled insinuations.
In a letter addressed to Judge Lewis Kaplan on the 1st of August, Bankman-Fried's legal counsel vehemently maintained that the prosecution's bid to revoke his bail and secure his detention lack substantive merit.
They assert that these maneuvers pivot on shaky assumptions, failing to withstand the test of robust evidence.
The defense further contends that Bankman-Fried's engagement with a New York Times reporter was by no means an endeavor to intimidate the former CEO of Alameda Research, Caroline Ellison, nor was it a gambit to contaminate the jury pool.
From their perspective, this isolated interaction falls woefully short of furnishing adequate grounds to warrant pre-trial detainment.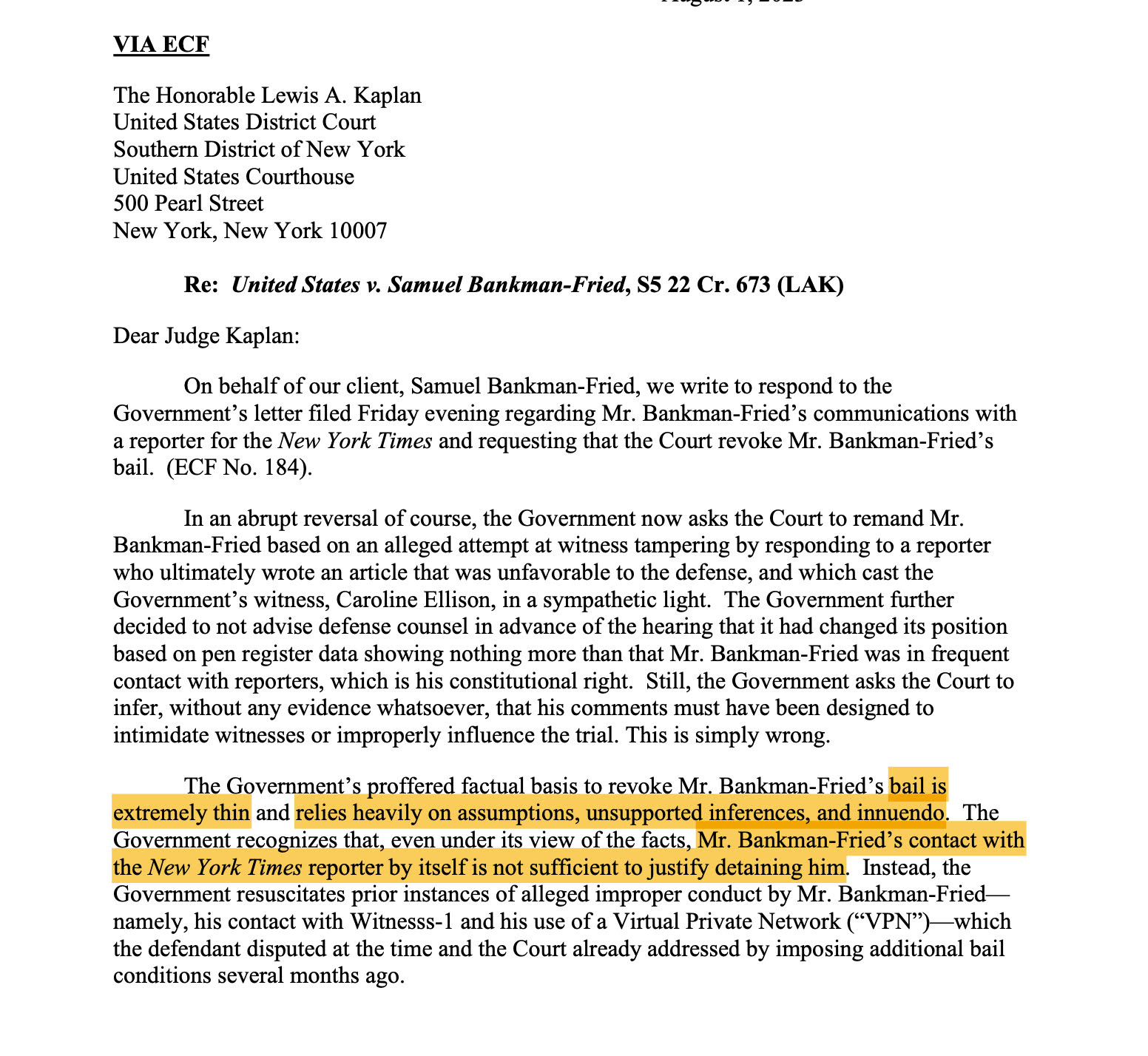 Legal Team Defends Sam Bankman-Fried's Actions as Just Exercise of His Rights Amid Bail Revocation Allegations
The legal team representing Sam Bankman-Fried vehemently asserted that his interaction with reporters constituted a "just exercise of his rights" to offer equitable remarks on an article that was already in progress and for which the reporter had alternative sources.
This perspective aimed to emphasize that Bankman-Fried's actions were within the bounds of reasonable commentary.
On the 28th of July, the United States Department of Justice (DOJ) took steps to revoke Bankman-Fried's bail, alleging that he had shared Ellison's diary with The New York Times in a bid to harass and intimidate her.
In response, Bankman-Fried's lawyers advanced the notion that it was, in fact, the government itself that had shared Ellison's diary with the newspaper.
According to their argument, the notion that the government was entirely uninvolved in the article's genesis appeared implausible.
To reinforce this stance, the legal representatives pointed to the language employed in the story, which delved into the timing of the Government's preparation of trial witnesses and referenced specific documents that were not provided to the reporter by Mr. Bankman-Fried.
The lawyers contended that these details strongly indicated an alternative source, hinting at the government's potential involvement.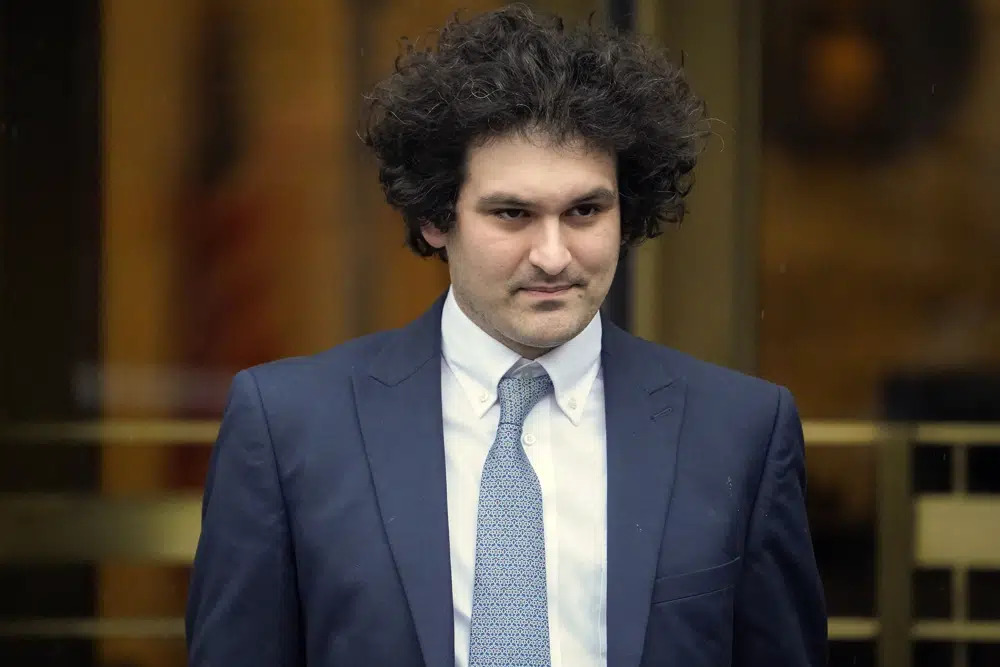 Legal Battle Over Article's Sympathetic Undertone and Complexity of Witnesses in Bankman-Fried's Case
Amidst the legal proceedings, the lawyers contended that the article in question, which featured excerpts from Ellison's diary chronicling her feelings of being overwhelmed by her job, grappling with insecurities, and enduring heartbreak following her split with Bankman-Fried, had a sympathetic undertone favoring her portrayal.
It is noteworthy that Ellison has already pleaded guilty to fraud charges and is purportedly cooperating with the DOJ. He
r anticipated role as a witness against Bankman-Fried in his criminal trial, slated for October, adds a layer of complexity to the case.
Judge Kaplan has taken a decisive step in this matter by implementing a gag order on both Bankman-Fried and the prosecutors involved. This measure will remain in effect until the judge thoroughly examines the petition to revoke Bankman-Fried's bail.
RELATED CTN NEWS:
Trump's 45-Page Indictment: The Unseen Consequences Of Trump's Actions In The Capitol Attack
Supermoon Spectacle: Two Full Moons In August For Sky Gazers – How To Observe The Supermoon?
Indonesia Unveils Pioneering State-Backed Cryptocurrency Bourse To Foster Crypto Market Growth