Azerbaijan Launches "Anti-Terrorist Operation" In Nagorno-Karabakh Following Fatal Landmine Incidents
(CTN NEWS) – Azerbaijan has deployed troops supported by artillery strikes into the Armenian-administered Nagorno-Karabakh region, asserting that their military operation will persist until Armenian forces capitulate.
These actions on Tuesday have heightened the prospect of a fresh conflict in the ethnically Armenian area within Azerbaijan, a longstanding source of tension since the dissolution of the Soviet Union.
While internationally recognized as Azerbaijani territory, a portion of it is under the control of separatist Armenian authorities who claim the region, home to roughly 120,000 residents, as their ancestral homeland.
Anti-Terrorist Operation
Following the deaths of four soldiers and two civilians in landmine incidents, which Azerbaijan attributed to Armenian saboteurs, Baku initiated what it referred to as an "anti-terrorist operation."
Azerbaijan's defense ministry stated that the operation's objectives were to "disarm and ensure the withdrawal of Armenian armed forces from our territories" while neutralizing their military infrastructure.
During this offensive on Tuesday, Azerbaijani forces reportedly seized over 60 military outposts and eliminated approximately 20 military vehicles and other equipment, according to the ministry's statement.
Armenia's foreign ministry condemned these attacks and accused Azerbaijan of launching "another large-scale aggression against the people of Nagorno-Karabakh, with the aim of furthering its policy of ethnic cleansing."
The exact number of casualties resulting from this military offensive remained unclear at the time.
A separatist Armenian human rights official in Nagorno-Karabakh claimed that 25 individuals, including two civilians, had been killed, but this assertion could not be independently verified.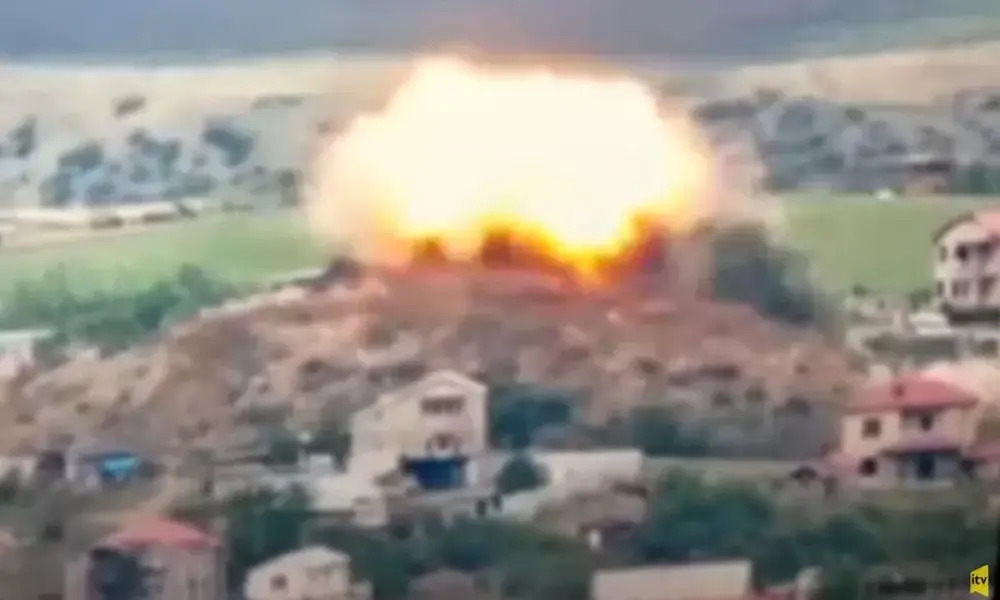 Hikmet Hajiyev, the foreign policy adviser to Azerbaijani President Ilham Aliyev, informed Al Jazeera that Baku had initiated "local but limited counter-terrorism measures" targeting military objectives.
He asserted that while Baku was employing high-precision weaponry, it was challenging to entirely avoid "collateral damage" due to the presence of civilians being used as "human shields" in the disputed region.
"We urge all civilians to maintain a safe distance from military targets," he emphasized.
Azerbaijan Vows to Continue Operation in Nagorno-Karabakh Unless Armenian Units Surrender
The state news agency quoted the presidential administration, affirming that Azerbaijan would persist with the operation "until the end" unless "Armenian military units" surrendered and relinquished their arms.
Nagorno-Karabakh, along with substantial surrounding territories, came under the control of ethnic Armenian forces with support from the Armenian military at the conclusion of a separatist war in 1994.
Azerbaijan regained control over these territories and parts of Nagorno-Karabakh itself during the 2020 conflict.
Armenia, which asserted that its armed forces were not present in Karabakh and that the situation along its border with Azerbaijan remained stable, called upon members of the UN Security Council to intervene and urged Russian peacekeepers, deployed since the previous conflict in 2020, to take action.
In the Armenian capital, Yerevan, demonstrators gathered to express their disapproval of Prime Minister Nikol Pashinyan's management of the Karabakh crisis and to demand his resignation.
These protests erupted following Pashinyan's condemnation of calls for a "coup" as Azerbaijan initiated its military operation. Pashinyan had been seen as too pro-Western by Russia, Armenia's traditional supporter.
Armenia's security council cautioned of a "real danger of widespread unrest in the Republic of Armenia" in the wake of the turmoil.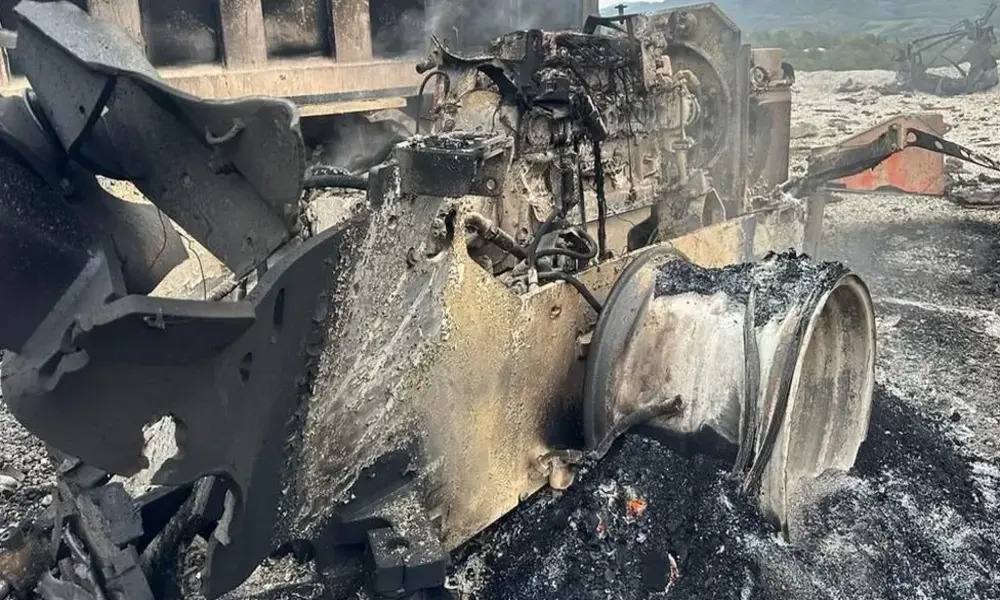 Russia's Efforts to Mediate Nagorno-Karabakh Conflict Renewal Talks
Kremlin spokesperson Dmitry Peskov disclosed that Russia had reached out to both parties, urging them to resume negotiations.
Russia, currently involved in a conflict with neighboring Ukraine, is aiming to maintain its influence in the region amidst growing Turkish involvement in support of Azerbaijan.
Turkey's foreign ministry defended Baku's actions, asserting that Azerbaijan had been compelled to take measures within its sovereign territory in Nagorno-Karabakh due to unaddressed concerns following the 2020 conflict with Armenia.
The possibility of Russia mediating a renewed ceasefire remains uncertain. Such an effort could potentially entail a significant political cost for the Armenian government, according to Marie Dumoulin, director of the Wider Europe Programme at the European Council on Foreign Relations.
Russian peacekeeping troops deployed in the disputed region after the 2020 ceasefire have been unable to prevent Azerbaijani military actions since then.
Their operations were largely obstructed since December, with Azerbaijan alleging that Armenians were smuggling weapons and engaging in illicit resource extraction.
Armenia, on the other hand, claimed that Azerbaijan imposed a blockade on the region, resulting in severe food shortages, and accused Azerbaijan of attempting a starvation-based genocide.
Armenia has accused Moscow of being too preoccupied with its conflict in Ukraine to provide adequate protection and claimed that Russian peacekeepers in Karabakh were failing in their duties.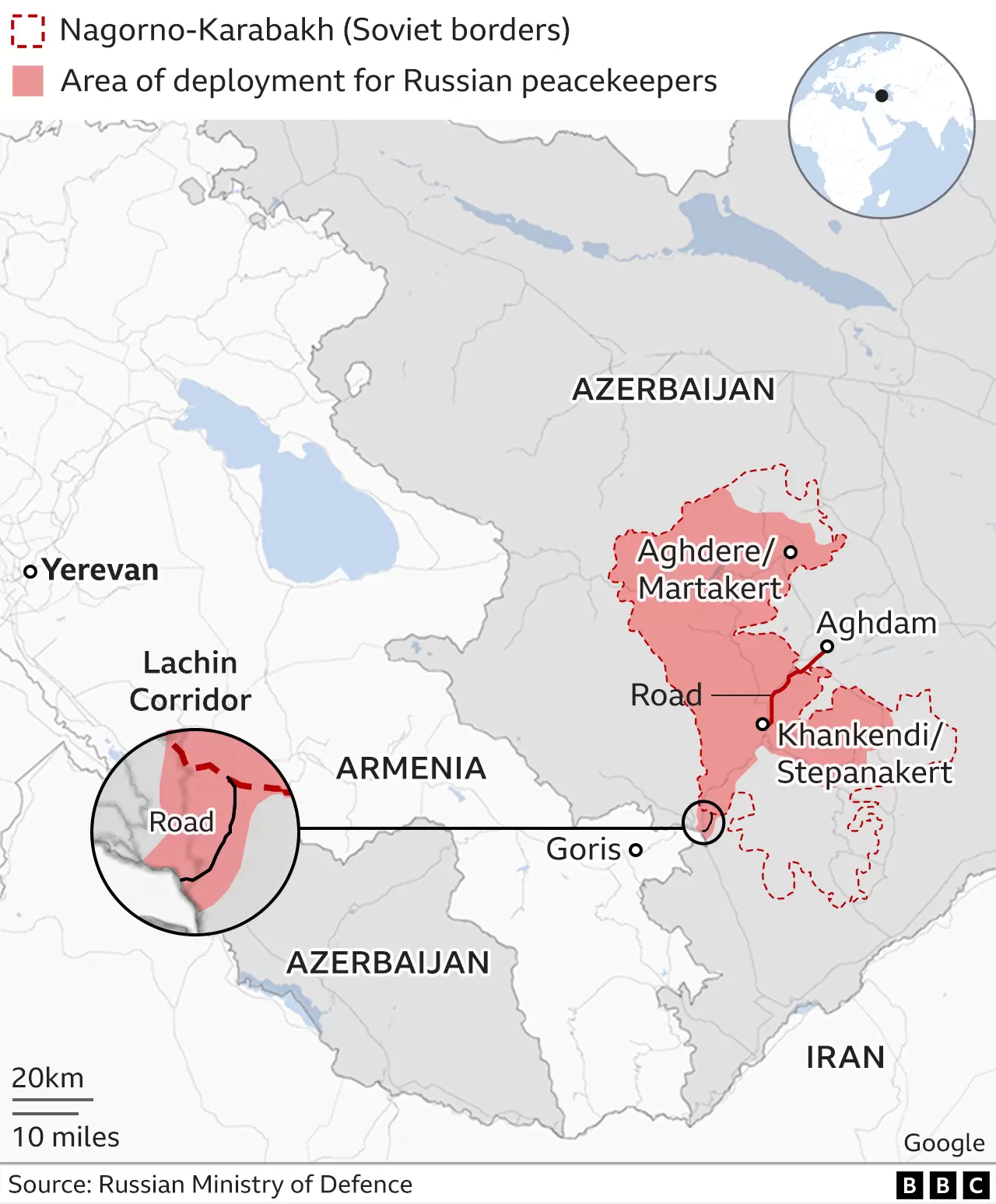 International Response to Escalation in Nagorno-Karabakh Crisis
The United States has declared its commitment to crisis diplomacy in response to what it perceives as a highly perilous escalation of the situation.
U.S. Secretary of State Antony Blinken is expected to become actively involved in the next 24 hours to help de-escalate the crisis, as indicated by U.S. officials.
The European Union, France, and Germany have condemned Azerbaijan's military actions and have called for a resumption of discussions regarding the region's future.
Josep Borrell, the EU's foreign policy chief, emphasized that Brussels remained fully engaged in facilitating dialogue and cautioned against exploiting this military escalation as a pretext to force the local population to leave.
French President Emmanuel Macron called for an immediate return to discussions to seek a just and enduring peace between Armenia and Azerbaijan, urging an immediate halt to the offensive.
German Foreign Minister Annalena Baerbock expressed disappointment that Azerbaijan had broken its commitment to avoid military action in Nagorno-Karabakh.
She called on Azerbaijan to cease shelling immediately and return to the negotiation table. Baerbock made these remarks while attending the United Nations General Assembly in New York.
RELATED CTN NEWS:
U.S. House Republicans To Hold First Committee Hearing In Impeachment Inquiry Against President Biden
U.S. President's Son 'Hunter Biden' To Plead Not Guilty In Federal Gun Charges
Pakistan LHC Seeks Responses Over Controversial CNIC Policy For Married Women's Passports