Over 40 Dogs Rescued from Vietnamese Slaughterhouse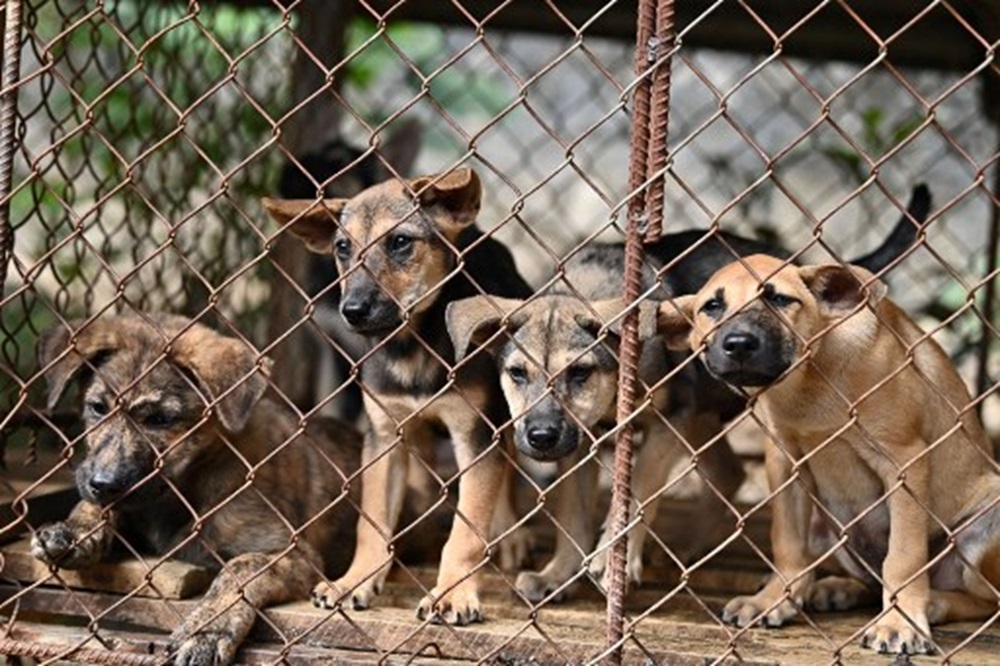 More than 40 dogs, including a litter of 10-day-old puppies, were rescued from a dog slaughterhouse in Vietnam on Friday when their owner decided to stop selling dog meat.
Every year, an estimated five million dogs are slaughtered for meat in Vietnam, the second largest in the world after China, with some believing that eating the meat will help remove bad luck and others considering it a delicacy.
However, as dogs become more popular as pets, attitudes regarding eating dog meat are steadily changing, particularly in cities.
Kieu Viet Hung, who has been in the trade for seven years, handed over 44 dogs to a shelter on Friday, which will care for the animals and try to find them new homes.
"When I used to kill them, I felt sorry for them," Hung, 39, told France 24 at his farm in the mountains north of Hanoi.
Over the last seven years, Hung has butchered up to 20,000 dogs. The vast majority of them were sold to him by rural households who raise puppies at home to supplement their livelihood.
According to the Humane Society International (HSI), one of several charities working to end the dog meat trade in Vietnam, traders would deliver around 50 puppies every one or two months to Hung's facility, where they were kept in filthy cages, fattened up over several weeks or months, and then killed.
Hung's company is now trading scrap metal and selling fertiliser.
According to HSI, the majority of the dogs killed in Vietnam are stolen pets or strays grabbed from the streets with poisoned bait, painful taser guns, or imported from neighbouring countries such as Cambodia.
Dog meat consumption is a contentious and culturally sensitive issue in Vietnam. Dog meat is popular in some parts of the country, particularly in the north, and it has a long history as a traditional food source.
It is important to note, however, that opinions towards dog meat vary across communities and individuals in Vietnam.
Although authorities in Hanoi and Ho Chi Minh City have warned residents not to eat dog meat, the trade persists.
The commercial practise of slaughtering and selling dogs for human consumption is known as the dog meat trade. It is a contentious and often culturally sensitive issue that differs by location or country. Consider the following crucial points:
Dog meat consumption is more common in various Asian nations, such as China, South Korea, Vietnam, and Cambodia. It is critical to recognise that attitudes and practises regarding dog meat consumption varies across communities and areas within these countries.
Critics of the dog meat trade express concerns about the treatment and wellbeing of the animals involved. There have been reports of inhumane treatment of animals, including the illegal capture of stray dogs and problems with transportation and slaughter.
The legality of the dog meat trade varies greatly. Some countries, regions, or localities have prohibited or limited the sale and eating of dog meat. For example, in South Korea, there is a rising push to abolish the dog meat trade, and laws have been established to control or prohibit it in particular places.
The public's perception of the dog meat trade varies across countries. Some people regard dog meat to be a cultural practise and continue to eat it, while others, both locally and internationally, argue for its restriction owing to ethical, cultural, and health reasons.
There are also worries regarding the health risks involved with eating dog meat, such as disease transmission. These issues have prompted proposals for increased regulation or trade prohibitions.
Numerous animal welfare organisations and activists work to educate the public about the dog meat trade, fight for tougher restrictions, and rescue dogs from the trade. These campaigns frequently focus on encouraging dog adoption and alternative livelihoods for people involved in the trade.
It is critical to approach discussions concerning the dog meat trade with cultural sensitivity and recognise that changing practises often necessitates a nuanced and context-specific approach. While some regions have made success in regulating or prohibiting the trade, the subject remains complex and dynamic.