Myanmar Army Accused of Using Thai Citizens as Human Shields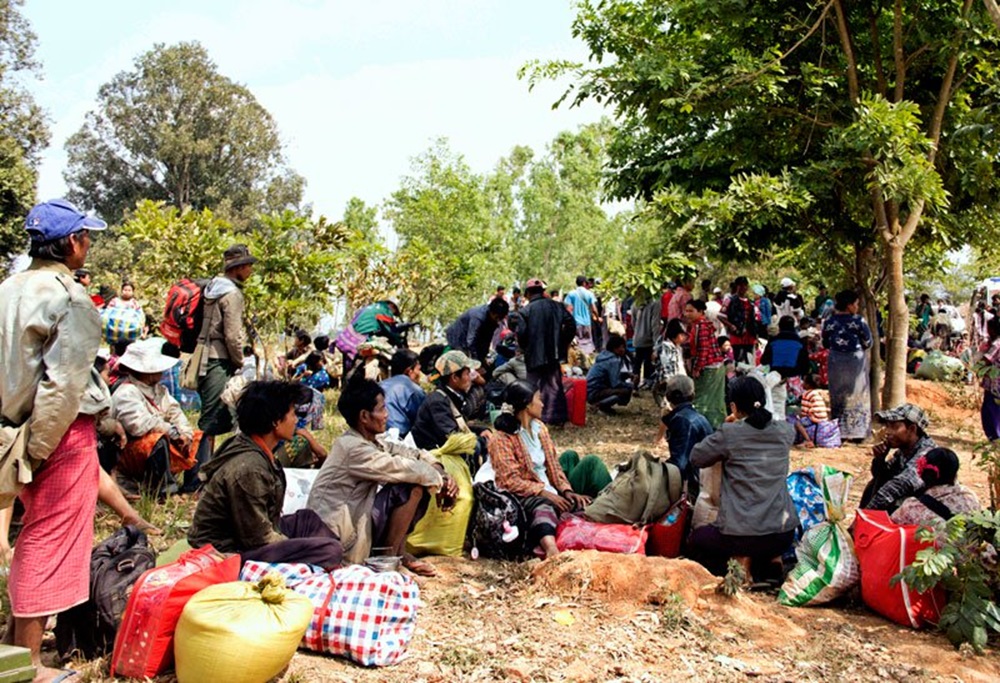 The Irrawaddy reports that in northeastern Shan State the Myanmar junta is forcing Thai citizens to work and using them as human shields as violence between the junta and an ethnic coalition is intensifies
The Irrawaddy cited a humanitarian worker as saying that the junta's anti-human trafficking unit placed victims of human trafficking in military camps rather than returning them to Thailand. People from Nepal, Ethiopia, and Laos are some of the other nationalities represented.
The army has them working in bunkers, trenches, and carrying timber as slaves. Human shields, in a very real sense.
Holding the foreigners in Laukkai town's frontline outposts puts their lives in danger, as fighting could break out at any time. They could also be caught in the gunfire, the Irrawaddy website reported.
Attacks on Laukkai could come at [any time] from the Brotherhood Alliance. If any foreign civilians do perish as a result of rebel attacks, the junta will likely try to pin the blame on the Brotherhood Alliance.
Myanmar Army Battling Ethnic Groups
The Brotherhood Alliance, made up of the Arakan Army, Ta'ang National Liberation Army, and Myanmar National Democratic Alliance Army, has captured dozens of junta bases in and around the towns of Mong Ko and Chin Shwe Haw, northeastern Shan State, since launching its "Operation 1027" offensive a week ago.
Laukkai, a border town between Mong Ko and Chin Shwe Haw, is in the authority of the junta-allied Kokang Border Guard Force and militia, and there are growing concerns that the violence will expand there.
Online gambling and scam operations flourish in Laukkai, which has earned it a bad reputation. Beijing pressed the junta to crack down on Laukkai's human trafficking, resulting in the arrest and extradition to China of hundreds of alleged traffickers in recent weeks.
Prime Minister Srettha Thavisin has issued orders to help rescue 162 Thai citizens caught in the fighting between Myanmar military and an alliance of ethnic armed groups in the China-Myanmar border town of Laukkai.
According to Mr. Srettha, the Thai embassy in Yangon is working with Myanmar authorities to rescue the 162 Thais and provide them a secure place to stay.
Fighting has displaced 23,000 people
Reportedly rescued from internet fraud firms in the northern Shan State, the foreigners were just recently able to return home. Government spokeswoman Chai Wacharonke said on Friday that efforts are underway to repatriate all Thais from the area.
"The prime minister has instructed all relevant agencies to provide urgent assistance to all Thais and bring them home safely," Mr. Chai added.
In Shan State, where ethnic minority groups seeking for self-determination have formed an alliance and launched a series of coordinated attacks on junta sites, heavy fighting broke out last week. Chinshwehaw, in nearby Yunnan province in China, is only one of several border towns that the ruling military of Myanmar claims to have lost control of.
On Friday, the UN reported that the fighting had displaced a further 23,000 people, while media in Myanmar claimed that hundreds had fled to China. According to Chinese media, lengthy lines of refugees have formed at the country's borders, and some surrounding Chinese cities are prepared to evacuate if the war worsens.
China's foreign ministry issued a call for a "immediate cease fire," dialogue to end the conflict, and border stability on Thursday.
The "Three Brotherhood Alliance" issued a statement saying they were attacking to abolish the "dictatorial rule" in Myanmar and to stop criminal gangs from perpetrating telecoms frauds under the junta's protection.
China has increased its efforts to combat telecoms and other forms of internet fraud in the region, arresting hundreds of people in recent years.
On Friday, Foreign Minister Parnpree Bahiddha-Nukara claimed that he did not know what the Thai nationals were doing in northern Myanmar, but that there were likely "many types of work" involved.
Keywords: Myanmar coup, Myanmar news, Myanmar conflict