Police in Thailand Seize US$58 Million in Assets from Illegal Gambling Network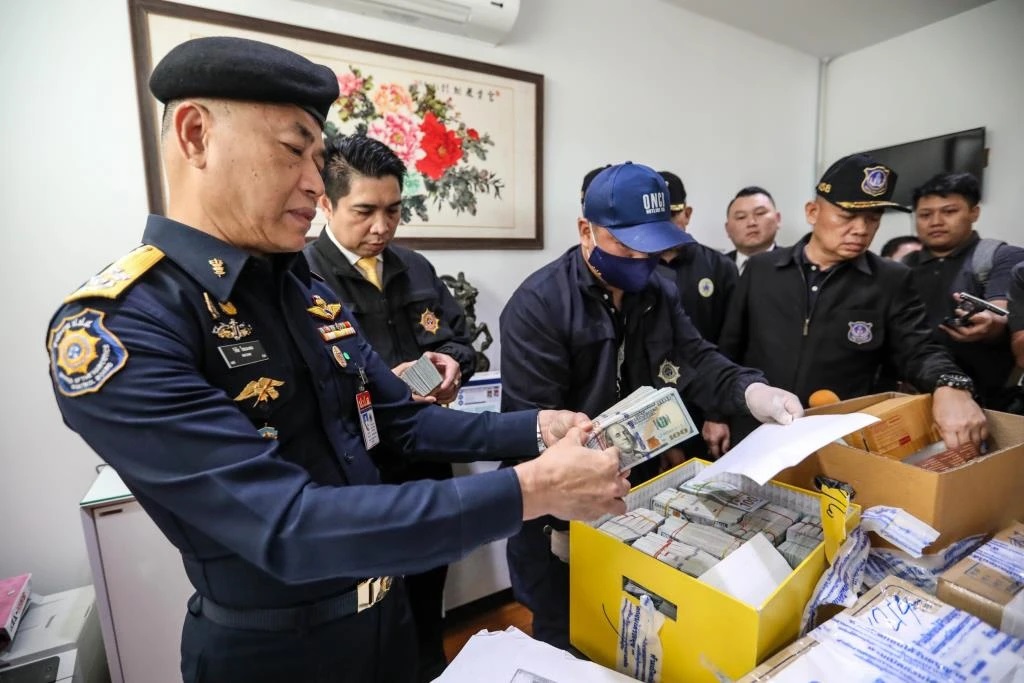 Police in Thailand have seized around US$58 million dollars in assets from 31 suspects in an internet gambling network allegedly managed by a police lieutenant colonel. Detectives fear they have only exposed the tip of the iceberg.
They now believe the network has been in operation since 2016, with the still-at-large kingpin playing a hands-on role in granting "franchises" and establishing bank accounts to receive the criminal revenues.
The commander of Thailand's Crime Suppression Division (CSD), Maj Gen Montree Theskhan, told the Bangkok Post Tuesday that efforts to smash the network purportedly run by Pol Lt Col Wasawat Makurasakul — also known as "Inspector Sua" — were ongoing.
Police nabbed three more individuals and seized US$14 million dollars in assets on Tuesday morning. The haul was gathered during operations in Bangkok, Nonthaburi, Lampang, Ang Thong, Maha Sarakham, and Mukdahan provinces in Thailand.
Theeraphat Thambundit, 28, Thananat Morakot, 32, and Theeraphan Rankha, 33, have been charged with conspiracy to operate gambling and money laundering.
Mr. Theeraphat was apprehended in Ang Thong, Mr Thananat at a condominium in Bangkok's Srinakarin district, and Ms Theeraphan in Maha Sarakham.
Twelve luxury cars, two additional cars, land title deeds spanning 56 rai, US$30,000 in cash and three bank passbooks, three Bearbrick dolls, 100 cartoon figures, six mobile phones, three laptop computers, and two CPUs were seized from them, totaling around US$14 million dollars.
The money trail was reviewed by police, who discovered that the three suspects had approximately US$3.6 million deposited into their bank accounts.
Pol Lt Col Wasawat, the CSD commander, handled all procedures related to the running of the gaming network, including the creation of bank accounts.
According to the inquiry, money transfers from gambling sites were sent to bank accounts of personnel working for the police suspect's enterprises. There were four major men in the network who owned stock in the Pentor Group companies.
According to Pol Maj Gen Montree, Pol Lt Col Wasawat marketed online gambling "franchises" to consumers who established corporations to run them. Arrest warrants are still out for five other suspects, including Pol Lt Col Wasawat, who is thought to be hiding abroad.
According to the CSD chief, the gambling network was the "master franchise" level in a case involving numerous pieces of evidence and witnesses that detectives needed time to investigate.

Anti-Corruption Police Investigate Bribery Racket
Meanwhile, police believe that a trusted assistant conspired with a top Bangkok revenue official to seek bribes from Ratchathewi district firms, with the inquiry now extending back to 2017.
On Tuesday, 11 Ratchathewi district office officials, including the district director, provided witness statements to investigators working on a $932,000 bribery scandal at the Anti-Corruption Division (ACD) office.
Pramual Saengkaewsri, 57, the chief of the Ratchathewi district office revenue section, was arrested last Tuesday in the parking lot of a hotel in the Phaya Thai district region of Ratchathewi district. He was arrested with a huge envelop carrying 3.2 million baht in cash. He denied any culpability and told police that he believed the packet merely contained documents.
He was detained not long after a representative of a real estate firm handed him the money. He allegedly sought the payment in exchange for a promise to assist the firm in avoiding paying US$1.2 million in building and land tax. The company's executives went to the police.
Mr Pramual was charged with bribery as an official and misconduct in office in violation of Section 157 of the Criminal Code.
During a search of Mr Pramual's residence in Nonthaburi's Bang Bua Thong area last Wednesday, police discovered about 7 million baht in cash and a list of potential bribe takers.

Suspected bribe taking
According to Pol Maj Gen Jaroonkiat, police investigators have summoned the 11 district officials to provide statements regarding the alleged bribe-taking. He claimed that Pol Gen Adis had taken the officials to meet with investigators. Pol Maj Gen Jaroonkiat interrogated them for more than two hours. All of them testified as witnesses, he noted.
The majority of them were administrative workers at the district office whose names appeared on official inspection documents of Ratchathewi district enterprises. They gave the list of companies to Mr Pramual, the head of the district office revenue section and the main suspect in the investigation.
They were questioned about the responsibilities they were given and whether or not they participated in the suspected bribe taking. The ACD commander stated that everyone provided useful information. He stated that detectives would utilise evidence collected from Mr Pramual to expand their probe into 100 additional bribery and tax evasion cases.
Investigators had identified Mr Pramual's trusted assistant as being engaged in the alleged bribery. That person was in charge of coordinating with the district's businesses.
Investigators were looking at records dating back to 2017, when Mr Pramual was appointed head of the revenue branch at the district office, according to Pol Maj Gen Jaroonkiat.
Pol Gen Adis stated that the Bangkok Metropolitan Administration was committed about eliminating corruption and fixing legal gaps in the issuance of company licences. Delays in these procedures have allowed corrupt officials to demand bribes to expedite the process, according to the Bangkok governor's counsel.
He promised that the BMA would not withhold information on bribery and corruption, and that no officials proven to be implicated would be spared. He stated that the city administration would completely cooperate with police.