Stock Market Today: Asian Stock Markets Follow Wall Street's Plunge As Fitch Ratings Lowers U.S. Credit Rating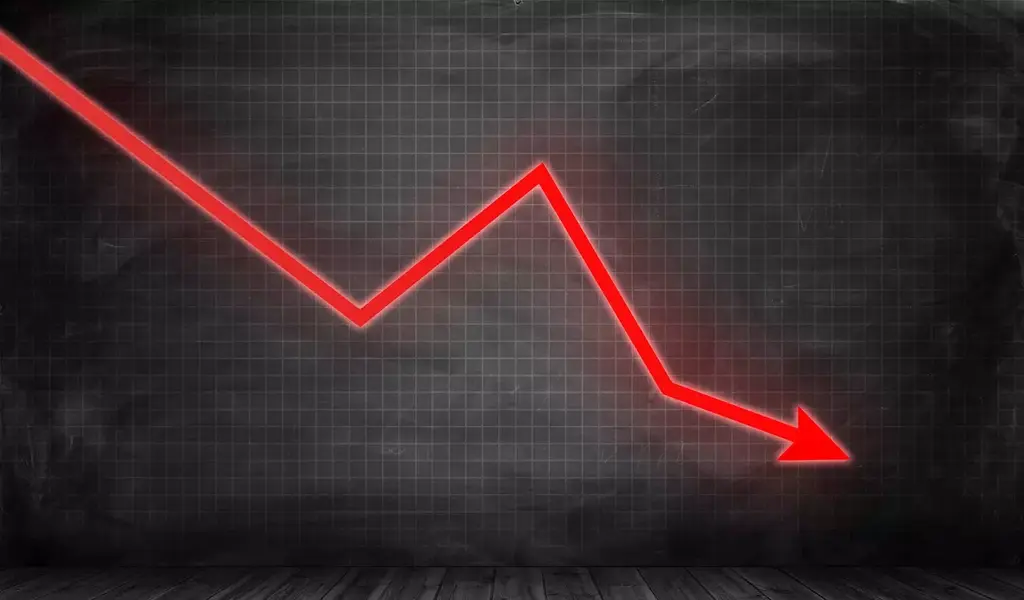 (CTN NEWS) – In the domain of Asian stock markets, the shadows of Wall Street cast their influence, guiding the course of action on Thursday.
This theatrical performance witnessed a downward spiral as Fitch Ratings cast its discerning eye upon the United States government's credit rating.
Tokyo's market benchmark stumbled, descending by nearly 1.5%, a somber symphony of financial woes. The echoes of this melancholic melody reverberated across Shanghai, Hong Kong, and Seoul, where the curtains of optimism were drawn back.
Meanwhile, amidst the unfolding drama, oil prices decided to dance on a higher plane.
Drama Unfolds: Fitch Ratings Lowers U.S. Credit Rating Amidst Turmoil on Wall Street
As the drama continued on Wall Street, an unprecedented act unfolded—a grand spectacle of the biggest one-day decline in months. The protagonist in this riveting tale was Fitch Ratings, wielding its mighty pen to lower the U.S. government's credit rating by one level.
Citing reasons such as mounting debt and a lamentable "steady deterioration in standards of governance," the agency narrated the woes that besieged the nation.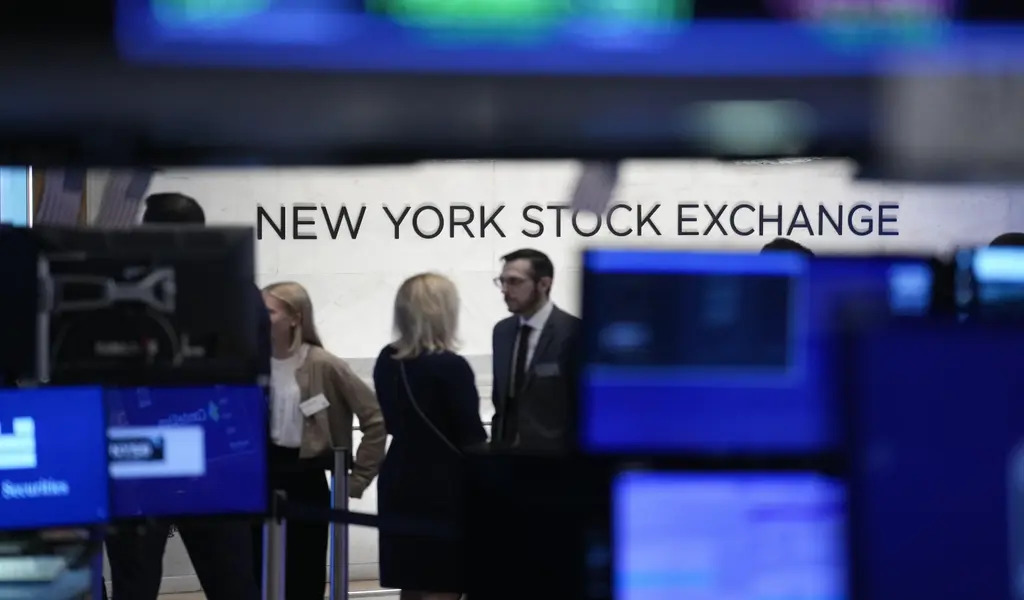 In the preceding chapters, Congress had brought Washington perilously close to defaulting before acquiescing to raise the amount it could borrow.
Yet, amidst this gripping narrative, a wise sage named Kristina Hooper of Invesco stepped forward, penning a report to bring clarity to the chaotic script.
In her eloquent prose, she declared the impact as "largely irrelevant despite some initial shock," urging the audience not to be swayed by momentary turbulence.
With insightful wisdom, she pointed out that this move aligns the U.S. rating more consistently with that of other major economies.
However, she couldn't help but express her bewilderment at the curious timing of this dramatic revelation, as it transpired well after the debt ceiling issue had been resolved, adding an enigmatic twist to the plot.
Global Stock Markets Witness Volatility Amid Economic Concerns and Downgrade of U.S. Government Debt
The Tokyo stock market, represented by the Nikkei 225, experienced a substantial tumble of 1.4%, landing at 32,244.08.
Similarly, the Shanghai Composite Index suffered a minor setback of 0.2%, reaching 3,254.37. Hong Kong's Hang Seng followed suit, retreating by 0.5% and settling at 19,429.17.
Across the ocean in Seoul, the Kospi relinquished 0.8%, standing at 2,597.36, while Sydney's S&P-ASX 200 witnessed a 0.5% decline, closing at 7,318.20. Meanwhile, Jakarta enjoyed gains, but other Southeast Asian markets faced a downturn.
The U.S. stock market faced a significant blow, as the S&P 500 sank 1.4% to 4,513.39 following Fitch's downgrade of U.S. government debt from AAA to AA+.
This marked the second consecutive loss for the market benchmark after reaching a 16-month high last week. The Dow Jones Industrial Average also experienced a substantial decline of 1%, ending at 35,282.52, while the Nasdaq composite fell by 2.2% to 13,973.45.
Fitch's downgrade strikes at the heart of the global financial system, as U.S. Treasurys have long been considered among the safest investments. The agency cited repeated standoffs in Congress, questioning the government's ability to avoid default.
A historical parallel can be drawn to 2011 when Standard & Poor's stripped the U.S. of its AAA rating during a heated dispute over the government's borrowing limit.
That budget standoff was estimated to have raised borrowing costs by $1.3 billion for the year, as per the Government Accountability Office.
Investors are closely observing the U.S. economy, hoping it can evade an anticipated recession that might have resulted from repeated interest rate hikes aimed at curbing inflation.
However, recent optimism among traders has contributed to a remarkable 19.5% surge in the S&P 500 over the first seven months of the year.
A report by ADP on Wednesday provided some relief, suggesting stronger-than-expected hiring in the private sector, even though it slowed in July compared to the previous month.
Such robust hiring may mitigate recession fears but might also prompt the Federal Reserve to address concerns about upward price pressures.
All eyes are now on the comprehensive jobs market report due to be issued by the U.S. government on Friday. Fed Chair Jerome Powell has indicated that Friday's figures will significantly influence the central bank's decision in September.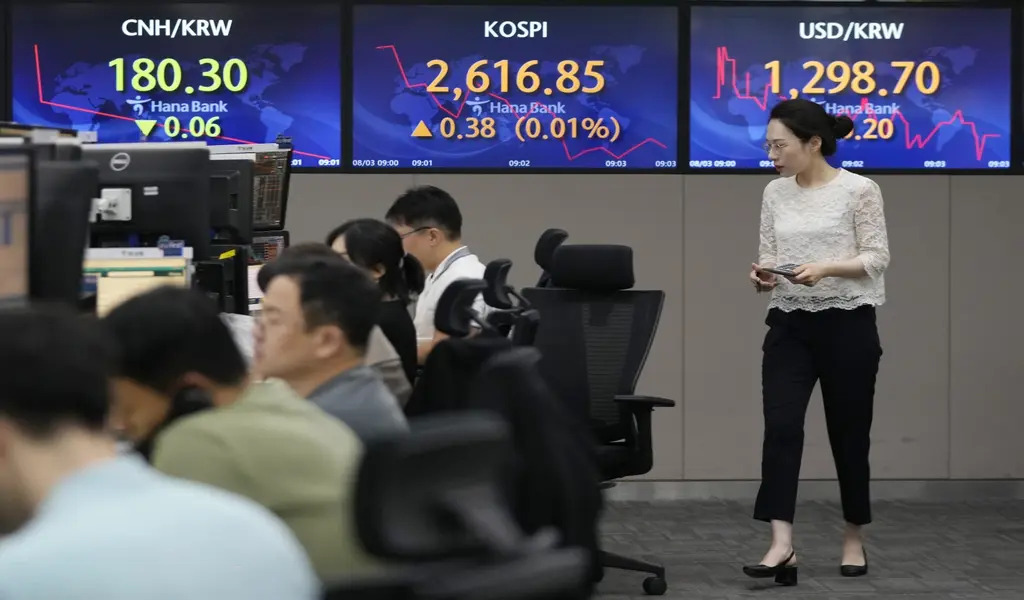 Tech Giants and Energy Companies Lead Market Decline, while CVS Health and Humana Buck the Trend
On Wall Street, notable tech giants such as Microsoft, Nvidia, and Amazon each experienced a decline of more than 2.5%.
Generac Holdings, a company specializing in generators and power products, faced a significant setback, plunging 24.4% and recording the biggest drop in the S&P 500 after reporting weaker profit than analysts had anticipated.
SolarEdge Technologies also suffered a drop of 18.4% after revealing lower-than-forecasted profit and revenue growth, with the company attributing the pressure to higher interest rates affecting U.S. residential customers.
While some companies have surpassed profit expectations, others have not been as fortunate. CVS Health managed to rise 3.3% after reporting results that were less disappointing than expected, whereas Humana climbed 5.6% after exceeding expectations.
In energy markets, benchmark U.S. crude experienced a marginal increase of 7 cents, reaching $79.56 per barrel in electronic trading on the New York Mercantile Exchange.
This came after a previous day's decline of $1.88 to $79.49. Brent crude, the foundation for international oil trading, gained 8 cents to settle at $83.28 per barrel in London, following a drop of $1.71 during the previous session, ending at $83.20.
The dollar remained stable against the yen at 143.28, while the euro slightly declined to $1.0934 from $1.0943.
RELATED CTN NEWS:
2024 Toyota Land Cruiser Makes Resounding Comeback To North America With A Fresh Retro-Inspired Design
Subway Launches "Free Sandwiches For Life" Contest, Asks Fans To Change Their Name To "Subway"
Indonesia Unveils Pioneering State-Backed Cryptocurrency Bourse To Foster Crypto Market Growth