Chinese Tourists Bring $4 Billion to Thailand After Visa Waivers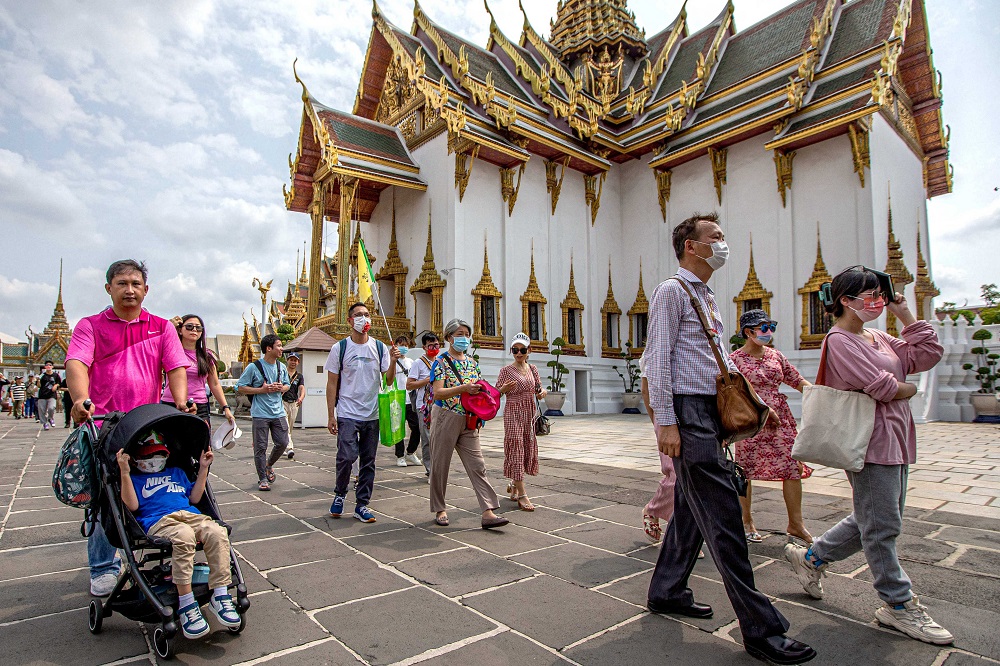 Once again, Chinese tourists are flocking to Thailand's glistening beaches, bustling retail districts, and ancient temples thanks to the country's recently implemented visa-free travel policy.
As part of his plan to revitalise Thailand's economy, newly appointed Prime Minister Srettha Thavisin declared that Chinese and Kazakh visitors would not need visas to enter the nation between September 25 and February 24 of next year.
The policy change coincided with the beginning of China's "Golden Week" holiday, which begins on October 1 and celebrates the country's national day.
This year's Golden Week runs from September 29th to October 8th, coinciding with the Mid-Autumn Festival. It's also one of the rare vacation times for Chinese citizens since the Covid-19 outbreak that doesn't involve any travel restrictions.
On Monday, when the visa-free policy went into force, Sretta and the tourism minister met Chinese tourists coming from Shanghai at Bangkok's Suvarnabhumi Airport with gifts.
In an effort to shore up the country's shaky economic recovery, Thailand has announced a new visa exemption programme for Chinese tourists visiting over the country's five-month holiday period. The government anticipates 2.9 million arrivals and billions of dollars in revenue from the tourism boom.
After temporarily lifting visa requirements for mainland tourists from September 25 through February 2019, the Southeast Asian country has received a big response: On Sunday, government spokeswoman Chai Wacharonke said on Thailand's official Facebook page that more than 22,000 Chinese tourists had visited the country in the first two days of the programme.
According to Chai, the programme will bring in an estimated 140.3 billion baht for Thailand ($3.8 billion) in tourism earnings.
Chinese tourists, who made up the bulk of visitors to Thailand before to the outbreak, may be able to return more quickly now that they no longer need visas to enter the country.
As part of its steps to stimulate the sluggish economic recovery and prevent the country from sliding into recession, the government of Prime Minister Srettha Thavisin, who gained power last month, approved waivers for Chinese and Kazakh travellers.
With a goal of 3.1 trillion baht in tourism revenue by 2024, the move is part of Thailand's plan to return to pre-Covid levels of success. So far this year, Thailand has welcomed 19.5 million international tourists, and that number could reach 28 million by the end of the year.
As of September 25th, the tourism ministry said that 3.2 million Malaysians and 2.4 million Chinese have visited the country. Chai claims that the Chinese embassy in Thailand has received reports of almost 650,000 mainland Chinese booking vacations to Thailand for the month of October.
According to Chai, the Tourism Authority of Thailand anticipates 4 to 4.4 million Chinese visitors this year, and the timing of the visa programme is perfect for the upcoming Chinese New Year and Golden Week holidays.
Before the Covid-19 outbreak devastated the global tourism industry in 2019, China was the leading source of visitors to Thailand, with around 11 million people planning to travel to the Southeast Asian country in 2019.
In comparison to the year 2023, the figures are striking. From January through September 10 of this year, the Tourism Authority of Thailand reported only 2.2 million Chinese visitors.
As a result of China relaxing its travel restrictions in early 2023, many Southeast Asian countries had high hopes for a recovery of foreign travel to enhance their tourism sectors after the pandemic shutdowns.
However, regional travel centres have to lower their sights and prepare for a lengthier road to recovery as a result of a slowing Chinese economy, a weaker yuan, and dismal jobless numbers.