Tesla Unveils Upgraded Model 3 With Extended Range In China, Targets Global Markets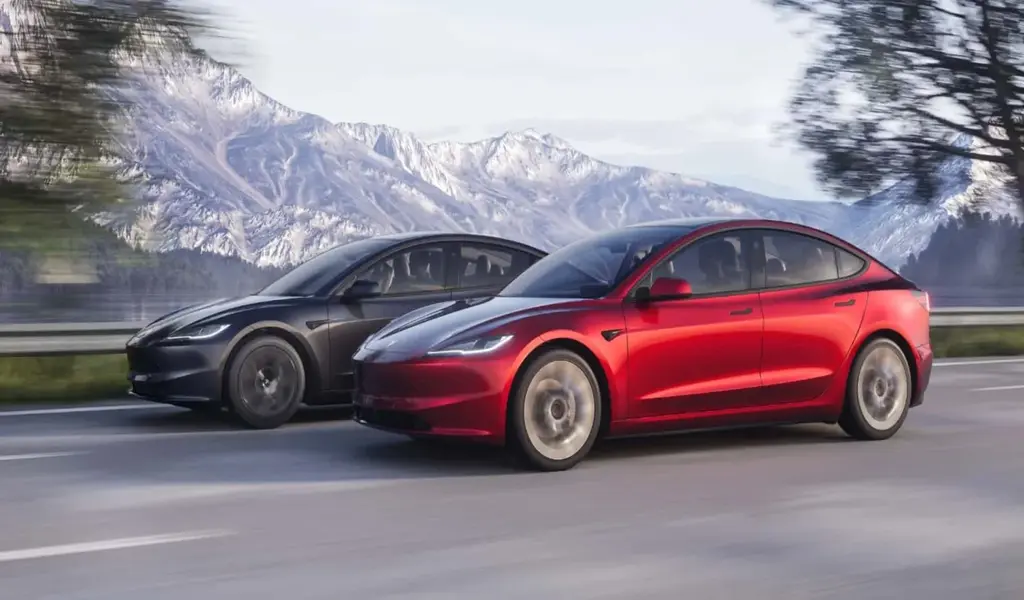 (CTN NEWS) – On Friday, Tesla revealed a revamped Model 3 with an extended driving range, targeting markets in China, Europe, the Middle East, Australia, and Japan.
This move is putting significant pressure on competitors who are anticipated to announce their new electric vehicles in the coming days.
In China, the world's largest automotive market, the updated Model 3 debuted at a starting price that was 12% higher than the previous base rear-wheel drive model.
Key Highlights of Tesla's Model 3 Refresh and Production Strategy
This marks a departure from the previous trend of price reductions, which had ignited a price competition between Tesla and its Chinese electric vehicle rivals.
This refreshed Model 3 represents Tesla's first update or redesign to its lineup since the successful launch of the Model Y in 2020. Tesla also has plans to commence production of its highly anticipated Cybertruck later this year.
The launch of the updated Model 3 in China and various export markets implies that Tesla's manufacturing facility in Shanghai will be the first to produce this model. Tesla also manufactures the Model 3 at its facility in Fremont, California.
The recently unveiled Model 3, as per the company's official website, boasts an extended driving range tailored for the Chinese market.
The standard version is rated to cover a distance of 606 kilometers (377 miles) based on China's testing standards, marking a notable 9% improvement compared to the previous base model available in China.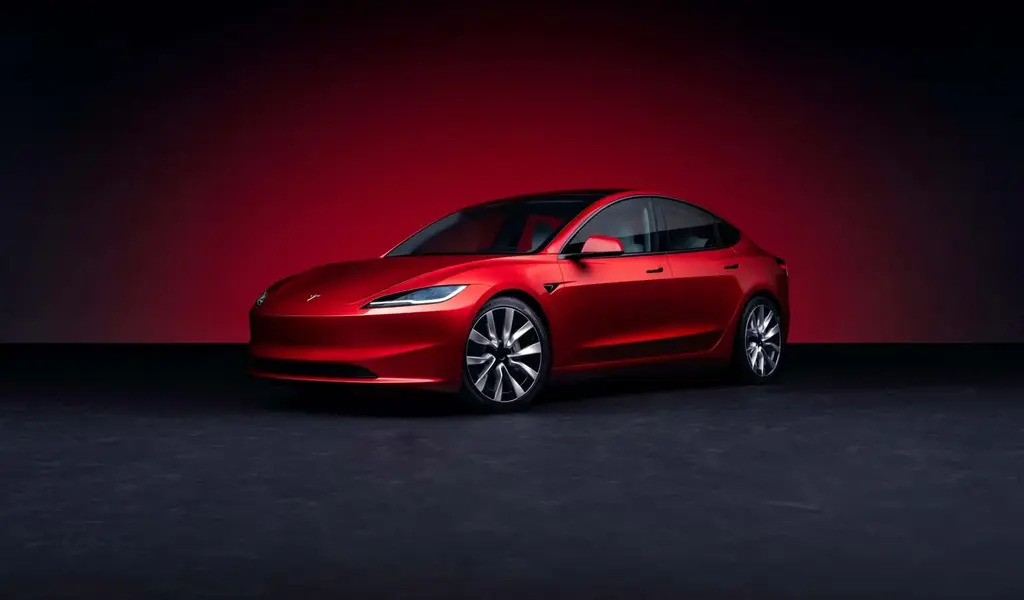 Significant Interior Enhancements Unveiled for Tesla's New Model 3
There is a significant slate of interior changes as well, which we can't even list all of here:
A new rear 8-inch touchscreen, giving rear seat passengers climate controls and entertainment
Deleted stalks on the steering column, much as in the Model S and X, with the gear selector now on the touchscreen and turn signal buttons on the left side of the steering wheel
Ventilated front seats, which can be controlled from outside the vehicle through Tesla's phone app, heating or cooling them up before you get in the car
Cushier rear seats (now perforated, but not ventilated like the front seats)
The sound system has been upped to 17 speakers (from 14)
Improved bluetooth microphone performance
Improved wi-fi and bluetooth for better connectivity to routers and phone keys
A quieter interior than on the original Model 3, due to several changes to aerodynamics and materials
Customizable interior ambient lighting
Larger rear trunk, up to 594 liters from 561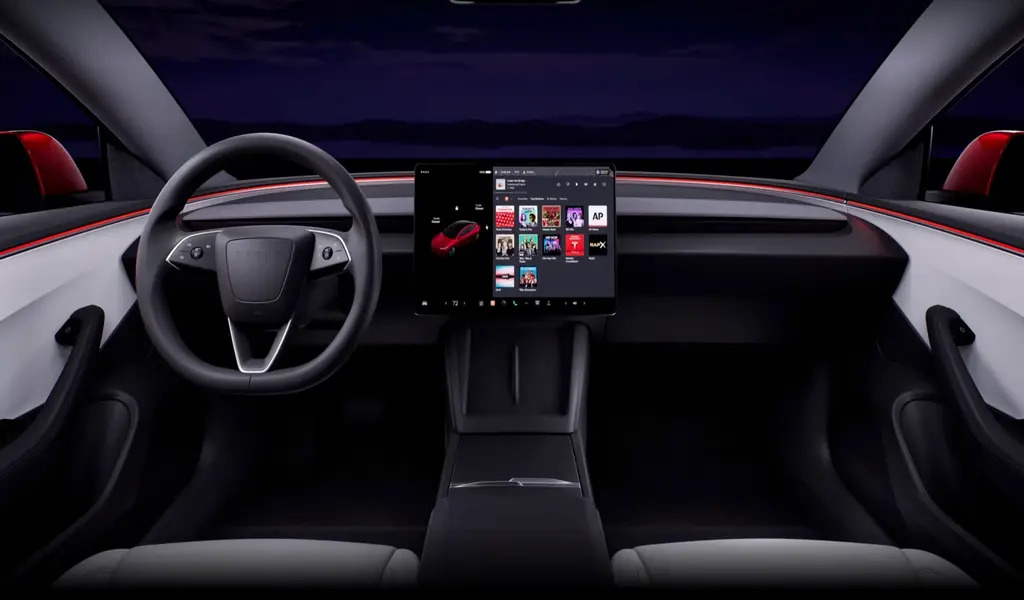 Tesla Announces New Model 3 Features and Release Plans in China and Australia
Tesla, the electric car manufacturer, has revealed its latest updates on the Model 3 and its release plans for the Chinese and Australian markets.
The company has begun accepting orders for the new Model 3 and aims to start deliveries in China in the fourth quarter, with Australian deliveries scheduled for January.
Sales Data from China:
Recent data from the China Passenger Car Association (CPCA) shows that Tesla sold 64,285 electric vehicles produced in China in July. However, this figure represents a 31% decrease from the previous month, indicating some fluctuations in the market.
Enhancements in the New Model:
Tesla's statement from its China operations highlighted various improvements in the new Model 3. These include an upgraded acoustic system, enhanced interior comfort, and the addition of a rear-seat passenger display screen.
External images also reveal subtle design changes, giving the sedan a more streamlined front appearance and featuring new headlights.
Competition in the Electric Vehicle Market:
Tesla's announcement coincides with the Munich auto show, where German automakers are set to unveil their own electric vehicles. This includes an updated version of the Volkswagen ID.7 and a new electric CLA sedan from Mercedes-Benz.
The electric vehicle market is becoming increasingly competitive as major players introduce new models.
Project "Highland" and Pricing in China:
Last November, it was reported by Reuters that Tesla had been working on a redesigned Model 3 under the project codename "Highland." The primary objectives of this project were to reduce production costs and enhance the overall appeal of the Model 3.
In China, the starting price for the new Model 3 is 259,900 yuan ($35,807.78), as listed on Tesla's website.
Tesla's latest developments in China and Australia, along with the improvements to the Model 3, reflect the company's commitment to expanding its presence in the global electric vehicle market and staying competitive in the face of growing competition.
RELATED CTN NEWS:
Tesla has Begun Alerting Employees Who Have Been Affected by the Data Theft
Top 5 Go-To Car Brands In Thailand: Navigating The Automotive Landscape
Tesla's Valuation Soars: From $50 Billion To $773 Billion During CFO Zach Kirkhorn's Tenure