Manhunt Continues for Army Reservist Who Gunned Down 18 People in Maine
An frantic police manhunt for a man accused of gunning down 18 people at a bowling alley and a pub in the US state of Maine reached its second day late Thursday.
Dozens of police enforcement personnel surrounded the family home of 40-year-old suspect Robert Card, but by mid-evening, they had left the Bowdoin, near Lewiston, property to look for him elsewhere.
More than 24 hours after Card allegedly went on a rampage, resulting in America's bloodiest mass shooting this year, a large region around Lewiston remained closed down. In addition, thirteen people were injured.
Authorities set up roadblocks, stopped schools and businesses, and advised citizens to stay indoors.
Governor Janet Mills stated that the man was "considered armed and dangerous, and police advised that Maine people should not approach him under any circumstances."
Card was seen aiming a semi-automatic rifle as he came into the Just-in-Time bowling alley on Wednesday, according to video footage.
Law police agents encircled the Card family's home in Bowdoin in the early evening, putting in armoured vehicles and dispatching drones and a helicopter.
State police sent a "please come outside" and "we don't want anyone to get hurt" warning over a loudspeaker near the property, but later clarified that the warnings were standard and not evidence that Card was inside.
Dave Letarte, a lifelong neighbour, claimed the shooting "floored me." "I would never have expected that from him," he said of Card, according to AFP. According to his father, Leroy Walker, Joseph Walker, a manager at the Schemengees Bar & Grille, was one of those killed the night before.
Walker described his family as "suffering and dying in an unfathomable nightmare."
"We were awake all night." "We had no idea where to go or who to turn to," he explained.
After the shooting began Wednesday evening, news sources carried footage of terrified people fleeing the bowling alley.
According to one survivor, he was only 15 feet (5 metres) away from the gunman when he opened fire. At first, he assumed it was a balloon popping.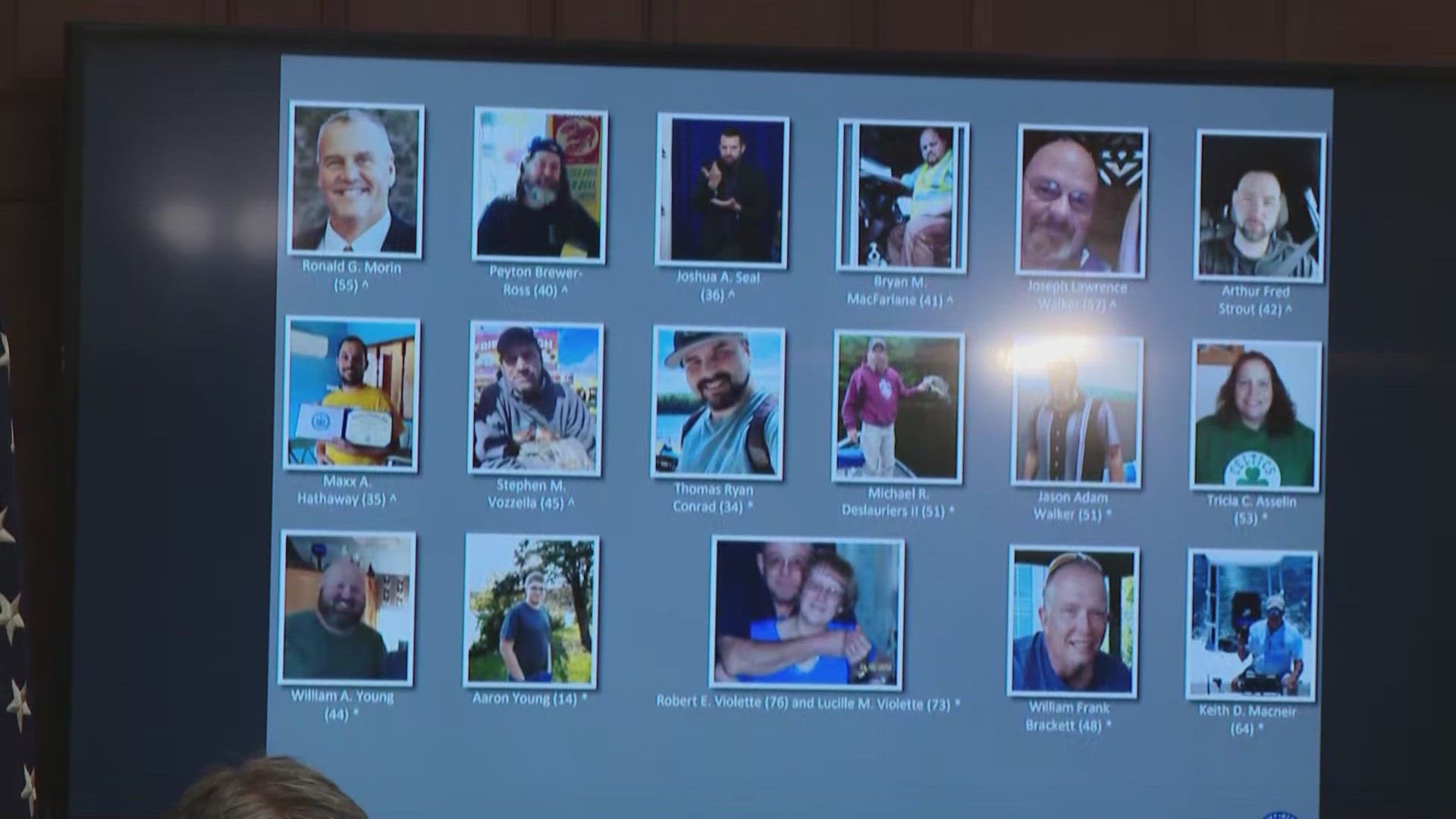 "And as soon as I turned and saw it was not a balloon and he was holding a weapon, I just booked it down the lane and I slid basically into where the pins are and climbed up into the machine and was on top of the machines for about 10 minutes until the cops got there," he went on to say.
Card is a member of the United States Army Reserve. According to US media, he was recently sent for mental care after claiming to hear voices.
Hundreds of police officers dressed in military-style camouflage gear and FBI agents descended on the search area in what Lewiston police chief David St. Pierre described as a "all-hands-on-deck" effort.
Biden called Maine's governor to offer federal assistance and ordered flags at the White House and all government buildings to be lowered to half-staff.
"Once again, our nation is in mourning after yet another senseless and tragic mass shooting," he went on to say.
Biden went on to say that the gun violence in the United States "is not normal, and we cannot accept it," pressing lawmakers to adopt legislation prohibiting assault weapons and high-capacity magazines.
Police and rescuers apparently arrived at the bowling alley at 7:15 p.m. in response to an active shooter, and subsequently received reports of another shooting at the Schemengees Bar & Grille.
Card appeared cool and composed as he moved through the doorway with his rifle raised in security footage showing him at the bowling alley.
Officers discovered a "vehicle of interest" – a white SUV — in Lisbon, about eight miles (12 km) from Lewiston.
This is the bloodiest shooting in the United States since 2017, when a gunman opened fire on a crowded music festival in Las Vegas, killing 60 people.
Mass shootings are all too regular in the United States, a country with more firearms than people, and every move to curtail their spread is invariably met with vehement opposition.
According to the Gun Violence Archive, a nongovernmental organisation that defines a mass shooting as four or more people injured or killed, the country has reported at least 565 major shootings this year.
Republican opponents of the constitutional right to carry arms often oppose efforts to tighten gun laws.
Despite popular indignation over the recurrent shootings, political gridlock persists.