California Governor Gavin Newsom Meets with China's Xi Jinping in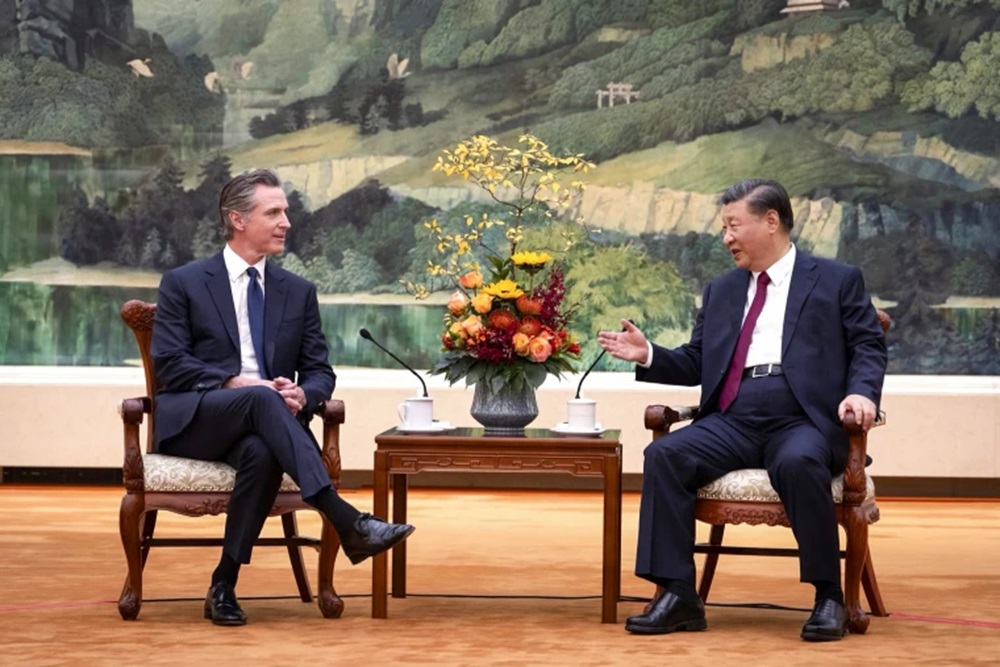 California Gov. Gavin Newsom had a surprise meeting with China's leader Xi Jinping in Beijing on Wednesday after being warmly welcomed by other senior leaders in a display of goodwill that contrasts sharply with previous US-China discussions.
The governor is in China for a week, where he hopes to advocate for climate cooperation. Newsom's travel as governor, which was long considered ordinary, is attracting attention since it comes after years of rising tensions between the United States and China.
"I'm here in the expectation, as you suggest, of turning the page, of renewing our friendship, and reengaging (on) foundational and fundamental issues that will determine our collective faith in the future," Newsom said in a brief opening statement before meeting with China's top diplomat, Wang Yi, earlier in the day.
Despite the fact that Newsom was in China to promote cooperation in combating climate change, Chinese officials used the opportunity in welcome speeches before the closed-door sessions to discuss US-China ties. Wang is planning a trip to the United States on Thursday.
Newsom and Xi discussed how to "accelerate our progress on climate in meaningful and substantive ways," the California governor stated at a press conference, without providing further details.
They also discussed fentanyl, a synthetic narcotic that is the leading killer of young people in the United States, as well as China's role in combatting international transportation of precursor chemicals, according to Newsom.
According to CCTV, Xi said Newsom, "I hope your visit will enhance mutual understanding between the two sides and play a positive role in expanding cooperation between China and California and promoting the healthy and stable development of Sino-U.S. relations."
Although China has not formally confirmed his presence, Xi may attend the Asia-Pacific Economic Cooperation conference in San Francisco next month and meet with US President Joe Biden.
Newsom is in Hong Kong, Beijing, Shanghai, and the Guangdong and Jiangsu provinces promoting business ties and climate change. He committed to continue cooperating on climate change regardless of the outcome of the next U.S. presidential election in an address at Hong Kong University on Monday.
He stated that he highlighted human rights concerns with Wang, and that the two also discussed Taiwan, a sensitive issue for Beijing. China considers the self-ruled island to be part of its territory.
"I expressed my support for the One-China policy… as well as our desire not to see independence," Newsom added, referring to US policy that recognises the Communist Party as China's dominant government. Although the United States does not officially recognise Taiwan, it is its most important unofficial ally.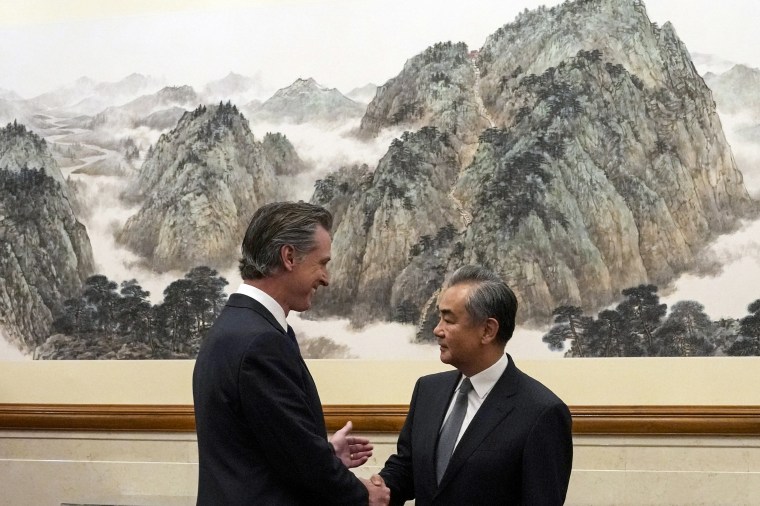 Wang, the chairman of the Communist Party's foreign affairs bureau, said he is aware of Newsom's trip's detractors, but he views it positively.
"But I think time and facts will certainly prove that your visit to China is in line with California people's wishes and in line with the American people's interests and the expectations of the global society."
Newsom also met with Vice President Han Zheng on Wednesday, who greeted him with a big smile and referred to him as a "old friend." Han has previously served on the Politburo Standing Committee, an elite group of party leaders.
"The China-U.S. relationship is the most important bilateral relationship in the world, and the sub-national cooperation is an indispensable part to facilitate the sound and steady growth of China-U.S. relations," he said. "I'm sure your weeklong trip will inject positive energy to the development of the China-U.S. relationship."
In addition, the governor met with the head of China's National Development and Reform Commission, a Cabinet-level institution in charge of economic policies. They signed a memorandum on expanding environmental cooperation.
California's governors have a long history of climate partnership with China, despite the fact that the state's economy is larger than that of other countries. Democrat Jerry Brown and Republican Arnold Schwarzenegger both visited China to exchange information on lowering air pollution and emissions.
Brown has established the California-China Climate Institute at the University of California, Berkeley, since leaving office.