Women in Thailand Faces 10-Year Prison Sentence for Killing Wild Elephants
After two wild elephants were electrocuted to death by a live wire wrapped around her durian plantation to safeguard her fruit plants, a woman was charged with violating the Wildlife Conservation and Protection Act.
The plantation is located within the Tai Rom Yen National Park near Moo 9 village in tambon Khlong Sa in Kanchanadit district, in Surat Thani, in southern Thailand.
On Thursday morning, Chaiyaporn Chaiyos, the park chief, went to the plantation with vets and local officials to investigate after local residents reported seeing two dead elephants.
They discovered the elephants dead in the middle of a laterite road next to a durian crop. One was perhaps 30-35 years old, while the other was approximately 20-25 years old.
The first elephant had a serious wound on its truck from a burn. Officials suspected it was electrocuted after contacting the wire and falling to the ground, and the second elephant died while attempting to save its partner.
Authorities discovered a live electrical wire wrapped around the plantation belonging to a woman named as Suwannee.
The woman has been accused with breaking the Wildlife Conservation and Protection Act of 2018, which resulted in the deaths of two elephants. If proven guilty, she faces up to ten years in prison and/or a fine of one million baht.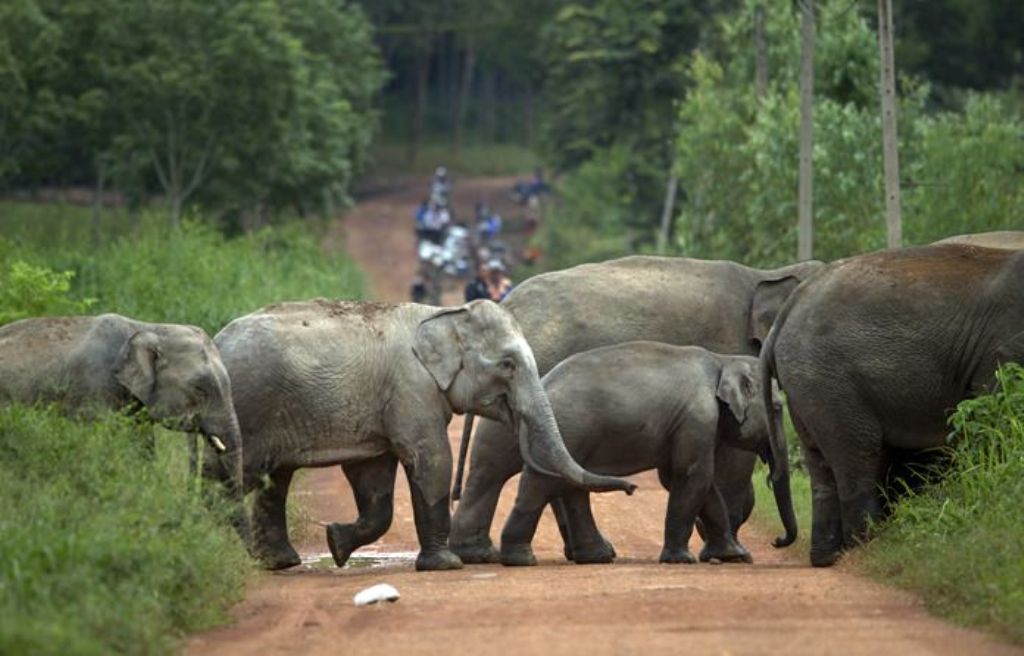 Legislation needed to solve problem with wild elephants
Meanwhile, on Wednesday, a network of persons impacted by wild elephant threats filed a complaint with the House of Representatives, claiming that the confrontation between local people and wild animals has worsened.
The complaint, presented by ten network representatives, was received by Jet Anukulpokarat, director of the House of Representatives' complaint-receiving office, acting on behalf of House Speaker Wan Muhamad Noor Matha.
According to the network, for the past 20 years, wild elephants from the Khao Ang Rue Nai Wildlife Sanctuary, which spans the provinces of Chachoengsao, Chanthaburi, Chon Buri, Rayong, and Prachin Buri, have come out of the forests to forage for food, causing significant damage to farmers' property, plants, and crops.
According to the report, the confrontation has resulted in several deaths and injuries to both humans and wild elephants.
The network is encouraging the House to pass legislation to handle the issue properly.
The most recent incidence occurred on October 7, when a villager was murdered by a wild elephant from the sanctuary while rubber-tapping on his crop.
Two volunteers were hurt on Tuesday while attempting to push wild elephants back into the forest in Chachoengsao's Sanam Chaikhet district's tambon Tha Kradan.
A juvenile male wild elephant, about 5 years old, was discovered dead in a jungle near Moo 12 hamlet in Tha Kradan on Wednesday. Wildlife officers, police, and local leaders examined the cadaver and discovered nine bullet wounds. Disgruntled villagers were alleged to have shot the animal with a 9mm shotgun.
According to the network's secretary-general, Suwichan Suwannakha, the locals have also requested that the Ministry of Natural Resources and Environment develop a plan to drive the wild elephants back into the wildlife sanctuary and construct a barrier to prevent their return, preventing further damage to people's property.
Elephant mishaps have been on the rise in recent years, as their number grows and their habitats are under threat from human activity.
There have been around a half-dozen reports of elephants being electrocuted in the last five years, either by coming into contact with electricity lines or by farmers erecting electrified fences.
Wild elephants are an iconic and vital element of Thailand's natural heritage. Thailand is home to both Asian and African elephants (Elephas maximus and Loxodonta africana).
However, Asian elephants are predominantly native to Thailand, and they occupy a special position in Thai culture and history.
Efforts to maintain and conserve wild elephant populations in Thailand are underway, but the problems they face owing to habitat degradation and human-elephant conflicts remain significant. Conservation efforts and ethical tourism can play an important part in ensuring the future of these magnificent creatures in Thailand.