Woman Angry at Boss Sets Oil Warehouse Ablaze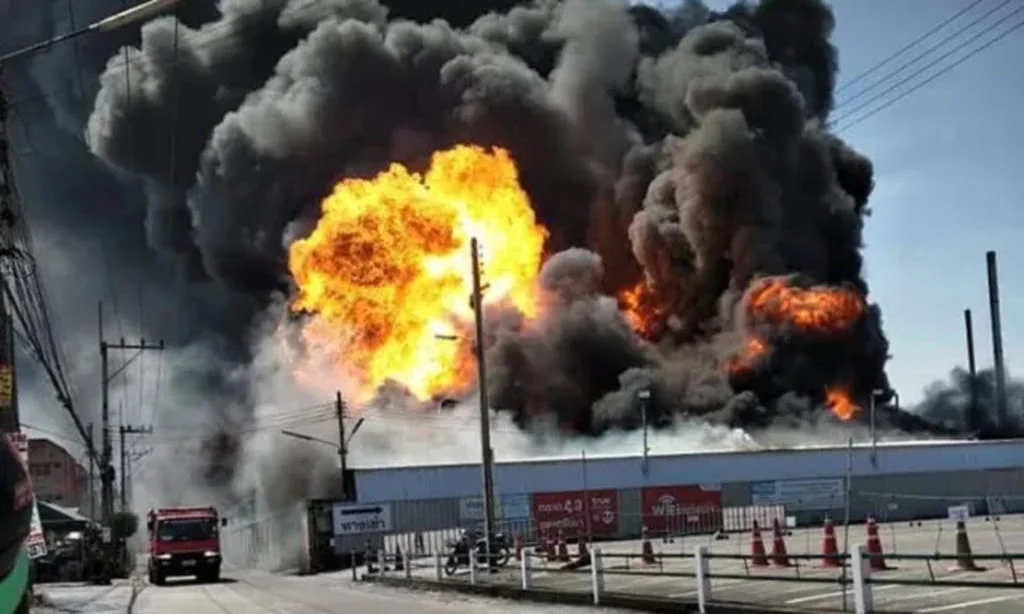 A 38-year-old woman has been arrested after CCTV security footage captured her walking into the oil warehouse and setting it on fire. The woman admitted to the police that her actions were an act of revenge.
Damages totalled 40 million baht. Ms Sirisini or Ann Sriya, 38, head of the company's warehouse department, has was arrested. She allegedly told police that she set the fire in anger because her boss scolded her and discussed ways for her to improve at work.
On Wednesday, Pol Major Gen Chomchawin Purathananon and officials from the Nakhon Pathom Police gathered at the Pho Kaeo Police Station to announce the arrest of Ms Sirisini aka Ann Sriya.
On Monday morning, a blaze broke out at the
Prapakorn lubricant oil warehouse
in Nakhon Pathom province's Sam Phran district. Residents within a kilometre of the fire were asked to evacuate because their presence could impede efforts to control it.
Fire crews were also instructed not to allow oil to leak into the environment. Residents living in the neighbourhood panicked as plumes of thick black smoke rose into the sky.
Toxic smoke from warehouse fire
The warehouse houses 20 gallon and 5-gallon oil and chemical containers. Thousands of gallons of oil and chemicals were kept in it. The warehouse was 300 meters behind the Tanya market. Located on a rai of land, the warehouse was a one-story structure.
Despite the efforts of the firefighting team and the police, the fire spread quickly due to the materials inside. The blaze also created a huge amount of toxic smoke.
Over 40 fire trucks worked on the scene for hours.
Atthaphon Charoenchansa, the Director-General of the Pollution Control Department, said today that the same facility was also struck by fire seven months ago.
People also reading: