Toxic PM2.5 Dust Particles Plague Northern Thailand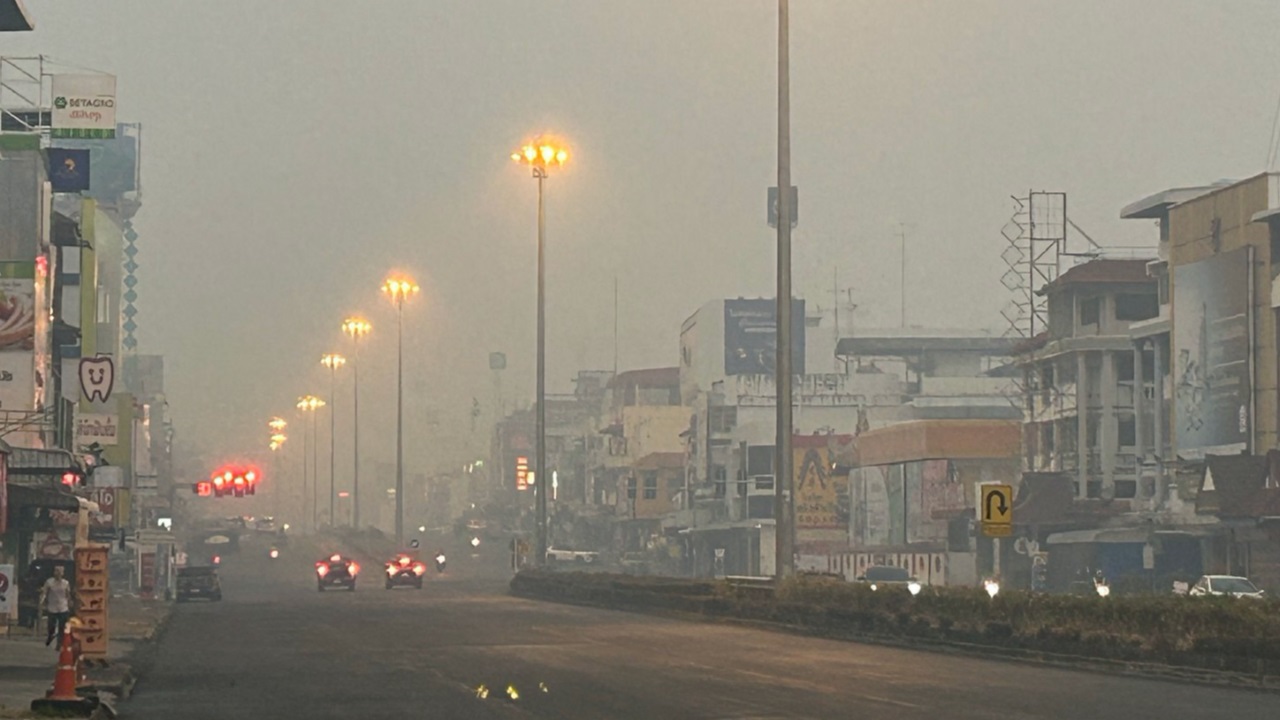 Thailand's Pollution Control Department, hazardous levels of PM2.5 dust particles were reported in northern provinces on Wednesday morning, with the worst air pollution remaining in Chiang Rai's Mae Sai district.
The department reported at 10 a.m. on Wednesday that dangerous levels of particulate matter with a diameter of 2.5 micrometres or less (PM2.5) ranged from 58 to 320 micrograms per cubic metre of air over the previous 24 hours.
Muang district of Phrae had the lowest pollution level, while Mae Sai district of Chiang Rai remained the most polluted. The government-established safe limit is 50 g/m3.
The director-general of the department, Pinsak Suraswadi, reported that the provinces of Chiang Mai, Chiang Rai, Lampang, Lamphun, Mae Hong Son, Nan, and Phayao detected levels of PM2.5 between 92 and 320g/m3.
The causes were still widespread outdoor burning, a large number of fire hotspots in neighbouring nations, and stagnant air.
Mr. Pinsak predicted that smog would be at its worst in the upper North, particularly in border provinces, from Thursday to the following Wednesday. Only in the Muang district of Bueng Kan, 62g/m3, did PM2.5 reach unhealthy levels in the Northeast.
Yesterday, the pollution monitoring website IQAir ranked Chiang Mai as the city with the worst air quality in the world.
At 10.30 a.m., IQAir reported that the US AQI (air quality index) for Chiang Mai was 289 and that the PM2.5 level was 239 microgrammes per cubic metre (g/m3), which exceeds standard safety limits.
Consequently, Chiang Mai remains the most polluted city in the world over the past few days, according to IQAir.
With a US AQI of 260, Lahore in Pakistan was the second most polluted city, after New Delhi in India, followed by Beijing (181) and Wuhan in China. (173).

PM2-5 Dust in Chiang Mai Dangerous
Yesterday, Chiang Mai was shrouded in thick haze as a result of widespread outdoor burning and a large number of fire hotspots in neighbouring countries, with winds carrying smoke across the border into the northern city.
In the past 24 hours, 488 of the 3,667 hotspots in 17 northern cities were detected in Chiang Mai.
Yesterday morning, the worst PM2.5 level of 960 g/m3 was recorded in the Chiang Dao district's tambon Ping Khong.
The Centre for Tackling Forest Fires and Haze Pollution in the Third Region used aircraft to drop between 3,000 and 5,000 litres of Phos-Chek fire retardant, a mixture of water and fertilizer, in Chiang Mai to help contain forest fires and reduce haze pollution.
The governor of Chiang Mai, Nirat Pongsitthaworn, announced on Tuesday that he had opened a help centre to care for the health of residents affected by PM2.5 amid reports of an increase in hospital admissions for respiratory illnesses.
The governor stated that measures are also in place to distribute face masks to residents and create dust-free rooms throughout the northern province.
The Pollution Control Department forecasts that the PM2.5 situation in Bangkok and the surrounding provinces will improve between now and April 2 as southerly winds disperse the haze. On the 3rd and 4th of April, however, several areas of Bangkok may be affected by haze from the west of the country.

PM2.5 Air Pollutants: Tiny Particles That Can Have Huge (Health) Consequences
The World Health Organization (WHO) has established an average rate for PM2.5 air pollutants, stating that levels greater than 25 micrograms per cubic meter are considered hazardous to health. At the same time, Thailand has set the level at which PM2.5 air pollutants pose a health risk at 50 micrograms per cubic meter.
Regardless of the standards used, the current PM2.5 air pollutant levels in the Greater Bangkok area are critical, with nearly 100 micrograms per cubic meter being measured on a daily basis. These levels are especially high near or on heavily travelled roads, as well as near construction sites.
Understanding PM2.5
It is an unavoidable fact that large cities such as Bangkok, as well as other major capital cities around the world, must deal with the issue of air pollution on a daily basis. This is due to the large number of people, limited traffic space, and dust produced by constant construction.
Nonetheless, the current crisis affecting Bangkok residents is caused by particulate matter smaller than 2.5 microns in size (PM2.5), which is invisible to the naked eye. As a result, people have been slow to recognize the serious health risks posed by PM2.5. The tiny PM2.5 pollutants are generally caused by the combustion of fuel by motorized vehicles, particularly cars, regardless of their age.
The highest concentrations of PM2.5 are observed during morning and evening rush hours, while critical levels are currently observed during the cool season. This is due to a lack of wind and rain during these times, causing dust to accumulate at ground level. Furthermore, wind finds it difficult to pass through modern-day Bangkok due to the tall buildings that block its path, and dust from the city's numerous construction sites is another factor contributing to the city's poor air quality.
Furthermore, environmentalists have provided additional information on Bangkok's PM2.5 problem. Explaining how the problem is exacerbated by large amounts of nitrogen dioxide (NO2) being released into the atmosphere, where it undergoes a chemical reaction with the ozone layer and sunlight, producing the problematic particulate matter.
Because nitrogen dioxide is a byproduct of the internal combustion process in diesel engines, many countries around the world that are concerned about the health of their citizens are currently attempting to reduce the use of such engines.
Particulate matter's dangers
Because of the small size of the particles, PM2.5 dust can easily enter the respiratory system and lungs. Furthermore, some particles may enter the bloodstream and circulate throughout the human body, with disastrous results.
Risks to the respiratory system and lungs
It's easy to see how air pollution can directly affect the respiratory system and lungs. This is especially true for tiny particulate matter, which cannot be seen with the naked eye, because its small size allows it to be ingested faster and more easily than larger matter, potentially having serious consequences for those with congenital asthma or even being a cause of asthma in others. If no appropriate precautions are taken, the dust may accumulate over time, which is a major factor in the development of lung cancer.
Risks to the cardiovascular system
Over time, ingestion of particulate matter can cause the secretion of sediment within the veins and arteries, potentially leading to a heart attack or an ischemic stroke. Furthermore, air pollution can have a negative impact on cardiovascular muscle cells, leading to arrhythmia or even heart failure.
Brain-related dangers
When particulate matter is small enough to enter the bloodstream and accumulate over time, it can cause high blood pressure and thicker blood viscosity, both of which increase the risk of cerebral thrombosis. Furthermore, the veins in the brain can stiffen, increasing the risk of an ischemic or hemorrhagic stroke, both of which can cause permanent disabilities, paralysis, and even death.
Groups most vulnerable to airborne pollutants
If adequate protection is not used, all residents of the Greater Bangkok area are at risk, though the amount of risk varies depending on the individual's health and strength. Children, pregnant women, the elderly, and those with congenital health disorders, particularly lung or heart problems, are viewed as particularly vulnerable.
Children
In general, the younger a person is, the more dangerous they are. This is due to the fact that young infants' immune systems are not yet as strong as those of adults, and their various bodily organs are still developing. Thus, airborne pollutants that easily enter the respiratory and circulatory systems can inhibit the growth of the numerous bodily systems or, in the worst-case scenario, lead to serious illness and disease.
Women who are pregnant
There are risks to the unborn child in addition to the risks to the mother from direct exposure to airborne pollutants. According to studies, air pollution can cause premature birth, an increased risk of miscarriage, and an increased risk of fetal death while still in the womb.
Elderly people
As we age, our bodies and various bodily functions deteriorate, resulting in a weakened immune system. As a result, when an elderly person is exposed to air pollution, they may develop cardiovascular disease and asthma. This is especially important for older people who have a congenital medical condition. Such people should take extra precautions to avoid being exposed to airborne pollutants.
Patients in hospitals or those with congenital health problems
People with respiratory diseases, lung disease, and various forms of cardiovascular disease are especially vulnerable to high levels of air pollution because it can have a direct effect on their condition, potentially resulting in death.
Taking precautions against particulate matter
Masks for the face
Protect yourself from PM2.5 pollutants by wearing a nose mask that provides effective protection against the toxic particulate matter, such as N95 masks that provide at least 95% protection and N99 masks that provide up to 99% protection. Such masks should be worn as directed by the manufacturer. This requires paying special attention to a tight fit in order for the mask to effectively filter out the particles. Furthermore, previously used masks with a layer of dust on them should be discarded rather than reused.
Applications for loading
Various apps, such as Asia Air Quality (Android), Global Air Quality (Android), and Air Quality Index (iOS), can be used to monitor the current air quality situation.
Avoid engaging in outdoor activities.
Outdoor travel exposes you to more air pollution and the possibility of ingesting large amounts of particulate matter. As a result, you should try to avoid any unnecessary travel. This is especially important for outdoor exercise enthusiasts, who should refrain from engaging in any form of outdoor exercise during periods of smog and high particulate matter. Exercising or heavy breathing can increase the amount of particulate matter ingested into the respiratory system and lungs.
Stay at home or in buildings that are properly sealed against outside air.
During periods of poor air quality, you may want to use air conditioning devices, even if the outside temperature is not particularly high, or close all of your windows and doors. Effective air purifying equipment may be used in some cases to filter out any particulate matter in the air supply.
Stop smoking and any other activities that generate smoke.
Smoking or ingesting any form of smoke can weaken the respiratory system, which means that when air pollution is added to the mix, it can have an even more negative impact on overall health, increasing the risk of asthma and lung cancer.
Maintain a close eye on your health.
This is especially important for people with congenital health conditions, who should always keep their medication nearby or consult with their doctor to get the best advice and recommendations.
If you are unable to avoid areas with severely depleted air quality, protect yourself accordingly. If you are unsure whether you are adequately protecting yourself, if you are classified as being at high risk, or if you experience any symptoms such as difficulty breathing, feeling faint, exhaustion, or a prolonged and severe cough, seek medical attention immediately to receive timely and proper treatment.
Do not ignore the poor air quality that is currently engulfing Greater Bangkok because, while the particulate matter may be invisible to the naked eye, it is dangerous enough to endanger your life.