Foreigner Drinking Beer at Chiang Mai Temple Sparks Heated Debate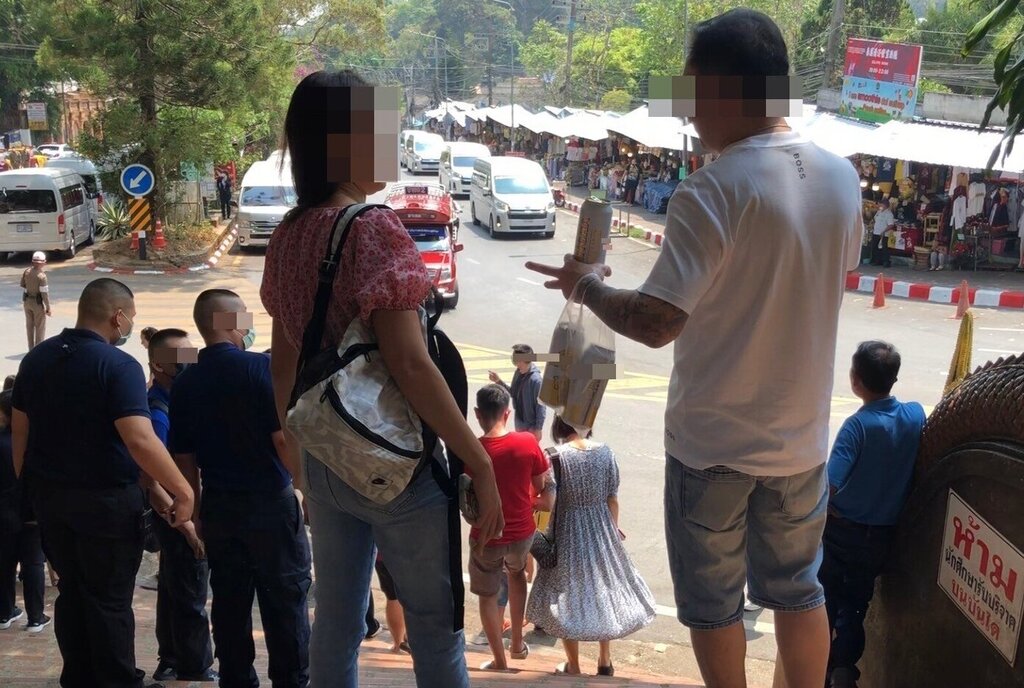 Pictures of a foreigner carrying and drinking beer at a Chiang Mai temple during Prime Minister Prayut Chan-o-visit cha's have sparked debate online, raising concerns about the Prime Minister's security detail.
Images released on Saturday show an Asian man holding an open can of beer and two more in a clear plastic bag, just meters away from the premier's security personnel at Wat Phra That Doi Suthep. Others clearly show him drinking from cans on the grounds of the famous temple in Muang district.
Social media users wondered how someone managed to bring alcoholic beverages onto temple grounds, which is illegal. They also inquired as to why the prime minister's bodyguards appeared unconcerned about the violation.
According to a temple source, while strict security is usually present to deal with such incidents, local guards were scaled back and assigned to specific stations during Prime Minister Prayut Chan-o-visit cha's to make way for his personal security personnel.
The temple source told the Bangkok Post that a lapse in monitoring was possible due to the special circumstances of the day, but that stricter precautions would be taken. Nearby vendors will also be reminded that buyers are not permitted to bring alcoholic beverages onto the temple grounds.
Meanwhile, at the temple, Prime Minister Prayut Chan-o-cha was confronted by a woman who complained about economic hardship and said she couldn't wait for him to dissolve the House and call an election.
The woman, later identified as Wandee Ratduang, exclaimed that she had flowers for him.
Ms. Wandee drew his attention by presenting him with withered flowers, candles, and joss sticks, and demanding to know when he would dissolve the House. Gen Prayut advised her to hold off until an official announcement was made.
Ms. Wandee, who displayed an anti-government three-finger symbol, told reporters she had had enough of the current administration.
She stated that it was past time to replace the Prime Minister and asked when the elections would be held.
Ms. Wandee, a Phichit native, said the withered flowers represented the country's state after eight years under Gen Prayut's leadership. Security officers stood nearby but did not attempt to escort her away.