Bilan: Empowering Voices – Somalia's Pioneering All-Women Media Outlet Expands Coverage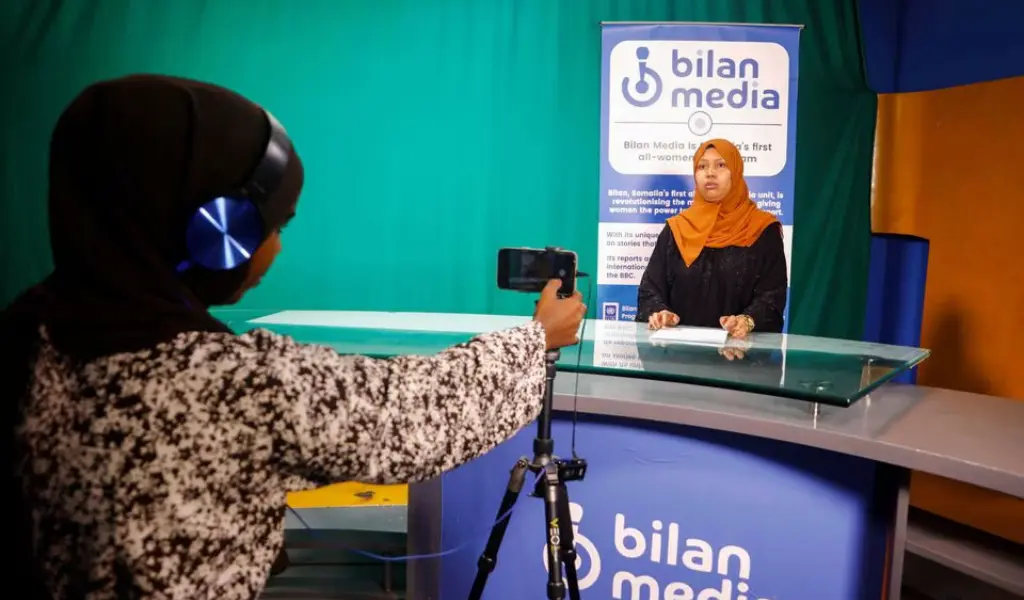 (CTN NEWS) – Somalia's inaugural all-female media organization, Bilan, is poised for an expansion of its news coverage.
Established just over a year ago in the capital city of Mogadishu, Bilan operates with a team of six women in its newsroom, delivering a comprehensive mix of breaking news and in-depth features that delve into the everyday experiences of women.
As an independent media outlet managed entirely by women, Bilan's journalists have the autonomy to determine the subjects they will report on, as well as the timing and approach, providing a distinct and insightful perspective into the lives and viewpoints of women.
Bilan's Expanding Impact: Challenging Gender Inequality and Defying Danger in Somalia
Since commencing its operations, Bilan's reports have been disseminated locally through Dalsan and internationally via prominent outlets such as the Guardian, BBC, El Pais, and the Toronto Star.
Now, Bilan is poised to expand its presence by establishing additional offices to support a greater number of female journalists in various cities.
This development is particularly significant for a country that the UN has ranked as the fourth-lowest in terms of gender equality on a global scale.
Women and girls in Somalia confront daunting challenges, including alarmingly high maternal and infant mortality rates, some of the highest in the world, as well as the pervasive issue of early marriage, with 36 percent of girls being married before the age of 18.
Gender-based violence is rampant, and more than 90 percent of women aged 15 to 19 have undergone female genital mutilation.
According to Reporters Without Borders, Somalia stands as the most perilous country for journalists in Africa, with over 50 journalists losing their lives in the past twelve years.
In the Global Impunity Index compiled by The Committee to Protect Journalists, which calculates the number of unsolved journalist murders as a percentage of a country's population, Somalia occupies the lowest rank.
Bilan Media's Bold Mission to Challenge Taboos and Empower Women in Somalia
Fathi Mohamed Ahmed serves as the chief editor of Bilan and shared with Reuters the challenges posed by Somalia's deeply entrenched patriarchal culture, which often hinders open discussions about women's issues.
She remarked, "We are aware that in Somali society, certain topics related to girls are considered taboo. For instance, the signs of womanhood such as menstruation are not typically taught in classrooms."
One story that garnered significant attention this year revolved around the societal taboo surrounding menstruation, accumulating a remarkable 130,000 views on Bilan's Facebook page.
Ahmed and her team at Bilan are committed to shedding light on subjects that have traditionally been overlooked within their country. They cover a wide range of issues, including domestic violence, family dynamics, female incarceration, the gender pay gap, and caregiving.
Reuters reports that Bilan's recent coverage of topics like HIV/AIDS, autism, and menstrual hygiene education has initiated crucial discussions both online and in public forums.
These discussions have spurred calls for substantial political and societal changes to better the status of women.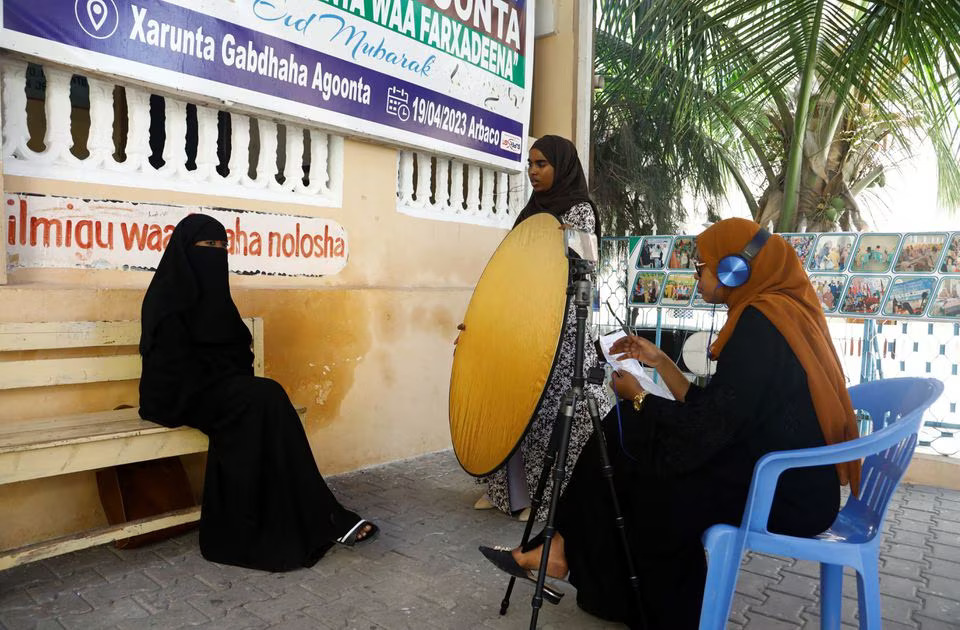 Bilan Media Sparks Change and Resilience Among Female Journalists in Somalia
One outcome of note was the story about the menstrual taboo from earlier this year, which led to discussions within the Ministry of Women.
Subsequently, the ministry expressed its willingness to collaborate with Bilan on an advocacy campaign aimed at shifting attitudes surrounding menstrual health and well-being.
Former Chief Editor of Bilan, Nasrin Mohamed Ahmed, conveyed in an interview last year that being a female journalist in Somalia often requires a readiness to make immense sacrifices.
She observed, "Female journalists not only face the same risks as everyone else, such as bombings and challenging living conditions, but they also grapple with issues specific to being a woman in the media."
Farhio Mohamed Hassan, one of Bilan's five reporters, shared her passion for narrating women's stories, even though the journey has been exceptionally demanding.
She noted, "Many of my female colleagues have left the profession due to harassment and limited opportunities. However, I persevered because I believe that both women and men must bring Somalia's challenges into the open, no matter how difficult it may be."
The United Nations Development Programme (UNDP) plays a pivotal role in supporting Bilan by providing essential funding and equipment.
https://twitter.com/MediaBilan/status/1700840477224776008?ref_src=twsrc%5Etfw%7Ctwcamp%5Etweetembed%7Ctwterm%5E1700840477224776008%7Ctwgr%5Ef1815a559c1b9254145beaf94a5a223eb5e64f91%7Ctwcon%5Es1_&ref_url=https%3A%2F%2Fwomensagenda.com.au%2Flatest%2Fsomalias-first-all-women-media-company-to-expand%2F
Bilan Media's Empowering Mentorship Program and Impact on Journalism
Bilan Media extends a mentoring and traineeship program to young, aspiring female journalists, fostering valuable partnerships with professionals from esteemed media outlets like BBC, ITV, Channel 4, and Al Jazeera.
Abdallah Al Dardari, the Director of the United Nations Development Programme Regional Bureau for Arab States, emphasized the transformative impact of Bilan Media on the journalism landscape in a country with a population exceeding 18 million.
He remarked, "With their distinct perspective and the ever-expanding influence of the Bilan Media brand, they are catalyzing a demand for change and improved treatment of women and girls that cannot be overlooked."
For additional information about Bilan, please visit their website or refer to their online resources.
RELATED CTN NEWS:
Asian Development Bank (ADB) Revises Down 2023 Economic Growth Forecast For Developing Asia
Canada Rejects Indian Travel Advisory Amid Escalating Tensions, Asserts Safety
Sikh Movement: Canada's Involvement In The Sikh Struggle In India