4-Year-Old Girl Gets Foot Trapped in Shopping Mall Escalator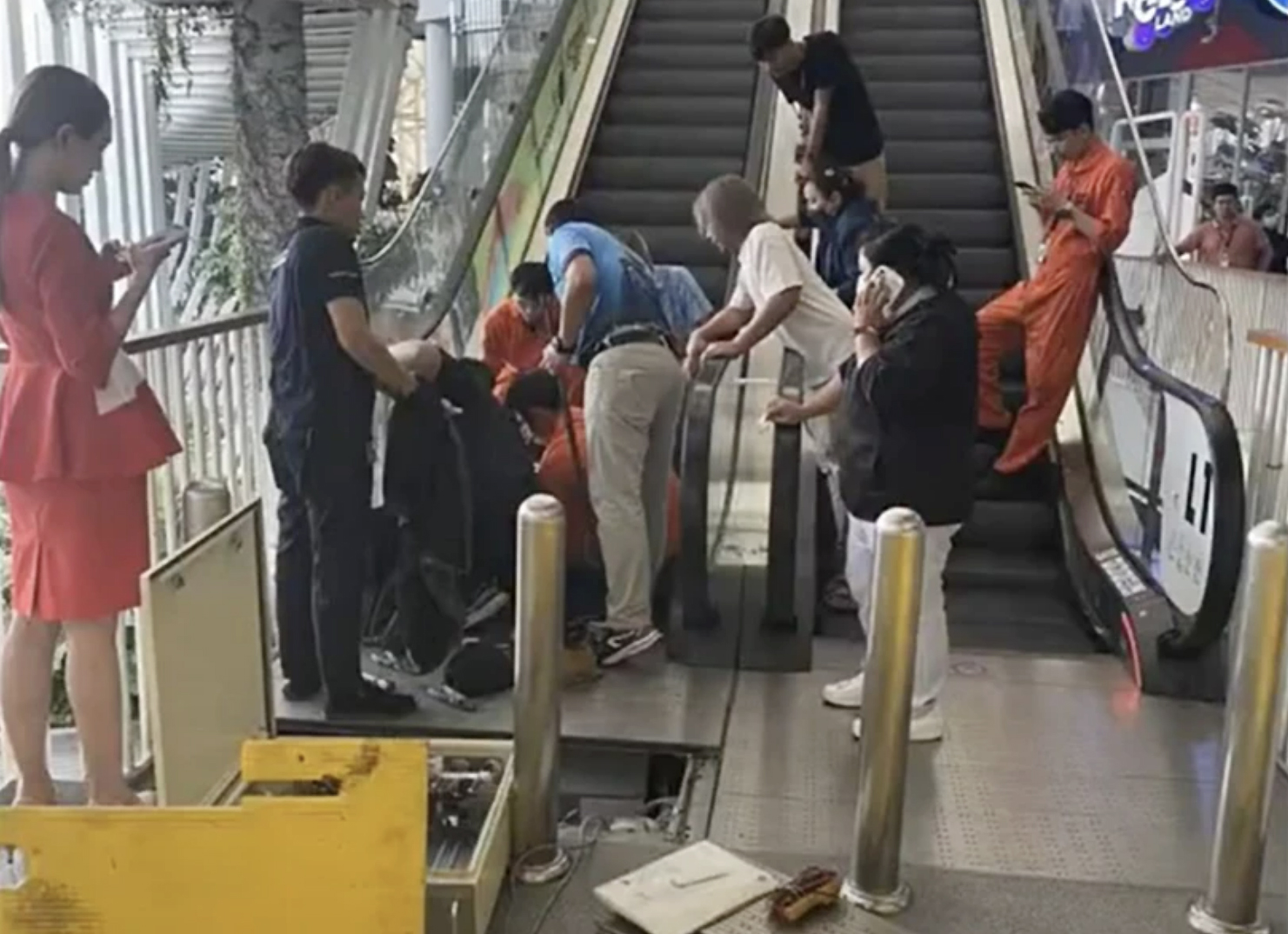 A four-year-old girl received an injury when her right foot after it became locked in an shopping mall escalator in central Thailand's Samut Prakan's Bang Phli district on Friday evening.
The girl's mother, whose identity was suppressed, told the Bangkok Post that she, her husband, and her daughter were coming down the escalator after visiting the Megabangna children's playground. Her daughter fell and her right shoe became stuck in the escalator.
The parents and bystanders were able to use the emergency stop button before the escalator caused further injury.
The child's father yelled for assistance in alerting mall personnel, but he voiced anger with the mall's lack of preparedness for such crises. Staff took more than five minutes to arrive, according to witnesses.
The mother and her husband were dissatisfied with the reaction time, and the shopping mall employees took a long time to find out how to securely remove the child off the escalator.
Her spouse agreed that the personnel demonstrated a lack of empathy by hastily erecting barriers to prevent other people from watching the occurrence.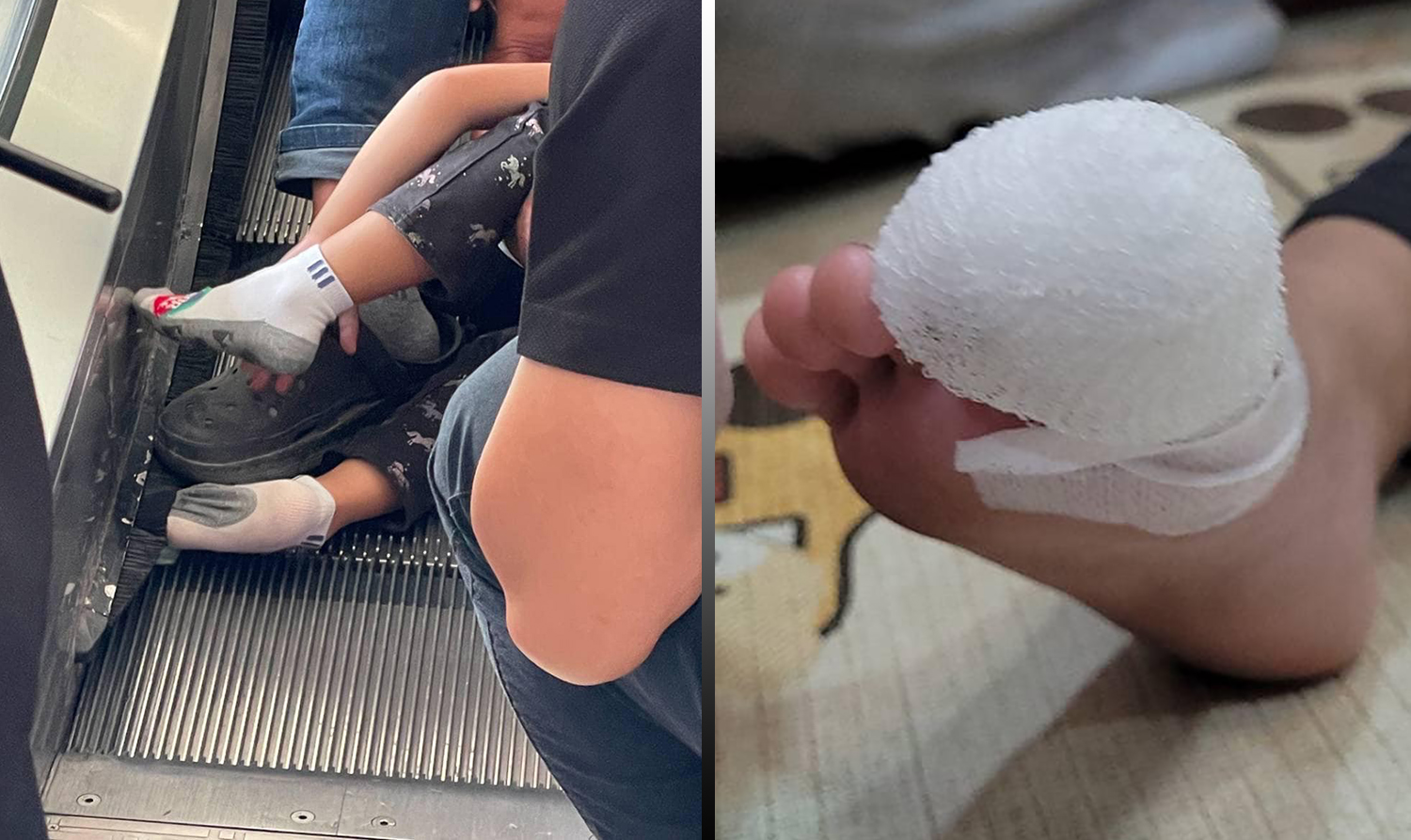 The little girl was transferred to Samitivej Srinakarin Hospital after being rescued from the shopping mall escalator. Her right toe was injured, and her parents were charged 7,000 baht (US$195.00) for medical fees.
According to the mother, her daughter was now hesitant to visit the playground as a result of the incident's psychological damage. After such instances, the mother urged mall management to demonstrate genuine concern for customers by enhancing safety measures and checking on the well-being of affected persons.
The shopping mall management made a formal statement on Saturday, stating that safety officers and medical personnel responded quickly when the customer's rubber shoe became caught, causing the escalator to malfunction.
"There were no fractures, but minor injuries on the toe, according to the surgeon's report." "The individual has received treatment and has safely returned home," according to the statement.
According to the shopping mall, its equipment is tested and maintained on a regular basis by specialised businesses, and safety measures, such as warning signs about correct escalator use, are always on display to ensure everyone's safety.
Since an incident at Don Mueang airport on June 29, when a woman's leg became entangled in a moving walkway, public worry about escalators and similar devices has grown.
According to Airports of Thailand, a footplate had come free from its mounting frame in that incident, causing the woman's leg to slip through the gap as she approached the end of the walkway.
Top 10 Reasons for Escalator Accidents
Escalators are commonly used in public places such as malls, airports, and metro stations, and while they are generally safe, accidents can and do occur. Global escalator accidents can encompass a range of incidents, from minor injuries to more serious accidents. Here are some common factors and causes associated with escalator accidents:
1. Mechanical Failures: Mechanical failures in escalators, such as sudden stops, malfunctions in the handrails, or steps, can lead to accidents. Regular maintenance is crucial to prevent these issues.
2. Poor Maintenance: Neglecting to maintain and inspect escalators regularly can result in dangerous situations. Lubrication, cleaning, and inspection of various components are essential to ensure safe operation.
3. Slip and Falls: Slippery shoes, loose clothing, and foreign substances on the steps or handrails can lead to passengers slipping and falling.
4. Entrapment: Fingers, clothing, or personal belongings can get caught in the moving parts of an escalator, leading to injuries. Safety features like comb plates and brushes are designed to prevent entrapment.
5. Overcrowding: Overcrowding on escalators can lead to tripping and falling, especially when passengers don't maintain proper spacing.
6. User Behavior: Reckless or inattentive behavior, such as running, sitting, or not holding the handrail, can increase the risk of accidents.
7. Uneven Loading: Imbalanced loads, such as too many people on one side of the escalator, can lead to instability and potential accidents.
8. Elderly and Children: Elderly individuals and children may be at a higher risk of accidents due to their physical limitations or lack of awareness of safety guidelines.
9. Language Barriers: In international and multicultural settings, language barriers can impede passengers' understanding of safety guidelines and emergency procedures.
10. Inadequate Safety Measures: Lack of proper signage, emergency stop buttons, and clear instructions for passengers can contribute to accidents.
It's important to note that escalator accidents vary in severity, and many accidents result in minor injuries or discomfort rather than major incidents. Nonetheless, it's crucial for property owners and managers to prioritize escalator safety through regular maintenance, clear signage, and public education to minimize the risks associated with escalator use. Additionally, passengers should exercise caution and follow shopping mall safety guidelines when using escalators.