Police in Thailand Seize More Than 2,000 Illegal Guns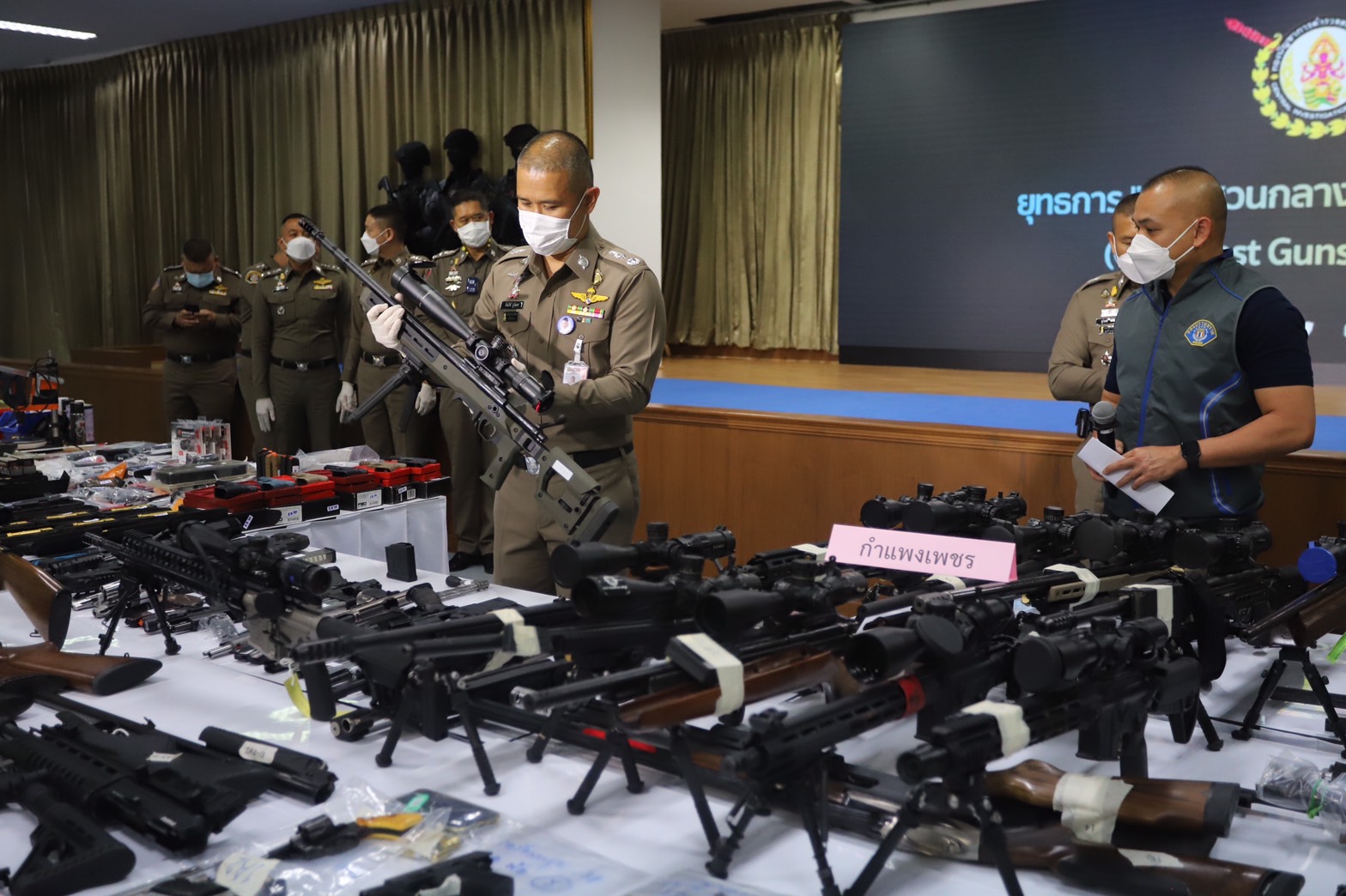 After a deadly shooting in a Bangkok shopping mall, police conducted a statewide sweep over the course of three days, during which they arrested 1,593 suspects and collected over 2,000 illicit firearms and 75,000 rounds of ammunition.
Police teams conducted 3,224 raids across the country between October 9 and 11, according to National Police Chief Torsak Sukvimol's Thursday press conference.
The three-day operation resulted in the arrest of 1,593 people. Cops took in 1,789 blank and BB guns, 219 legally owned weapons, and 75,973 bullets.
On October 3, a juvenile shooter killed two and injured five others at the Siam Paragon shopping centre, prompting Pol Gen Torsak to announce the crackdown operation.
According to police, the 14-year-old shooter, who is currently undergoing psychiatric examination, bought his modified blank rifle online.
Pol Gen Torsak stated that Prime Minister Srettha Thavisin had ordered a crackdown on all illegal firearms after the fatal shootings.
As one of seven interim measures to strengthen gun control, Interior Minister Anutin Charnvirakul halted the issue of permits for importing and dealing firearms. Long-term plans include revising the country's 76-year-old gun law to remove existing loopholes.
The police Cyber Crime Investigation Bureau (CCIB) is also collaborating with other organisations to crack down on social media platforms that facilitate the unlawful sale of firearms.
Pol Gen Torsak claims that they have deleted 79 Facebook pages, 14 TikTok accounts, 148 Twitter accounts, 26 YouTube channels, and 14 Instagram profiles.
Gun ownership in Thailand is high compared to other Southeast Asian countries, despite the fact that illegal gun possession carries a prison sentence of up to 10 years and a fine of up to 20,000 baht.
The 2017 Small Arms Survey, conducted in Switzerland, found that Thais had an estimated 10.3 million firearms, of which only 6.2 million were legally registered.
According to the World Population Review for 2022, Thailand had the fifteenth highest rate of gun deaths worldwide, with 2,804 fatalities (3.91 per 100,000 people).
Police, Gun Smith Stand-off ends in suicide
Meanwhile, a gunsmith who narrowly avoided a police raid on his rented house on Wednesday returned to his premises prepared to surrender, but instead shot himself dead.
On Thursday, 32-year-old Weerayut Pantharangsi was discovered dead in his house-cum-factory in the Kan Kheha 2 neighbourhood of the Muang district.
At around 1 p.m., Nakhon Si Thammarat police head Pol Maj Gen Somchai Suetortrakul led an inspection of the scene with his subordinates.
Internal locks ensured that the home was secure. Weerayut was lying in a pool of blood by the front door when the police entered the residence. A pistol was in his right hand, and he had a bullet hole in his skull.
After fleeing his home on Wednesday as part of a nationwide crackdown on illegal firearms, Weerayut reportedly phoned family and relatives about his plan to surrender.
His family members claim he told them he wanted to turn himself in because he did not want them to get into trouble. They think he killed himself on Thursday because he was anxious about a lawsuit over his gun manufacturing business. Psoriasis, a skin condition, also plagued him.
On Wednesday, when police conducted a raid on Weerayut's home, they discovered a high-tech surveillance system that likely helped him anticipate their coming and escape.
In addition to numerous improvised gun barrels and fake guns, including assault rifles, police also discovered a well-equipped workshop in the property.
At 9:45 a.m. on Thursday, the suspect called police on the anonymous tip line 191, according to Pol Maj Gen Somchai.
At 12:45, detectives and La-or Pantharangsi, the suspect's mum, headed in that direction. There was a lock on the door. His mother called and called for him, but he didn't answer the door. She eventually called the police and had them smash down the door, where she discovered her dead son.
Weerayut is known for its illegal gun trade, and earlier today police arrested two individuals, Anuwat Sribua and Jinnawat Promkarn.
The gunsmith paid Mr. Anuwat 1,500 baht to open a bank account to receive money transfers, and he assigned Mr. Jinnawat the job of delivering packages in exchange for a fee of 300 to 500 baht.
Weerayut, according to the authorities, has served three prison terms for drug and firearm crimes. He was selling illegal firearms online at the time of his death.