Teacher Killed, Student Seriously Wounded in Bangkok Shooting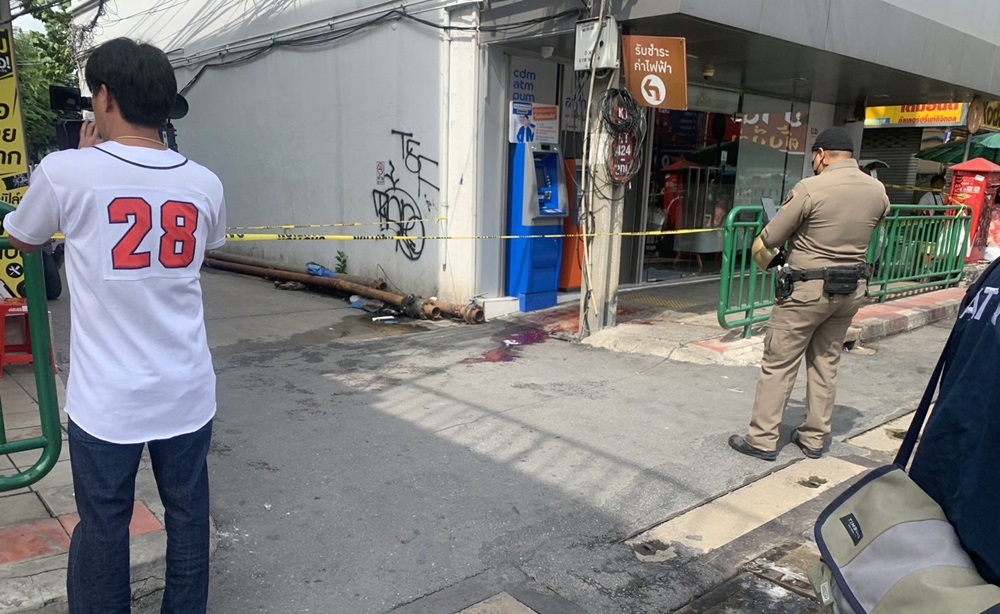 On Saturday morning, a computer teacher was gunned down and another victim seriously wounded in Bangkok's Klong Toey area, during a fight between university students.
The fatal shooting occurred in front of a TMB Thanachart Bank (TTB) branch on Sunthornkosa Road in Bangkok.
Responding police officers discovered two critically injured victims as well as a knife. According to the Bangkok Post, two young men opened fire on a gathering of university students after an argument. According to their statements, the assailants fled the area on a motorbike down Rama IV Road.
According to a motorbike taxi driver who witnessed the incident, the two gunmen parked near a group of four to five students who were waiting at a bus stop. The pillion rider approached one of the pupils and pointed a gun at him.
The intended target managed to avoid the first shot, which struck a woman only named as Ms. Sirada, a computer teacher at the nearby Sacred Heart Convent School. The teacher died at the hospital from severe injury to the forehead.
Before fleeing, the shooter fired another one into the stomach of his intended target. The gunman was heard calling at the motorbike rider to finish the crime, prompting three more shots to be fired at the student's head and neck.
Police are looking for the perpetrators and believe the shooting was the result of a campus rivalry.
Teacher Suspended for slapping student
Meanwhile, after video of the event went viral, a secondary school teacher was suspended for repeatedly slapping a student in the face, allegedly because he refused to call her "mum."
The footage shows a teacher seizing a schoolboy's wrist and dragging him through a passage. She then pauses to address the youngster, pointing to his face before hitting it. The blow removes his facial disguise.
The teacher is then seen yelling at the youngster and slapping him in the face once more. The second slap hit him so hard that his face wrenched to one side.
Thatchapol Polrat, the deputy dean of Ramkhamhaeng University in charge of its demonstrative secondary schools, stated that the student's guardian visited with him last week.
Mr. Thatchapol stated that he had filed a report of the incident to the university's disciplinary office for further action. The teacher in question has been suspended until the outcome of the hearing.
He also stated that school administrators have discussed compensation with the boy and his guardian.
According to the deputy dean, the student informed him he was "fine," and the boy's classmates have also offered him moral support. A lady claiming to be the schoolboy's aunt released the footage online.
She claimed the teacher became enraged after the youngster refused to call her "mum," claiming he only had one mother.
Thai Teacher Accused of Having Sex With Underage Student Girls for Better Marks