Turkey's Erdogan Throws Coals on the Gaza Fire Labeling Israel War Criminals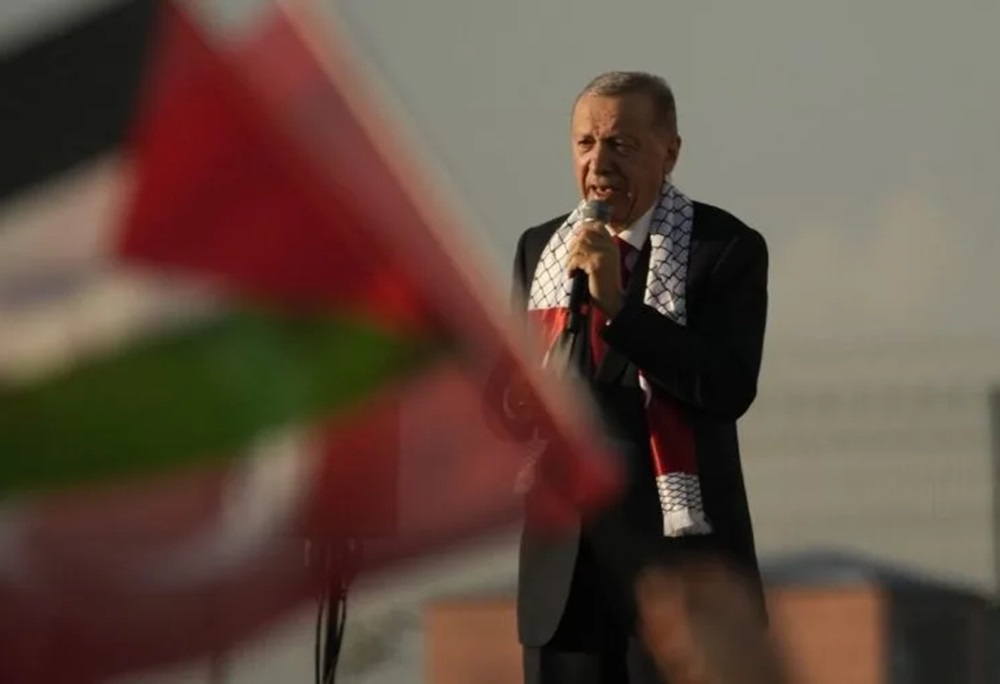 On Saturday, Israel announced the recall of its diplomats from Turkey after Turkish President Recep Tayyip Erdoan spoke out against Israel at a pro-Palestinian protest. In Istanbul, Erdogan led calls for a cease-fire in front of hundreds of thousands of supporters denouncing Israel's actions in the war on northern Gaza, referring to Israel as a "occupier" in a heated address.
"Israel has been openly committing war crimes for 22 days, but Western leaders cannot even call on Israel for a cease-fire, let alone react to it," Erdogan addressed the gathering, which waved Palestinian flags.
"We will tell the whole world that Israel is a war criminal," he said. "We're getting ready for this." We will charge Israel with war crimes."
Turkey does not consider Hamas to be a terrorist organisation and has offered to act as a mediator between the group and Israel in order to secure the release of captives.
Israel responded on Saturday by stating that it would review its diplomatic relations with Turkey and withdraw its diplomats.
"Given the grave statements coming from Turkey, I have ordered the return of diplomatic representatives there to conduct a reevaluation of relations between Israel and Turkey," Israeli Foreign Minister Eli Cohen tweeted on X, the site formerly known as Twitter.
Israel increases ground invasion
Pro-Palestinian marches in Turkey were among numerous recent protests around the world on Saturday, as Israel increased its ground invasion of Gaza and extensive aerial assault campaign.
Protesters shut down the streets surrounding Westminster Abbey and Parliament in London, chanting for a cease-fire in the conflict. People also took to the streets of Copenhagen, Rome, and Stockholm. Protests also broke out in Baghdad and Hebron, West Bank.
Over 200 people were arrested in New York City's Grand Central terminal on Friday evening after the train terminal was forced to close during evening rush hour.
The protest action symbolises the world's loudest plea for a cease-fire in the battle, which has raged for more than three weeks and is still escalating.
The crisis began earlier this month, when Hamas militants launched a surprise attack that murdered over 1,400 Israelis, predominantly civilians. The militant group, which is regarded a terrorist organisation in the United States and the European Union, also held over 200 people captive.
According to the Hamas-run Health Ministry, Israeli air attacks in Gaza have killed over 7,300 Palestinians, including over 3,000 children.
Humanitarian Aide to Gaza
The UN has spearheaded calls for a humanitarian truce to aid civilians in Gaza, while Israel's force levels entire neighbourhoods, displacing nearly a million people.
Humanitarian aid has slowly begun to enter Gaza, but humanitarian officials are concerned that diminishing fuel supplies and an increasing conflict may soon make further assistance impossible.
On Friday, the Israeli military cut off all internet and phone connectivity, hindering civilian rescue efforts and relief convoys.
On Sunday, Israeli soldiers launched ground operations against Hamas in Gaza, in what Israeli Prime Minister Binyamin Netanyahu described as the "second phase" of a three-week-long campaign to smash the Palestinian militant group.
As Israel's jets rained bombs and troops and armour pressed into the Hamas-ruled enclave, Gaza's besieged people faced a near-total communications and Internet blackout, with Israeli military officials foreshadowing a wider ground offensive.
More than 200 captives held by Hamas
Netanyahu cautioned Israelis to expect a "long and hard" fight at a press conference in Tel Aviv on Saturday, but stopped short of declaring the latest incursions an invasion. According to US officials, some of US President Joe Biden's aides have persuaded Israeli colleagues to hold off on a quick all-out assault.
Even if initial ground operations appeared to be restricted for the time being, Netanyahu committed to go to any length to liberate the more than 200 captives held by Hamas, including Americans and other foreigners.
Western countries have generally supported Israel's right to self-defense. However, there has been a growing worldwide outrage about the bombing's toll, as well as requests for a "humanitarian pause" to allow relief to reach Gaza people and alleviate the humanitarian catastrophe.
According to medical officials in the Gaza Strip, which has a population of 2.3 million people, Israel's campaign to eliminate the Iran-backed militants has killed 7,650 Palestinians.
President Mahmoud Abbas, whose Palestinian Authority governs sections of the occupied West Bank while Hamas governs Gaza, stated, "Our people in the Gaza Strip are facing a war of genocide and massacres committed by Israeli occupation forces in full view of the entire world."
With many structures devastated to rubble and shelter becoming scarce, Gazans are in desperate need of food, water, fuel, and medications. Their condition worsened on Friday night, when phone and internet services were disrupted, followed by heavy bombing throughout the night. The communication disruption lasted all day Sunday.