Soldiers Retrieve Dead Bodies After Hamas Slaughter in Israel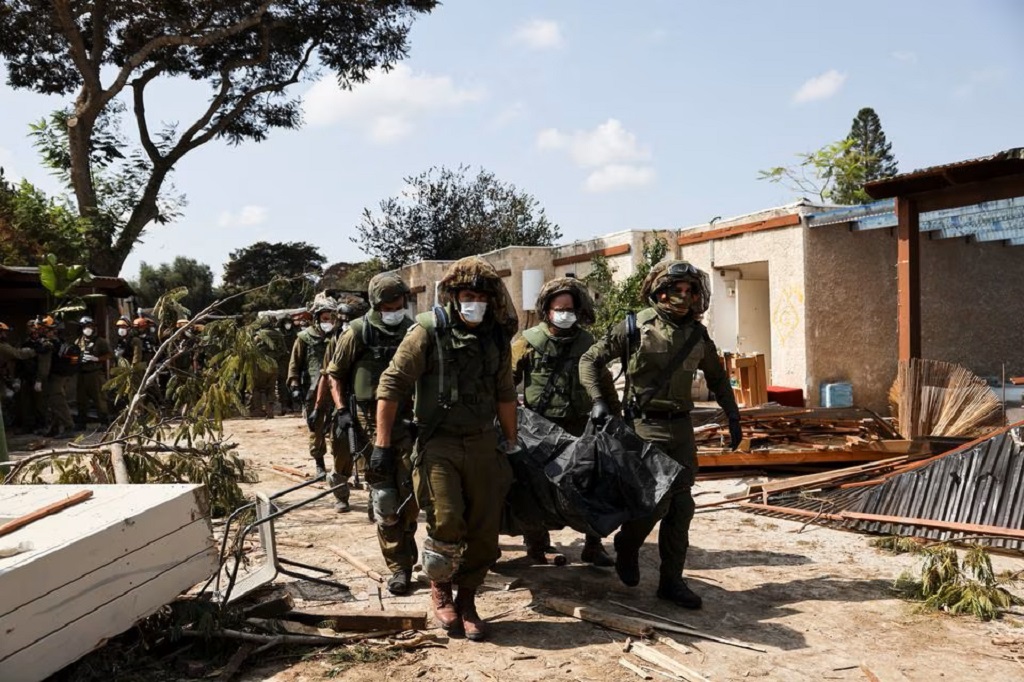 Bodies of Israeli citizens and Hamas militants lay out on the grounds of the Kfar Aza kibbutz, among burned-up houses, strewn furniture, and charred automobiles, as Israeli forces rushed from house to house to remove the dead.
On Tuesday, Israeli Defence Forces led foreign journalists through the location, which was one of the hardest devastated areas when Hamas militants assaulted Israel from the Gaza Strip.
As reporters roamed the kibbutz's trails, the stench of bodies filled the air.
"You see the babies, mothers, and fathers in their bedrooms and protection rooms, and you see how the terrorist kills them." It is not a war, nor is it a battlefield. "It's a massacre, it's terrorism," Israeli Maj Gen Itai Veruv stated.
"I've never seen anything like it in my life." It's something we used to imagine from our grandfathers and grandmothers during the pogroms in Europe and elsewhere. It is not something that occurs in recent history."
A purple covering covered a resident's body outside one of the kibbutz's modest dwellings, with a bare foot protruding. The bodies of the gunmen lay face down on the ground there.
The militants proceeded on a killing spree, killing hundreds of Israelis and kidnapping more in towns like Kfar Aza, near Sderot. Israeli troops were going home to house, which they had not been able to do earlier since they were still fighting insurgents and navigating booby traps.
"Tell the world what you saw here," one soldier yelled.
Soldiers were still patrolling the kibbutz's perimeter as bursts of gunfire and explosions could be heard in the distance. Jets were heard overhead, and smoke could be seen rising from Gaza. Sirens warned of incoming rockets intercepted overhead.
According to a military official, the death toll from Hamas strikes has surpassed 1,000 victims, largely civilians gunned down in their homes, on the streets, or at a dance party, dwarfing the scale of any previous Islamist attack other than 9/11.
Hundreds of Israelis have been abducted as hostages in Gaza, with some being paraded through the streets.
According to Gaza officials, at least 770 Gazans have been murdered in Israeli strikes since then, and entire districts in Gaza have been devastated.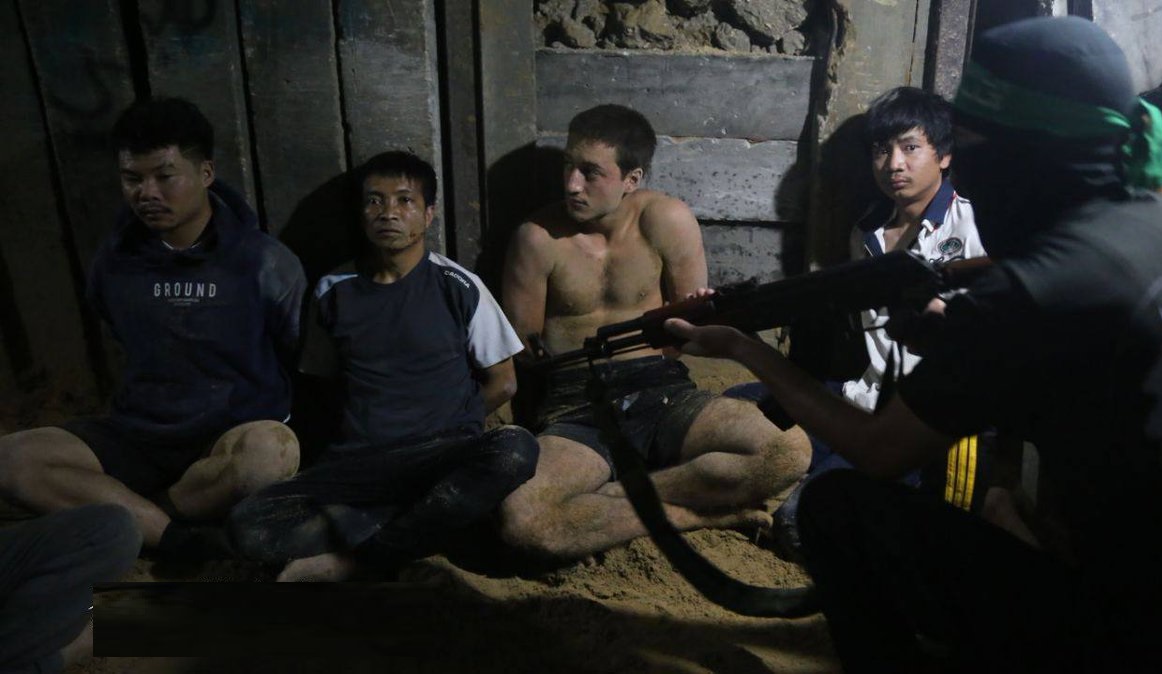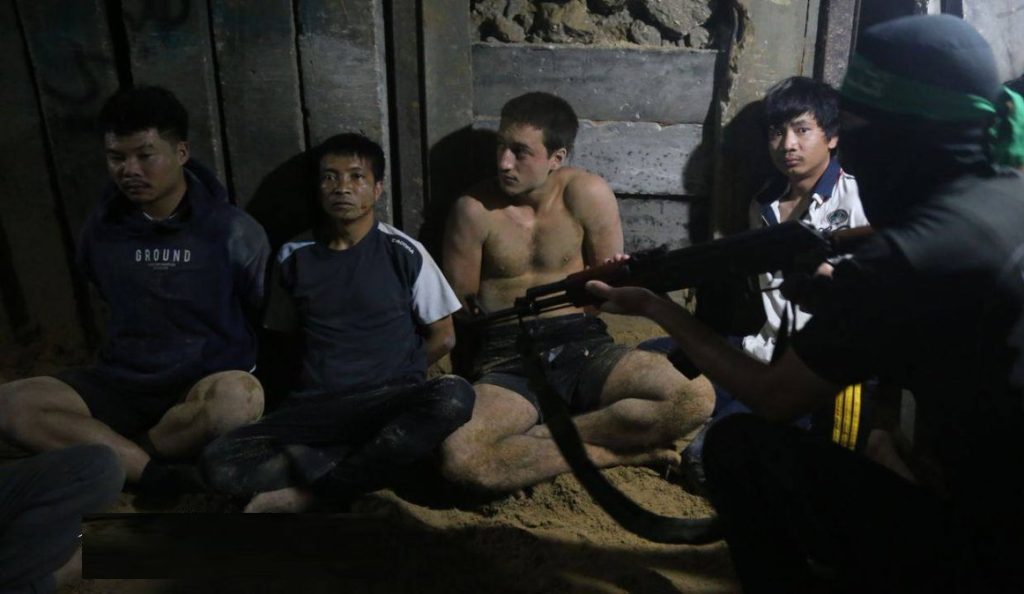 Meanwhile, Thailand's Foreign Ministry, at least 1,400 Thais working in Israel have expressed a desire to be evacuated back to Thailand, while unconfirmed allegations from Israeli employers say that up to 12 Thais may have been murdered in Hamas strikes.
The first group of 15 Thais is due to leave Israel on Wednesday, and a total of 1,437 have expressed a desire to return home.
In a late-afternoon briefing following a meeting with Thai Ambassador to Israel Pannabha Chandraramya, Deputy Foreign Minister Jakkapong Sangmanee stated that the injured who were retrieved from high-risk zones will be the first batch of evacuees.
According to the Thai embassy in Israel, this party of evacuees has been allowed to fly and is scheduled to leave on Wednesday for Thailand.
He stated that the number of Thais injured increased from eight to nine, while the number of those captured by Hamas remained at eleven.
Saying that Thai authorities have been in contact with numerous countries in order to ensure the safety and release of those detained, and that the indicators are promising. He went on to say that 80 Thai students in Israel were safe.
Mr Jakkapong stated in the ministry's initial report, in which the death toll grew from two to twelve, that the embassy in Israel had not validated the death toll.
Kanchana Patarachoke, the ministry's spokeswoman, stated in the morning that 12 Thais were killed in the violence in Israel, citing information from their employers.
She did, however, say that the ministry would have to verify the casualties, which would be a challenging procedure given the circumstances. She added that Israeli authorities had yet to confirm the figures.
Israel Declares War On Hamas, Imposes Total Blockade On Gaza Strip