Police have obtained CCTV surveillance footage that may shed light on dismembered body parts of a woman found in 2 Bangkok canals.
The CCTV recording shows the woman jumping off the Rama 8 Bridge into Bangkok's Chao Phraya River. The dismembered body parts were found Wednesday in Bangkok Noi and Bangkok Yai canals, sparking a murder investigation before CCTV footage was obtained.
The police later confirmed the body parts were those of Miss Maneerat Krajokphan, an employee of a Japanese restaurant in Bangkok's Ramkhamhaeng area.
A team of investigators obtained video from a security camera on Bangkok's Rama 8 Bridge on Thursday. A woman can be seen jumping off the bridge into the Chao Phraya River about noon on February 7. The Rama 8 bridge was empty at the time.
Bangkok police speculated that the propellers of passing boats could have cut up her body. Family problems may have played a role in her death.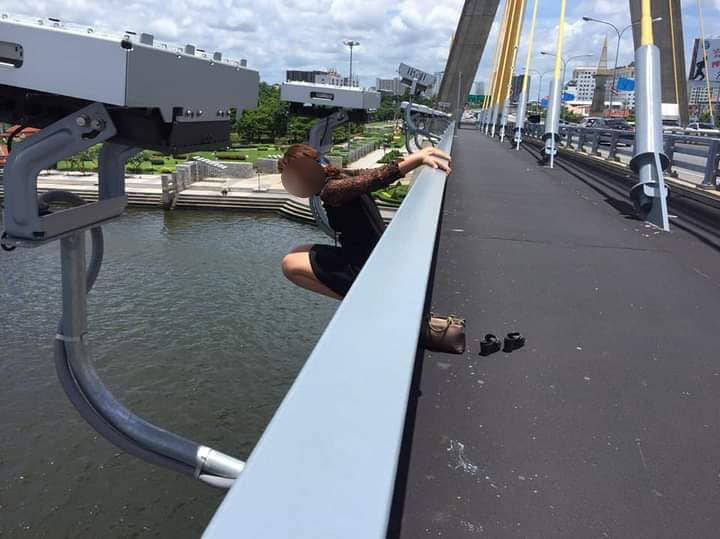 Husband confirms police suicide theory
In an effort to determine the cause of the woman's death, the investigation team led by Pol Lt Gen Samran Nuanma questioned the woman's family on Thursday.
Adisorn Khumsok, 26, Ms. Maneerat's husband, said he believed the woman in the CCTV footage was his wife. The last time he saw her was shortly before he went to work on February 7.
Despite not knowing what she was wearing that day, he recognized her from the footage and knew that she was his wife. According to Mr. Adisorn, his wife told him she would hurt herself often, but he never expected she would do it.
They were experiencing financial difficulties, he admitted. His wife was also suffering from a health issue.
A close friend of Maneerat told police she wasn't sure if her friend would jump to her death. According to the police, she was the last person to see Maneerat alive.
Maneerat's parents also met the police, but her mother fainted before giving a statement. When she regained consciousness, she and her husband shared their statements with the police.
They also confirmed that the woman on the CCTV footage was Ms. Maneerat.
CCTV footage shows Maneerat left home at 10.43 am on Feb 7 and visited a friend's house at Soi 25. She later took a taxi to an area beneath the Rama 8 Bridge.
She bought drinking water before walking to the bridge. She later jumped off the bridge at 12:13 pm on Feb 7, according to CCTV footage.
The investigation team spoke earlier with the taxi driver, who provided useful information.
Police investigators said DNA samples of the woman's relatives would be tested against those of the body parts recovered.
Investigators are waiting for the autopsy report to determine whether drowning was the cause of death. Then her body would be handed over to her relatives.
Police investigators believed it was a homicide as the dismembered parts were found scattered in different canals.