Pakistan's Notoriously Corrupt Police File Charges Against Imran Khan and 17 Aides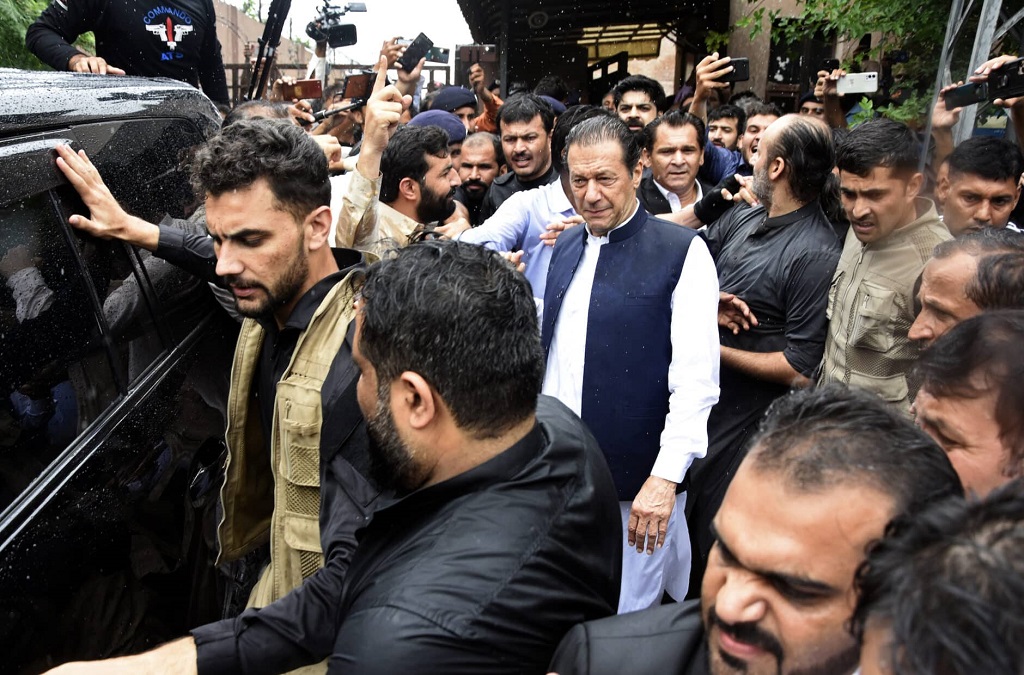 Police in the Pakistani capital filed terrorism charges against former Prime Minister Imran Khan, 17 of his aides, and many of his supporters on Sunday, accusing them of terrorism and other offenses after the ousted premier's supporters clashed with security forces in Islamabad the day before.
Saturday, Khan's supporters clashed with police for hours outside a court where the former prime minister was scheduled to appear in a corruption case. Khan's supporters hurled firebombs and rocks at the officers while riot police wielded batons and fired tear gas.
Over fifty police officers were injured, including a police checkpoint, several vehicles, and motorcycles. During the violence, 59 supporters of Khan were arrested, according to the police.
Khan never appeared in court to face charges of selling state gifts he received while in office and concealed assets.
In addition to Khan, former and current lawmakers, former ministers, a former National Assembly speaker, and many of Khan's supporters are accused in the case filed on Sunday. The charges include terrorism, obstructing police officers from performing their duties, assaulting police, wounding officers, and endangering their lives.
The latest events involve the escalating violence surrounding the 70-year-old Khan, who was removed from office in April following a vote of no confidence in Parliament. Since then, the ex-cricketer-turned-Islamist-politician has asserted, without evidence, that his removal was illegal and resulted from a conspiracy by the government of his successor, Shahbaz Sharif, and the United States. The United States and Sharif have both denied the allegations.

Pakistan Police Storm Imran Khan's Residence
Also on Saturday, violence erupted outside Khan's home in the eastern city of Lahore, where officers and Khan's supporters had clashed for two consecutive days last week after police arrived in the affluent neighborhood to arrest Khan.
Amid tear gas and scuffles, police stormed Khan's residence, later claiming to have detained 61 suspects and seized petrol bombs, weapons, and ammunition. Khan was not home because he had traveled to Islamabad to appear in court. Due to his absence from court, the judge postponed the hearing until March 30.
Khan blamed police for failing to appear in court on Saturday, stating that he never left his vehicle while police fired tear gas at his convoy and supporters.
Khan asserted, without providing any evidence, that his opponents intended to imprison or kill him, and he called the raid on his Lahore home "shameful tactics, conspiracies, and plans."
Rana Sanaullah, the interior minister, accused Khan of "creating all the drama to avoid the courts."

Pakistan's Police Ranked Most Corrupt
Pakistan appears to have lost faith in its police force, as a recent survey revealed that the people have no faith in anti-corruption agencies such as the National Accountability Bureau (NAB).
According to the latest survey conducted by Transparency International, most people considered anti-corruption watchdogs' role as "ineffective" in curbing the menace in the country.
In the latest survey, 45per cent of people considered anti-corruption institutions' role as 'ineffective' in curbing corruption in Pakistan. In Sindh, 35% of Pakistanis viewed the NAB's role in combating corruption as effective.
In Punjab (31 percent), KP (61 percent), and Balochistan (58 percent), Pakistanis considered the role of "none of the anti-corruption institutions" to be effective in curbing corruption in Pakistan.
Pakistanis continued to believe that corruption in public service delivery is high. According to citizens, the three most corrupt public services that necessitate bribes are contracts for roads (40%), access to uninterrupted electricity (28%), and access to clean drinking water (28%). (17 percent).
In Sindh, Punjab, and Balochistan, citizens perceive road maintenance as the most corrupt form of public service delivery. The Print reported that in KP, most residents (47%) consider access to uninterrupted electricity the most corrupt public service delivery.
According to NCPS 2022, the three most significant causes of corruption are delayed decisions in corruption cases (31%), the use of state institutions for private gain by governments (26%), and government incompetence (31%). (19 percent).
Citizens in Sindh (43%) and Punjab (29%) believe that using government institutions for 'personal gain' is the most significant cause of corruption in Pakistan.
While in KP (43%) and Balochistan (32%), "delay in decisions of corruption cases" is viewed as the leading cause of corruption in Pakistan.
The education sector remained the most corrupt in the Sindh region, followed by the police and tendering and contracting sectors.
Police remained the most corrupt sector in Punjab, while tendering and contracting were considered the second most corrupt. According to a Pakistan Today report, the judiciary was the third most corrupt institution.
The judiciary remained the most corrupt sector in Khyber Pakhtunkhwa, while tendering and contracting were deemed the second most corrupt. The police department ranked third in terms of corruption.
The most corrupt sector in Balochistan remained procurement and contracting, followed by the police and the judiciary.
Pakistan Today reports that 54 percent of citizens believe the news channel's reporting is biased on a national scale.
In the meantime, Prime Minister Shehbaz Sharif attributed the country's turnaround to eradicating corruption, deeming the scourge a major source of instability as it undermined the economy and the administrative structure.
The prime minister also emphasized the need to eliminate the practice of utilizing corruption as a means of political victimization.
He claimed the previous administration imprisoned political opponents based on spurious corruption allegations.