British Columbia Lifts Most Travel Restrictions as Canadian Wildfires Ease
(CTN News) – Amidst improved weather conditions and significant firefighting efforts, the government of British Columbia announced its decision to largely lift travel restrictions to the wildfire-ravaged interior region on Tuesday. The move comes as rain and cooler temperatures contribute to the containment of wildfires across western Canada.
The previously imposed travel restrictions, which had prohibited non-essential travel to communities such as Kelowna, Vernon, and Kamloops, were set to expire at midnight. However, the measures will remain in place for West Kelowna.
This year marks Canada's most severe wildfire season on record. Over the past week, more than 50,000 individuals, including the entire population of Yellowknife, the capital of the Northwest Territories, have been displaced from their homes due to the relentless blazes.
Authorities revealed that the fires had consumed nearly 200 residences in Kelowna and West Kelowna. Despite ongoing smoke cover across the province, conditions have gradually improved, fostering a sense of optimism among officials.
Jason Brolund, the fire chief of West Kelowna, expressed his positive outlook during a news conference, stating, "I really am beginning to feel like we're turning the corner here on this fire."
The travel restrictions were initially implemented over the weekend to secure accommodations for evacuees and ensure the availability of emergency services.
While visiting the region worst-hit by wildfires, British Columbia Premier David Eby highlighted the collaborative recovery efforts involving the federal government, First Nations, and other partners.
Although progress has been made, active fires continue to burn perilously close to many residences, prompting authorities to remain vigilant.
Meanwhile, firefighters protecting Yellowknife have received some assistance from rainfall in the Northwest Territories, located over 2,000 kilometers (1,200 miles) to the north. According to NWT Fire's social media post, the blaze is not anticipated to reach the city in three days.
However, officials cautioned that challenges persist for communities like Hay River and Fort Smith near the Alberta border. As temperatures rise, the potential for increased fire activity looms ahead.
In conclusion, the decision to ease travel restrictions in British Columbia's wildfire-affected interior region reflects the progress made in combatting the devastating blazes. The collaborative efforts of various stakeholders, combined with more favorable weather conditions, are gradually bringing relief to the impacted areas.
ORIGINAL STORY: Urgent Evacuations in British Columbia as Severe Wildfires Spread: Officials Urge Responsible Actions
Officials in the Canadian province of British Columbia urgently call on residents to heed evacuation orders as massive wildfires threaten communities.
The situation has become dire, with tens of thousands of people under evacuation orders and a significant portion of the province engulfed in flames. Amidst this crisis, authorities are also urging wildfire tourists and drone operators to stay away to ensure the safety of emergency responders and aircraft engaged in firefighting efforts.
Evacuation Orders and Urgent Warnings:
As wildfires rage across large parts of the picturesque Okanagan Valley, including Kelowna, officials implore residents to take evacuation orders seriously.
Bowinn Ma, the province's minister of emergency management, stresses the life-and-death importance of obeying these orders for the affected residents and the safety of first responders. Around 30,000 individuals are under evacuation orders, with another 36,000 on alert to potentially evacuate.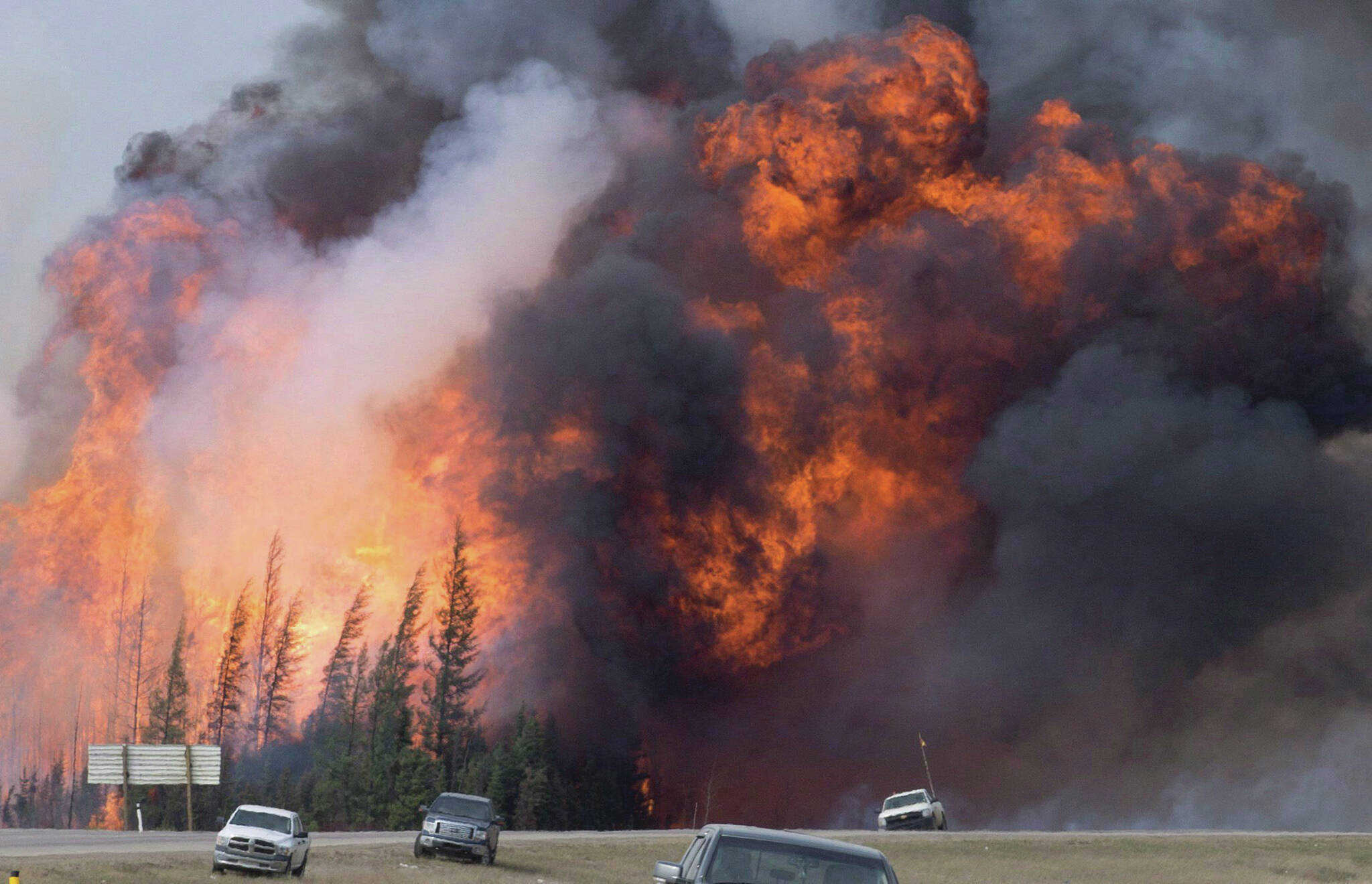 Fire Tourism and Drone Hazards:
Authorities are urging wildfire tourists and drone operators to avoid the affected areas. Flying drones near active wildfire zones poses a significant threat to firefighting aircraft, potentially grounding crucial missions.
British Columbia's minister of forests, Bruce Ralston, emphasizes that now is not the time for irresponsible actions like flying drones near wildfires. Such actions are not only unsafe but also illegal.
Challenges and Impacts:
Kelowna, home to 150,000 residents, is shrouded in thick smoke as it copes with the latest wave of wildfires. These fires are part of an unprecedented wildfire season in Canada, with over 14 million hectares already burned—larger than Greece and nearly double the previous record. This crisis has resulted in loss of life, destruction of properties, and massive displacement of people.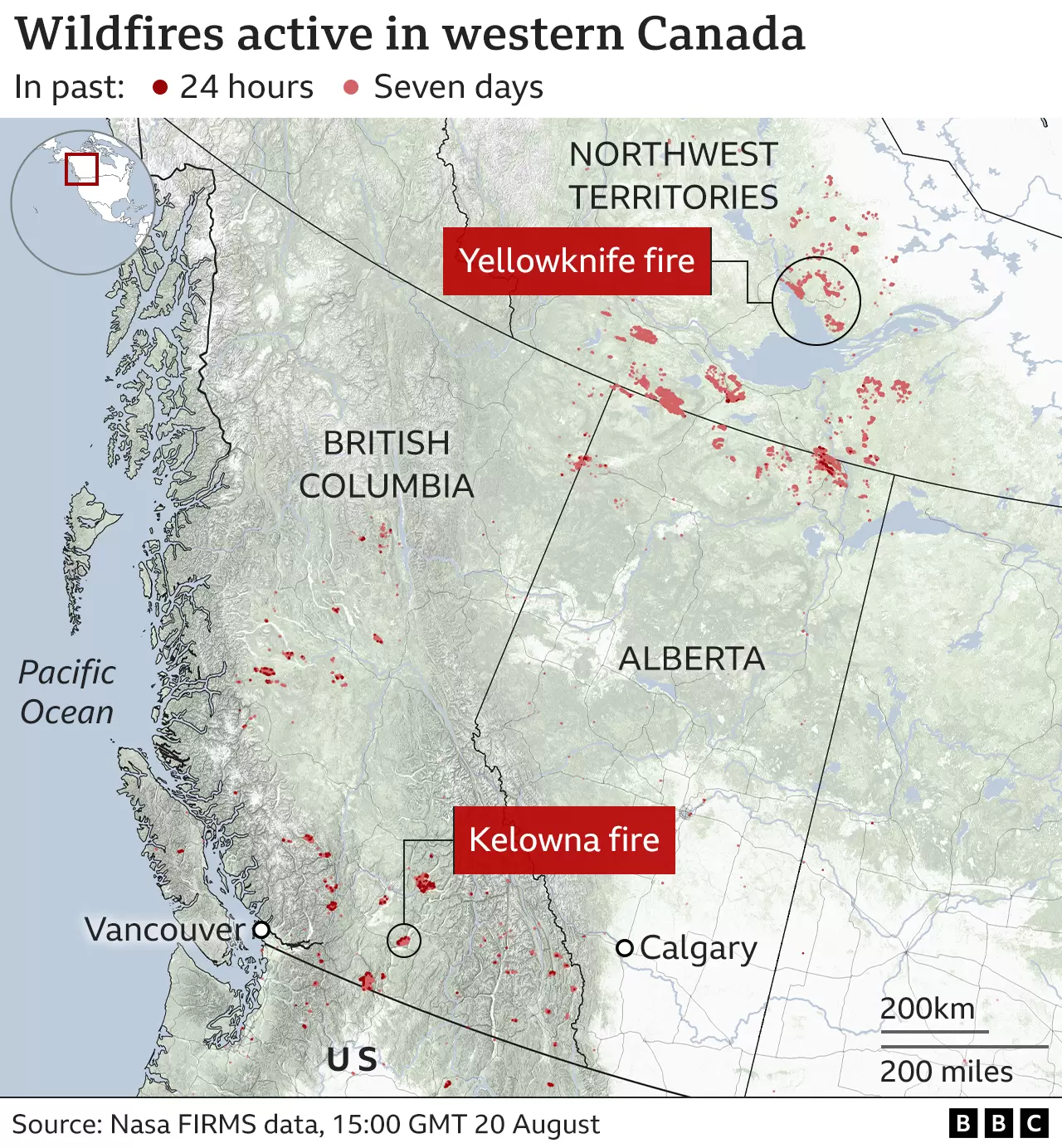 Response and Support:
Canadian Prime Minister Justin Trudeau is pledging federal resources to address the disaster. While the situation is grim, firefighters, emergency responders, and volunteers work tirelessly to contain the blazes and protect communities.
The ongoing wildfires have prompted evacuations in various regions, including the evacuation of Yellowknife, the capital of the Northwest Territories, due to encroaching fires.