India's Chandrayaan 3 Successfully Achieves Historic Soft Landing at Moon's South Pole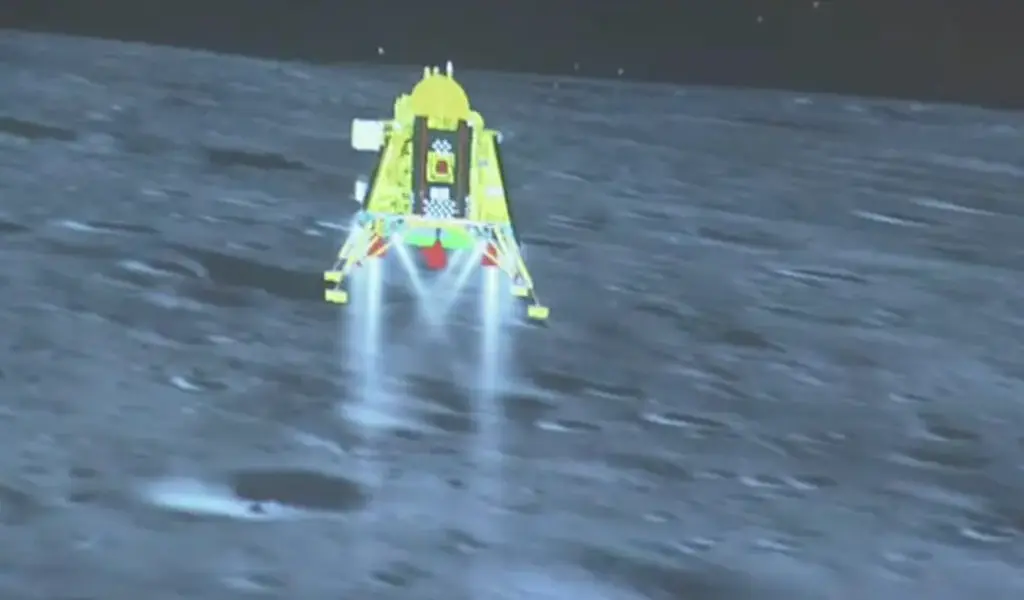 (CTN News) – In a momentous achievement, India's Chandrayaan 3 mission has triumphantly reached the lunar surface at the moon's south pole after a remarkable 40-day journey that commenced from the Sathish Dhawan Space Center in Sriharikota.
This achievement is a significant milestone for the Indian Space Research Organisation (ISRO), marking their resolute determination after previous space mishaps.
The Vikram lander, previously encountering a lunar crash during Chandrayaan missions, has now realized its intended destination on the moon's south pole.
ISRO revealed its readiness to initiate the automatic landing sequence, triggering a meticulously crafted algorithm to navigate the spacecraft to its designated landing spot, ensuring a gentle and successful touchdown.
Chandrayaan 3's mission extends beyond its historic landing, with plans for a two-week operational phase during which a series of groundbreaking experiments will be conducted. Notably, a spectrometer analysis of the lunar surface's mineral composition is slated, promising insights into the moon's geological structure and history.
One of the primary objectives of landing at the moon's south pole is investigating water ice presence, which could hold profound implications for lunar science and exploration.
Carla Filotico, a respected figure at consultancy SpaceTec Partners, emphasizes the significance of this endeavor, underlining its potential to contribute to cumulative scientific knowledge about the moon's geology.
At its core, Chandrayaan-3's mission is a testament to ISRO's capability to execute a meticulous and gentle lunar landing, showcasing the organization's commitment to pushing boundaries in space exploration. This triumph follows a notable setback in 2019 when Chandrayaan-2's attempt at a south pole landing ended in an unfortunate lunar crash.
The success of Chandrayaan 3 places India in an esteemed league of nations that have achieved a delicate lunar landing. Before this accomplishment, the distinguished membership of this league was limited to Russia, China, and the United States.
The legacy of India's space program traces back to visionary Vikram Sarabhai, whose name graces the Vikram lander, symbolizing his pioneering contributions.
The forthcoming phase of the mission involves the Chandrayaan-3 Rover, a dynamic explorer set to conduct real-time chemical analyses of the lunar surface while in motion.
The Rover's deployment by the Vikram lander, culminating in a soft landing at the moon's south pole, heralds a new era of lunar exploration and scientific discovery.
ORIGINAL STORY: Chandrayaan 3: India's Historic Moon Mission to the South Pole Gears Up for Landing
India is on the brink of a historic achievement as the Indian Space Research Organisation (ISRO) prepares for the lunar landing attempt of Chandrayaan 3, its third moon mission. Scheduled for Wednesday evening, this endeavor could make India the first country to successfully reach the moon's enigmatic south pole, a region with immense scientific potential.
Objectives of Chandrayaan 3 Mission
Chandrayaan 3, a follow-on mission to the earlier Chandrayaan-2, has ambitious goals. Its primary objectives include demonstrating safe and precise soft landing on the lunar surface, deploying a rover for mobility, and conducting in-situ scientific experiments. One of the most significant aspects of this mission is the exploration of the Moon's south pole, which is believed to contain water in permanently shadowed areas.

Exploration of the Lunar South Pole
The south pole of the Moon has long captivated scientists due to its potential water resources and unique geological features. The Chandrayaan 3 mission aims to explore this uncharted territory, contributing crucial insights into lunar geology, water distribution, and the evolution of celestial bodies.
The Vikram Lander and its Features
At the heart of this endeavor is the Vikram lander, named in honor of Vikram Sarabhai, a pioneer in India's space program. The lander, weighing 1749.86 kg, sports a box-shaped design, four landing legs, and four thrusters. With solar panels mounted on its sides, it can generate 738 W of power. Accompanying the lander is a rover weighing 26 kg, designed to explore the lunar surface.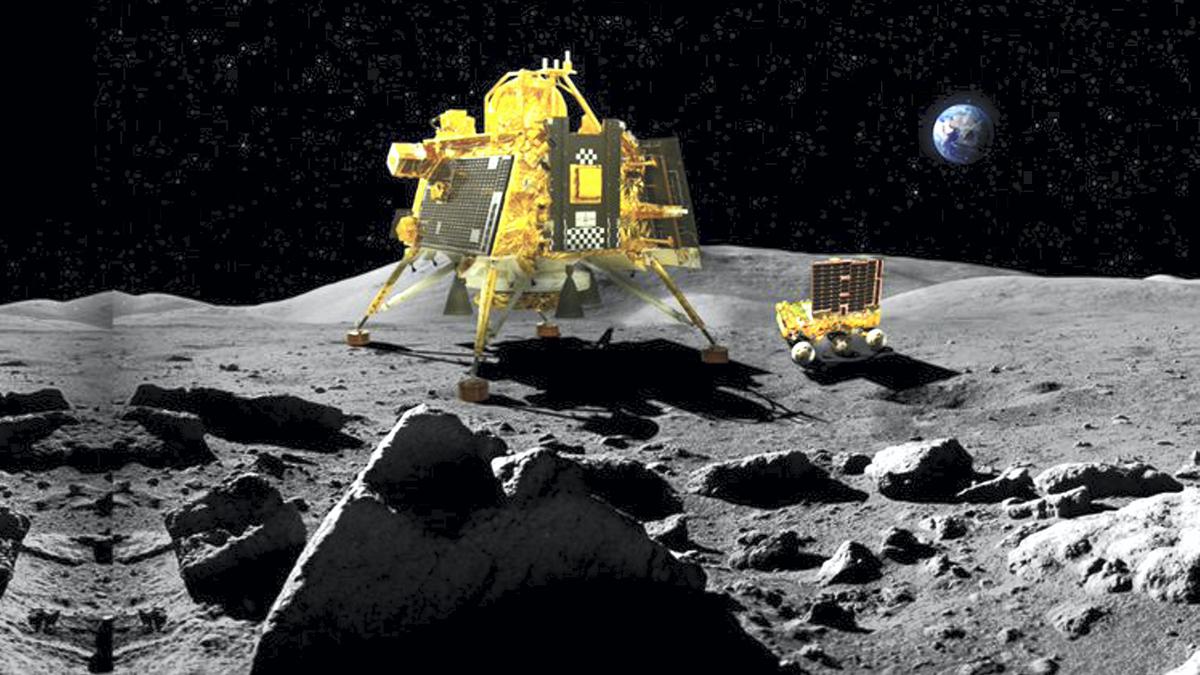 Key Moments of the Lunar Descent
The climactic moment of the mission is the final descent of the Vikram lander and the accompanying rover to the lunar south pole. This intricate operation is set to begin at 5:45pm IST, with the landing expected approximately 19 minutes later. The world will hold its breath as ISRO engineers and scientists navigate the complex challenges of landing safely on the Moon. Read More