3-Month-Old Baby Boy Attacked By Macaques in Southern Thailand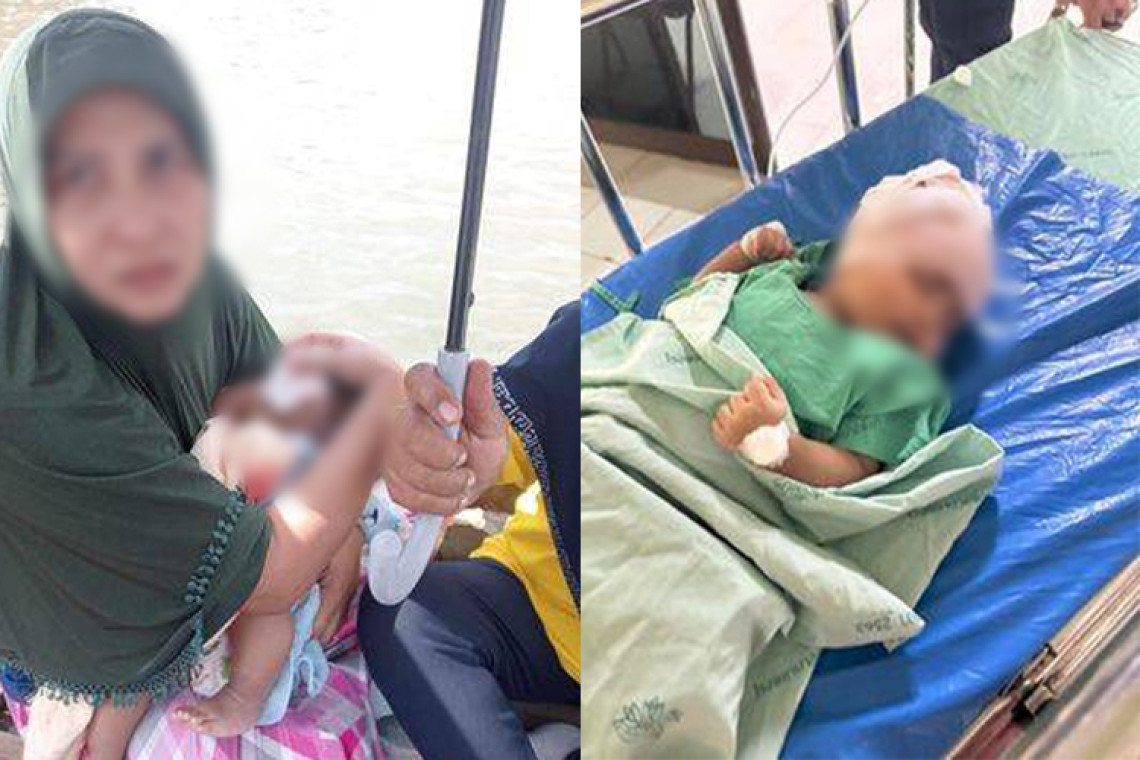 A three-month-old boy is in intensive care after being assaulted by two macaques in Phang Nga, southern Thailand. Doctors say his operation went well, but he still needs a ventilator.
The medical team at the Phang Nga Hospital stated this was the first time a child as young as three months old had been bitten by macaques, breaking the skull and puncturing brain tissue.
The tragedy occurred on Maipai Island in Phang Nga's Muang District. Two angry macaques from the surrounding mangrove forest attacked the boy in his home. The macaques grabbed the baby's milk bottle. The macaques bit the baby's head, leaving 5-6 bite marks and an open skull wound with bleeding.
Family members raced to carry the infant to a local hospital on the island to halt the bleeding and treat the wound before transferring the baby to the pier for further coordination with Phang Nga Hospital rescue personnel.
When the medical team arrived, they performed a CT scan and began treatment, revealing significant injuries caused by the bite penetrating deep into the brain region. The surgery was referred to Vachira Phuket Hospital.
The infant has a 5-6 centimeter long wound on the left side of the skull and a bone of the skull reaching the brain tissue, according to Dr. Veerasak Lorthongkam, Director of Vachira Phuket Hospital.
Despite the successful surgery, medical personnel are constantly monitoring the kid in the intensive care unit. The child has demonstrated signs of improvement, such as increased consciousness and limb movement.
A doctor is in charge of treating any infections induced by monkey saliva, emphasizing the importance of regularly monitoring for symptoms of infection in the brain.
Dr. Veerasak stated that the child will receive medicines to prevent infection. Although the child's general condition has improved since yesterday, he remains in serious condition.
Macaques Attack Australian Tourists
In March of this year a group of macaques attacked an Australian family enjoying a day at a crowded beach in Southern Thailand.
Australian tourists Riley Whitelum and Elayna Carausu, both YouTube personalities, rose to prominence by sailing across the world with their two children Darwin and Lenny – but it hasn't all been plain sailing.
The family was exploring Monkey Beach in Ko Phi Phi Don, Thailand, in their most recent video.
Riley said he was showing his boys the macaques before they try to raid their belongings, prompting the 38-year-old to try to shoo them away. However, this fails, and the monkeys become violent, screeching and attempting to bite the family. Riley got a finger bite and required multiple rabies injections.
The doctor stated that the family had no idea the monkeys could be so violent when visiting the beautiful Thai beach.
There are several different species of monkeys in Thailand, but the most common monkey you'll see is are macaques, a small, gray or gray-brown animal that prefers to hang out in trees or other foliage.
The average Thai macaque is about two feet tall and weighs about 15 pounds, but that doesn't mean these monkeys can't hurt you. In fact, macaques in Thailand can be rather aggressive—every year, injuries from these monkeys that require hospital care are reported, and officials have even put up signs advising people to be cautious, yet accidents still occur.
If you are traveling to Thailand, you should be prepared for contacts with these primates because they are extremely numerous in tourist locations and incorrect interactions can result in serious harm or even theft.
Be extremely careful if you feed them
Visitors are encouraged to feed the monkeys peanuts, bananas, or other snacks in some tourist areas, including during group tour visits to Koh Phi Phi's Monkey Beach, and the macaques are so used to getting food from visitors that they frequently snatch it out of people's hands, grab for it, or otherwise act aggressively when the food isn't forthcoming.
People who turn away (typically in fright) or try to prevent them from eating are occasionally scratched or bitten. If your tour guide offers you bananas for the monkeys, you can decline because seeing the animals from a distance is just as entertaining.
If you do decide to feed the macaques, do not allow little children to associate with them, and keep your guard up and pay attention to the location of all monkeys in the neighborhood.
Throw the food toward the monkeys rather than waiting for them to take it out of your hand, as you would with any wild animal, and be mindful of your surroundings so that other monkeys don't try to sneak up behind you.
Be Wary of Baby Macaques
Baby macaques are by far the cutest of Thailand's primates, and while they look to be gentle and non-aggressive, touching these newborn monkeys comes with its own set of dangers.
These primates are fiercely protective of their offspring. Do not approach or attempt to touch a young monkey, nor should you approach a mother monkey who is nursing her infant. Because macaques are highly sociable creatures, if they detect a threat to one of their pack members, they will band together to defend one another.
Tourists frequently approach infant macaques first because they are more trusting, less aggressive, and appear kinder than their adult counterparts. If an adult monkey believes you are threatening one of the young, the entire pack may attack you!
As a result, you should proceed with caution while interacting with groups of these creatures. Even if your tour guide encourages children to play, be cautious and sensitive of their safety.