Melioidosis Outbreak in Thailand Kills 10 Rice Farmers, Warning Issues
Thailand's third most-deadly infectious disease kills 40 percent of those infected, but very few have ever heard of it.
Thailand's Department of Disease Control has issued a warning to farmers in Buri Ram, Nakhon Ratchasima, and Songkhla about a new epidemic of melioidosis, which has already claimed the lives of roughly 10 farmers.
Infected soil, water, rice paddles, and cropping farms are common places to find the fungus Burkholderia pseudomallei, the causative agent of melioidosis and Whitmore's disease.
The annual springtime meliodosis outbreak has medical professionals worried.
DDC Office 9 chief Dr. Taweechai Wisanuyothin reported 582 cases of the disease this year in the four lower northeastern provinces under his jurisdiction on Saturday. These provinces include Buri Ram (336 cases), Nakhon Ratchasima (93 cases), Surin (106) and Chaiyaphum (47). Six of them succumbed to the illness; four in Buri Ram and two in Nakhon Ratchasima.
53.8 percent of the afflicted were farmers, 25.6 percent were workers, and 6.7 percent were youngsters, according to Dr. Taweechai. The median age of the infected patients was 65 years old, with the next two largest age groups being 55-64 and 45-54.
According to Dr. Decha Sae-Lee, the director of Thepha Hospital in Songkhla, the death rate from melioidosis in the Thepha district since April is the highest of any province in the lower southern region. The onset of diabetes was present in four of them.
According to him, this is the first year in quite some time that locals have died from melioidosis, and in previous years at least two cases of melioidosis were detected, but no fatalities.
Melioidosis is caused by a soil and water-dwelling bacteria, B pseudomallei, which is distributed worldwide in tropical regions ranging from East Asia to Sub-Saharan Africa, as well as Latin America and the Middle East.
There are hundreds of instances of melioidosis each year in Thailand's agriculturally active districts. Even if they begin therapy, roughly 40% of people afflicted die from the condition. If the patient is not detected and given effective antibiotics on time, the fatality rate rises to 90%.
The CDC reports that both humans and animals can contract melioidosis from coming into touch with an infected object or person. Dr. Taweechai warned that exposure to soil and water, as well as inhalation of fungal spores, can cause infection in humans.
Depending on the amount of protective antibodies in the body, symptoms might appear anywhere from one to twenty-one days following exposure to the bacteria. This illness causes high body temperatures, abscesses, and respiratory infections.
He advised that people, and farmers in particular, not wade through water or muck, instead using boots and plastic shoe covers and only consuming entirely sterile water. If symptoms suddenly appear, they should get medical help and then call the CDC information line at 1422 if they have any questions.
The infectious disease melioidosis, often known as Whitmore's sickness, can affect both people and animals. Burkholderia pseudomallei, or B. pseudomallei, is the bacterium responsible for the illness, and it thrives in polluted environments. Direct contact with the infected object or person is the only known method of transmission.
Melioidosis is most commonly found in tropical regions, particularly in northern Australia and Southeast Asia. To learn how widespread the bacteria is in Thailand, the Department of Disease Control is conducting an investigation.
Melioidosis has a wide range of signs and symptoms. It can be mistaken for other diseases, such as tuberculosis or more common forms of pneumonia.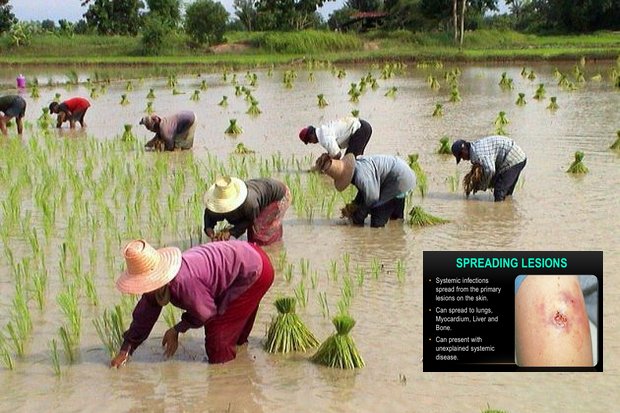 There are several types of melioidosis infection
Localized Infection:
Localized pain or swelling
Fever
Ulceration
Abscess
Pulmonary Infection:
Cough
Chest pain
High fever
Headache
Anorexia
Bloodstream Infection:
Fever
Headache
Respiratory distress
Abdominal discomfort
Joint pain
Disorientation
Disseminated Infection:
Fever
Weight loss
Stomach or chest pain
Muscle or joint pain
Headache
Central nervous system/brain infection
Seizures
The incubation period for melioidosis (time between exposure to the bacteria that causes the disease and the appearance of symptoms) is not clearly defined. It can range from one day to many years, but generally symptoms appear two to four weeks after exposure.
Although healthy people may get melioidosis, underlying medical conditions may increase the risk of disease.
The major risk factors are:
Diabetes
Liver disease
Renal disease
Thalassemia
Cancer, or another condition (not related to HIV) that weakens the immune system
Chronic Lung disease (such as cystic fibrosis, chronic obstructive pulmonary disease (COPD), and bronchiectasis)