Gold Necklaces Worth 65,000 Baht Stolen in Five Minutes from Jewelry Store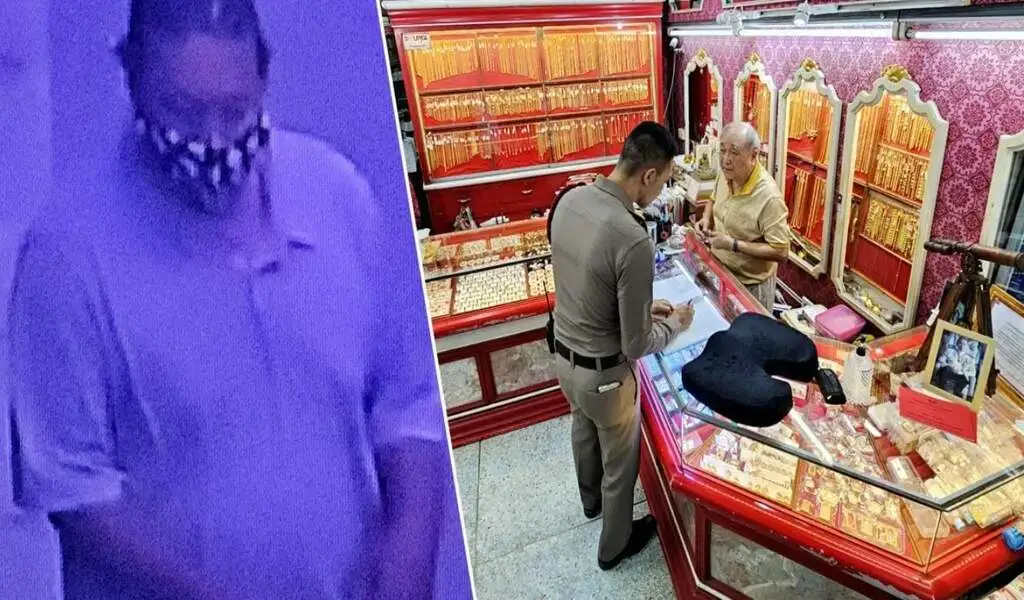 (CTN News) – In a recent incident that unfolded at the Niyomsin Shop, a well-established jewelry store in Ratchaburi province, a daring robbery of Gold Necklaces has raised concerns.
The incident on Pracha Niyom Road within the Ban Pong municipality has shaken the local community. The store, known for its 50-year legacy, reported a loss of two significant gold necklaces, leaving the owners and authorities determined to solve the case swiftly.
The Niyomsin Shop, a cherished business owned by Wirat Charupunphon and his wife, fell victim to a robbery at approximately 5.20pm yesterday.
The theft involved two gold necklaces, each weighing 1 baht, with a combined value of 65,000 baht. This unfortunate event has cast a shadow over the store's long-standing reputation.
The suspect behind the robbery is described as a heavy-set man of about 180 centimeters in height. His reddish-dark complexion, grey polo shirt, black jeans, and surgical mask make him stand out. The suspect capitalized on a transaction ruse, claiming to be shopping for a gold necklace as a gift for his mother.
As Wirat was preparing to close the shop at around 5.13pm, the suspect entered the store. Expressing interest in purchasing a gold necklace, he engaged Wirat in conversation.
Seizing the moment when Wirat's back was turned, the suspect snatched two 1 baht gold necklaces, each priced at 32,500 baht. He then cunningly requested Wirat to unlock the automatic door system, feigning retrieval of money from his motorcycle.
CCTV footage outside the jewelry store captured the unfolding drama. The suspect parked his white Honda Click motorcycle in front of the shop at 5.13pm, entering the store briefly to fetch his bag.
By 5.18pm, he swiftly left the store after grabbing the necklaces and mounted his motorcycle. The entire episode transpired within a mere five minutes, as reported by KhaoSod.
Local law enforcement authorities are actively investigating the case, poring over CCTV footage from nearby areas. In-depth interviews are conducted with Wirat, his wife, and eyewitnesses to gather essential information. The police are committed to bringing the suspect to justice and pursuing legal action immediately.
As the investigation unfolds, the community awaits closure and security. The incident underscores the importance of vigilance and cooperation in curbing such criminal activities. Local authorities and residents alike are determined to restore the neighborhood's tranquility and ensure that justice is served.