China COVID Infections Hit Record as Economic Outlook Darkens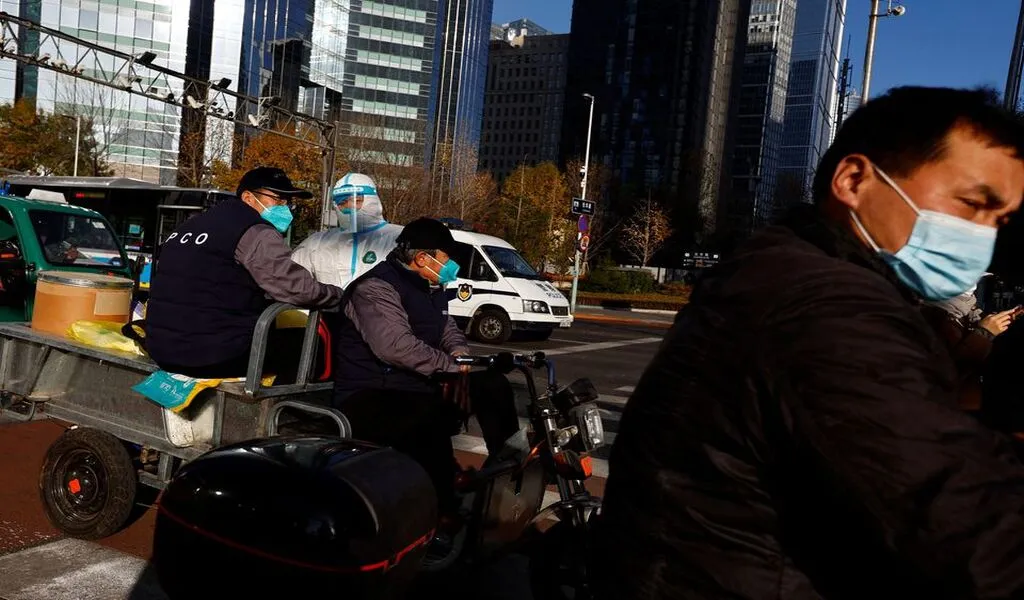 (CTN News) – China announced record-high COVID-19 infections on Thursday, and cities around the country have implemented localized lockdowns, mass testing, and other limits.
These measures are causing anger and casting a shadow over China's prospects as the second-largest economy in the world.
Despite recent more focused steps, the return of infections, some three years after the epidemic first appeared in the central city of Wuhan, puts doubt on investor optimism that China would soon relax its strict zero-COVID policy.
The restrictions are hurting the productivity of companies. Notably, in the world's largest iPhone facility, fights between employees and security forces in a rare display of discontent have shaken.
A 40-year-old manager from Beijing with the last name Wang who works for a foreign company, said, "How many individuals have the money to sustain them if things consistently remain halted?"
And even if you have enough money to spend days at home, it isn't real life.
This week, Chaoyang, the capital's most populated area, has seen a steady decline in street activity.
Except for the humming of the e-bikes of delivery riders transporting meals for people working from home, Sanlitun, a high-end retail district, was almost quiet on Thursday.
Brokerage Nomura reduced its estimates of China's GDP growth for the fourth quarter to 2.4% from 2.8% and for the whole year to 2.8% from 2.9%, both of which fall far short of China's declared goal of approximately 5.5% this year.
Nomura reduced its estimate of China's GDP growth for the next year from 4.3% to 4.0%, writing, "We think re-opening is still likely to be a protracted process with substantial costs."
Even while most of the world attempts to coexist with the virus, China's government has stood behind zero-COVID, a trademark policy of President Xi Jinping, claiming that it is necessary to preserve lives and prevent the medical system from being overburdened.
State media reported Wednesday that the cabinet acknowledged the pressure on the economy and stated that China would use timely reductions in bank cash reserves and other monetary policy tools to ensure sufficient liquidity.
This hinted that a reduction in the reserve requirement ratio (RRR) might be on the horizon.
WIDESPREAD OUTBREAKS
The commercial centre of Shanghai was devastated by a city-wide lockdown of its 25 million citizens on April 13, and that day's record of 31,444 new local COVID-19 infections was broken. That lockdown would persist for two months.
This time, however, the largest outbreaks are dispersed, with Guangzhou in the south and Chongqing in the southwest reporting the largest numbers of new cases each day, in addition to Chengdu, Jinan, Lanzhou, and Xian.
China works to break every chain of infection, even if official case counts are low by international standards.
To prevent all-encompassing measures like city-wide lockdowns like the one that took place in Shanghai this year, it recently started to relax certain quarantine and mass testing regulations.
Cities have been employing lockdowns more often, and often without warning. Beijing residents reported receiving notifications regarding the three-day lockdowns of their housing estates lately.
On Thursday, Harbin in the far northeast announced lockdowns in select neighbourhoods.
China had intended to reduce mass testing as expenses rose, but several localities have started doing it again. Others, including Beijing, Shanghai, and Sanya on the Hainan vacation island, have restricted recent arrival movements.
According to Nomura, the proportion of China's GDP under lockdown is more than that of the British economy—more than a fifth.
According to its experts, shanghai-style complete lockdowns may not be necessary, but more regular partial lockdowns may replace them in many cities due to the increasing COVID case count.
The large Foxconn (2317.TW) plant that produces iPhones for Apple Inc (AAPL.O) in the central city of Zhengzhou, where employees staged demonstrations, has planned five days of mass testing in eight districts, making it the newest city to restart daily tests for its millions of people.
Related CTN News:
Measles Threat Rises in Children as Vaccinations Decline Globally, WHO Warn