Beautiful Mosaic Damascus Steel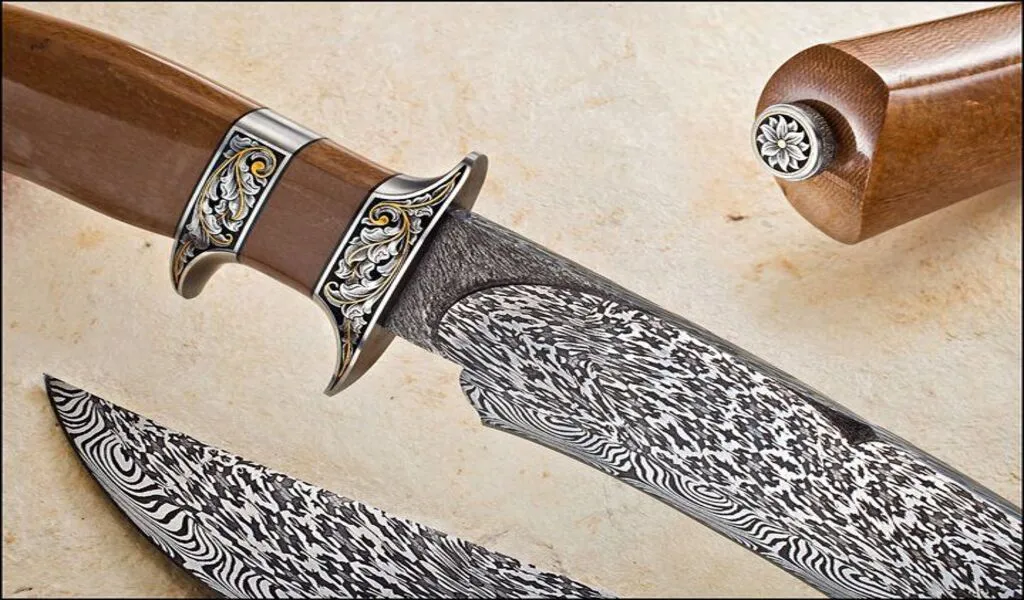 Truly impressive steel
Making Damascus steel is akin to art. And as you know, in any work there are mediocre creators, and real geniuses, whose works delight and make you admire.
It is such masters of the highest class who create bizarre patterns, intricate lines, ornate cobwebs and other delightful ornaments of a wide variety of shades.
Take, for example, mosaic Damascus. Its secret is in a special cross-section, which is created by deliberately deforming the forging with displacement, in order to get the effect of patterns in the workpiece.
This mass can be melted and mixed repeatedly, so that the steel pattern turns out to be unique.
The pattern of the steel pattern can be diverse, depending on the position in which the heterogeneous elements are located in the cross section.
Add fire!
Despite the fact that many knifemakers have a special style of making Damascus blade, the blacksmith Chris Marks found a special approach to it.
Despite the fact that Marx himself is not engaged in the manufacture of knives, his 30-year experience is trusted by such knifemakers as Ralph Turnbull and William Henry Studio, a well-known knife manufacturer.
"Daryl Mayer was the person who suggested that I develop my own original production methods," recalls Mark.
The master says that his Damascus steel is the result of a long experiment, in which the blacksmith invested a little chemistry, added a little metallurgy, and, of course, a lot of research and development.
For example, especially for the knifemaker Steven Skiff, Mark made a special drawing of steel called "Eternal Flame" (Eternal Flame).
The blacksmith says that the process of making this steel was very long and laborious, the steel was made within a few days.
The flat plates were carefully processed and laid in four layers. The steel itself consists of an alloy of nickel, tool steel and pure iron from Germany.
In addition to intricate shapes and patterns, steel from Mark is famous for its unusual variety of shades. A skilled blacksmith knows perfectly well at what temperature the steel gets this or that color.
Chris says that every steel can get a blue shade. But before that, it passes through the entire spectrum of colors – yellow, golden, cobalt blue under the influence of different temperatures and depending on the composition of the alloy.
So, for example, steel with a high nickel or chromium content in its composition does not even become the color of cobalt blue at temperatures below 600 degrees Fahrenheit, while homogeneous steel made of iron already turns red at the same temperature.
However, if the temperature starts to exceed 600 degrees Fahrenheit, then one steel of an amazing cobalt blue color will turn into a disgusting pale blue, gray or even black.
Steel from a different alloy, on the contrary, will acquire only a beautiful golden hue. Steel with a high nickel or chromium content will always be lighter than the rest, because their melting point is higher.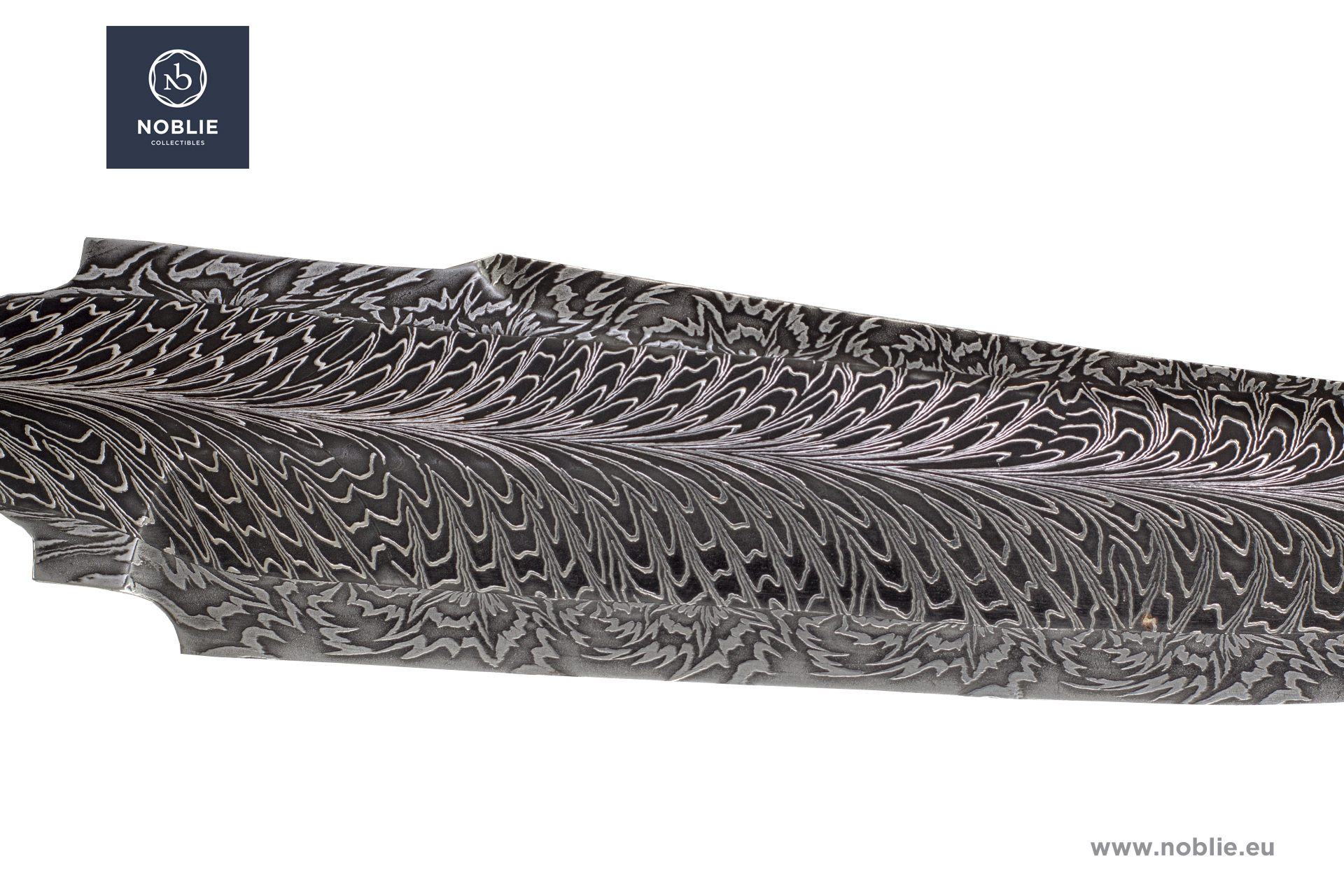 A look from the side
Master blacksmith Rick Dunkerley is another excellent manufacturer of mosaic damask. Like the other heroes of this article, he acquired knowledge from manufacturers who were happy to share their experience.
"I started making custom damascus knives in the early 90s," Dunkerley recalls. "I studied with Don Fogg and Steve Schwarzer, but since then I have grown significantly in this regard."
He demonstrated the process of making a mosaic pattern that looks like leaves of clover in dark shades.
"At first I wanted to give this steel a pattern that is often used for rivets on the handles of custom knives. But then I decided that I would do something more interesting."
The production of this Damascus steel began with Rick taking a four-inch square hollow bar, inserting a round tube inside it, and another smaller square one inside the latter.
So he got a rhombus inside the circle. In conclusion, he put four thin rods of ball-bearing steel inside the "small square" – and thus got four points formed inside it.
After that, he began to fill the voids that had formed. In the two corners between the large square and the circle, he inserted flat bars of 1080 steel, which eventually formed radial lines to the center of the composition.
Then he filled the remaining cavities with powder steel to get silver and black shades where he wanted.
"In general, the silvery shades in this steel are powder steel," Dunkerley said. "This steel is 4600E, contains nickel, so it gets such a shade."
When the composition was completed, Dunkerley carefully placed it in the oven at a temperature of 2300 Fahrenheit and began to forge.
"I slowly forged it from all four sides, maintaining the shape of a square. Then I sawed the resulting block into 4 parts and made a new square out of them."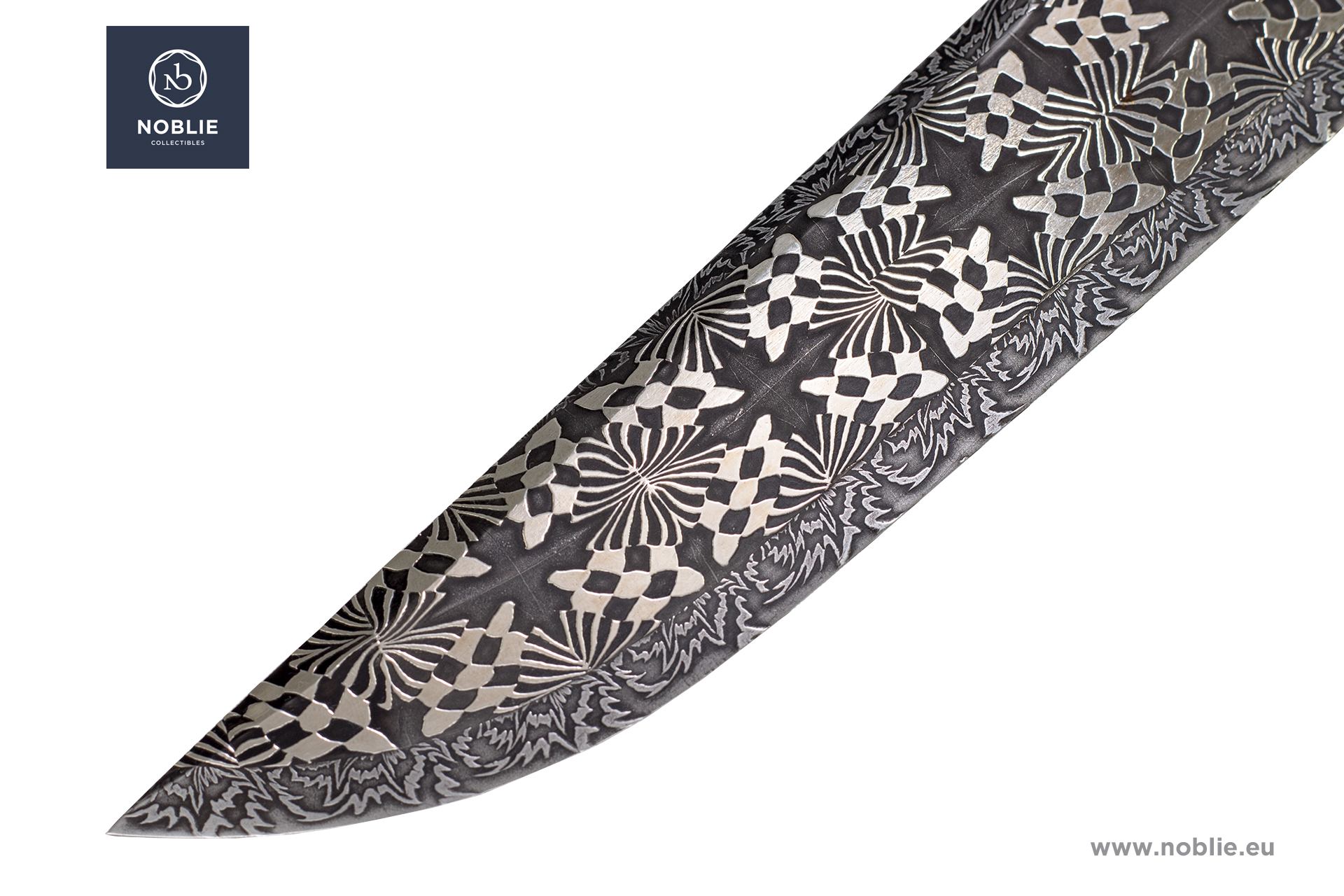 Mosaic in abstraction
As the master blacksmith Graham Fredin explains, there are two schools of mosaic Damascus steel production.
What Fredin himself produces, he calls "abstract" Damascus – because he does not pay attention to any specific drawings or figures.
At the same time, this approach sometimes brings unexpected results that get their names.
So, Fredin created a palette that he called "Burning Rose" — the central part of the drawing resembles a flower, while its surroundings have the features of a flame.
"It's all about layers," says Fredin. "Mosaic Damascus is even more difficult because it requires more layers and accuracy.
The angle of forging also plays a huge role." According to the master, the technique of using layers allows you to create an incredible variety of different drawings.
For example, "Burning Rose" is a variation of the "W" pattern, with an offset at an angle of 45 degrees and with addition in four different directions.
"I already had the blanks for the layers," recalls the master. "I folded them, started forging them – so that they lay vertically. Under the hydraulic press, this whole pattern acquires the effect of convexity.
In the section, as a result, the workpiece has a number of C-shaped waves. Put them together correctly and you get a "W".
In order to continue the drawing further, fold the "W" and achieve the rose effect."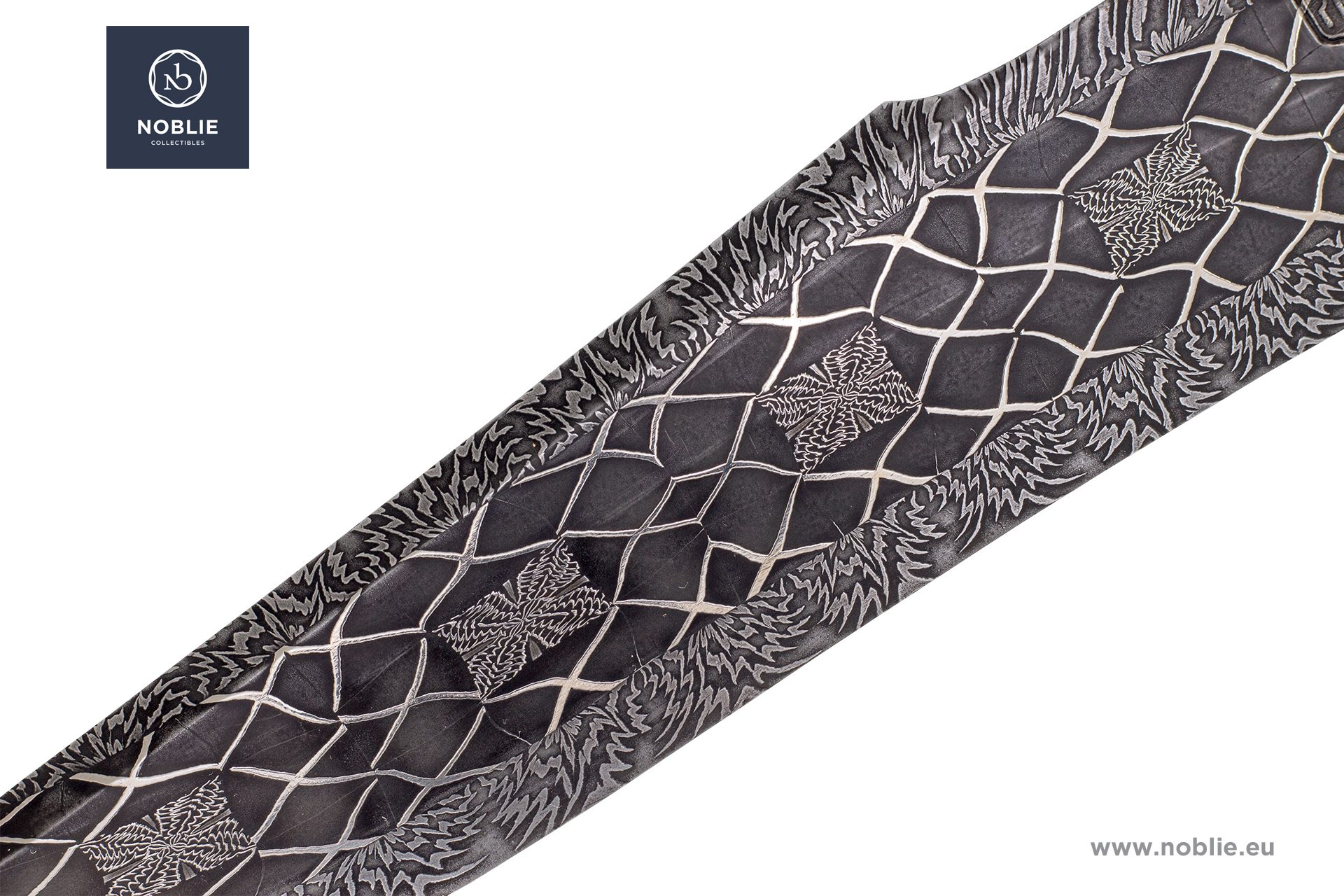 There is no "right Damascus"
Many manufacturers agree on one thing — there are no narrow rules to make mosaic Damascus. All of them recommend first of all to give free rein to your imagination and work hard.
Related CTN News:
Marko Stout A Current Warhol Of Pop Art
Paint-by-Numbers – The Cool Trend That Helps You Grow
Novachill Leads The Flower Fridge Market