Mount Fuji's Overtourism Crisis: Japan's Highest Peak Struggles With Overcrowding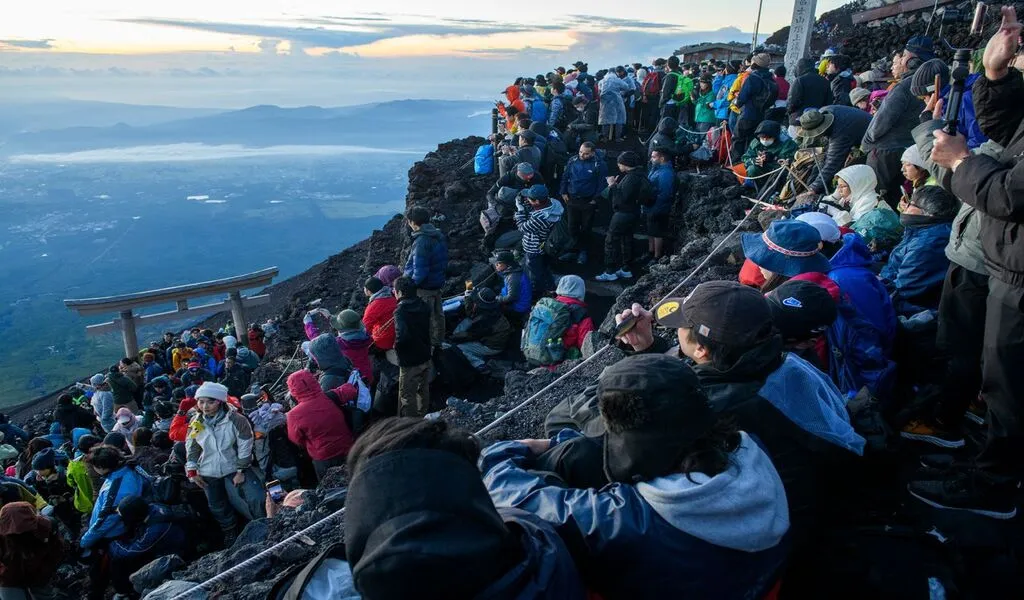 (CTN NEWS) – These are scenes that few would typically associate with Japan's highest peak: congested crowds of hikers, littered foothills, and some individuals attempting the climb wearing inappropriate attire, such as sandals.
However, for Miho Sakurai, a seasoned ranger who has been patrolling the slopes of Mount Fuji for the past seven years, these sights have become all too common.
"There are undeniably too many people on the mountain right now; the numbers have significantly increased compared to the past," Sakurai expresses her concern.
In 2013, when Mount Fuji was designated as a UNESCO World Heritage site, the International Council on Monuments and Sites (ICOMOS), UNESCO's advisory body, emphasized the need for mountain authorities to effectively manage the growing crowds.
Despite this advice, the number of visitors to the mountain's popular fifth hiking station has more than doubled, surging from two million in 2012 to over five million in 2019, as reported by the Yamanashi prefectural government.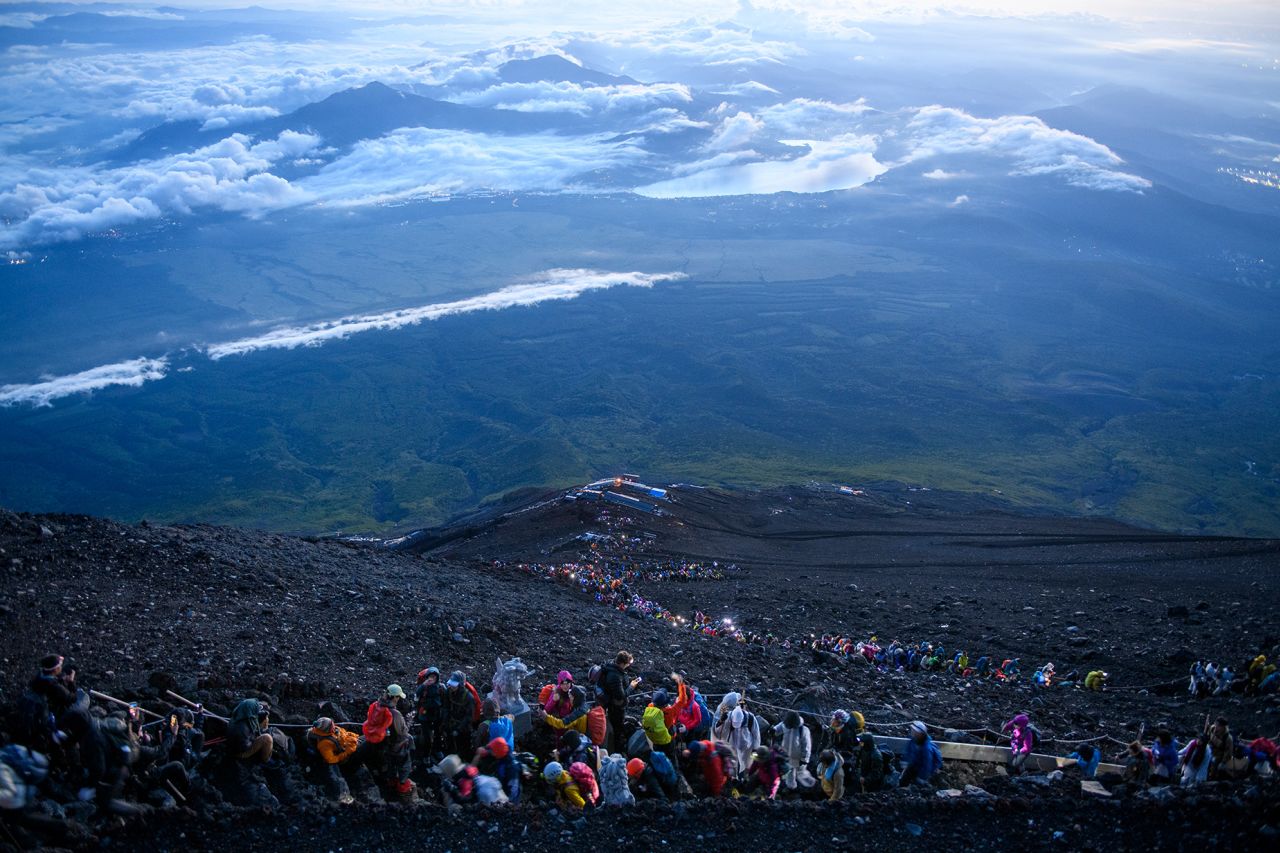 Mount Fuji's Overcrowding Challenges and Their Wider Implications
The situation on Mount Fuji as described in the passage reflects the growing issue of overcrowding and mismanagement of the site, despite its UNESCO World Heritage status.
Here's some additional information and insights:
Overcrowding Issues: Mount Fuji has seen a significant increase in the number of visitors, especially at the fifth hiking station, which has more than doubled from two million in 2012 to over five million in 2019. This overcrowding can lead to a range of problems, including environmental degradation, safety concerns, and a less enjoyable experience for hikers.
Environmental Impact: The overcrowding and littering mentioned in the passage can have a detrimental impact on the environment around Mount Fuji. It can lead to pollution, damage to the ecosystem, and harm to the natural beauty of the area. Proper management is crucial to mitigate these effects.
Safety Concerns: Hikers wearing inappropriate attire, such as sandals, pose a safety risk not only to themselves but also to others on the mountain. Inadequate preparation can lead to accidents and injuries, making it essential for authorities to enforce safety measures.
UNESCO Advisory: The International Council on Monuments and Sites (ICOMOS), a UNESCO advisory body, had stressed the importance of effective management for Mount Fuji after it was designated as a World Heritage site in 2013. This highlights the need for responsible and sustainable tourism practices.
Ranger's Concerns: Miho Sakurai, a seasoned ranger, expresses her concerns about the situation. Her perspective underscores the urgency of addressing these issues and implementing better management strategies.
Local Government Involvement: The Yamanashi prefectural government reported the significant increase in visitors to Mount Fuji. Local authorities play a vital role in managing the influx of tourists and ensuring the preservation of the site's cultural and natural significance.
Overall, this highlights the challenges associated with the popularity of Mount Fuji as a tourist destination and the importance of sustainable management to protect its heritage and environment while ensuring a safe and enjoyable experience for visitors.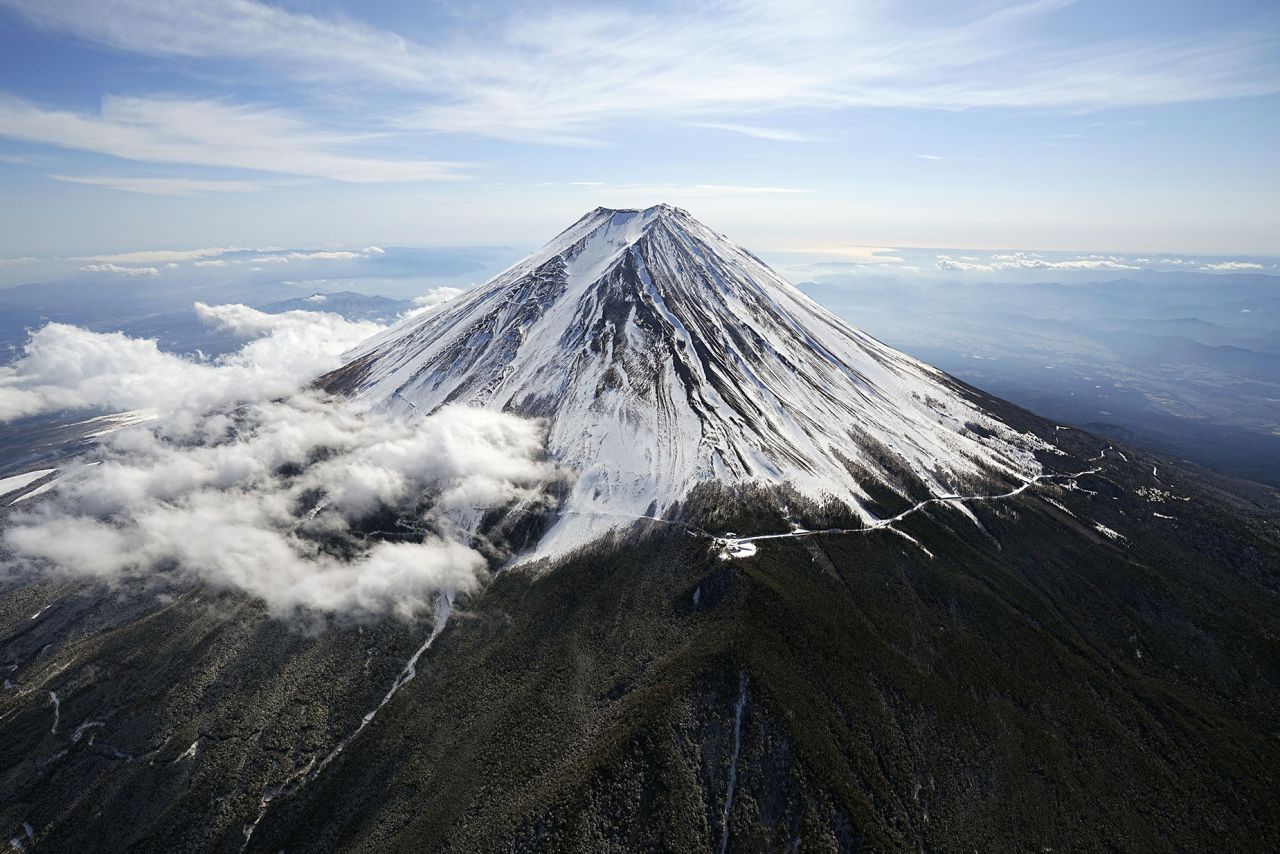 Mount Fuji's Soaring Visitor Numbers Raise Concerns of Overtourism
Since the commencement of the annual climbing season in July just a couple of months ago, approximately 65,000 trekkers have successfully reached Mount Fuji's summit, signifying a 17% surge compared to the numbers in 2019.
Authorities attribute this upswing in visitors to a post-Covid tourism surge, attracting thousands of additional tourists to the mountain, which spans Japan's Yamanashi and Shizuoka prefectures.
This year, as Mount Fuji commemorates the 10th anniversary of its UNESCO designation, there is growing concern among officials that the environmental situation has reached a "critical juncture."
Masatake Izumi, a Yamanashi prefectural government official and a recognized authority on this renowned peak, emphasizes that "Overtourism is the most pressing issue confronting Mount Fuji," citing the ensuing problems such as litter, escalating CO2 emissions, and irresponsible hikers.
Yasuyoshi Okada, the president of ICOMOS Japan, has communicated via email to CNN TRAVEL that in order to safeguard the sanctity of Mount Fuji and preserve its status as a World Heritage site, addressing the issue of over-tourism is imperative.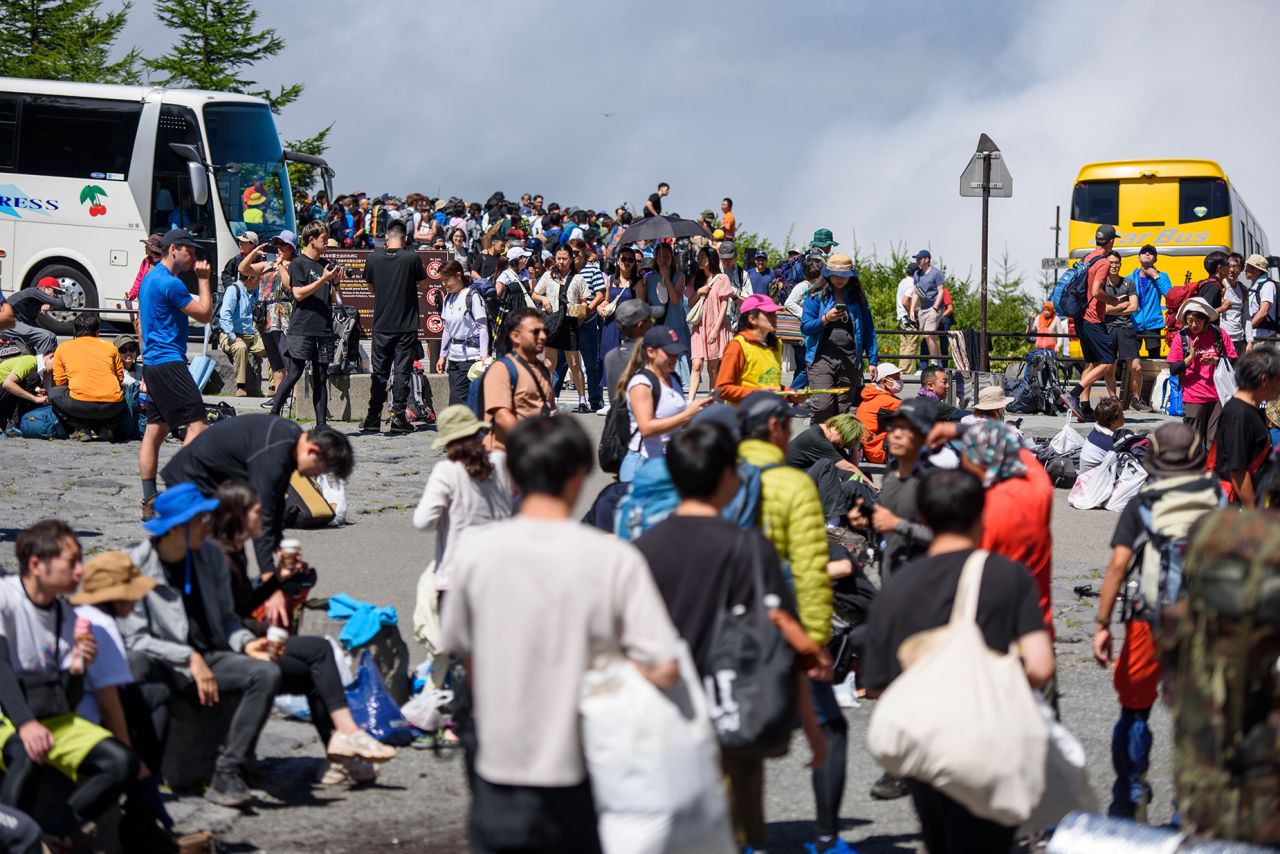 The Crowded Ascent: Mount Fuji's Fifth Station and Overcrowding Woes
Among Mount Fuji's ten hiking stations, the fifth station, known as "Gogome," is strategically situated approximately midway up the mountain, which stands at an elevation of 3,776 meters (12,388 feet).
This particular station attracts a staggering 90% of the mountain's visitors, many of whom arrive via buses, taxis, and electric vehicles (EVs) from Tokyo, utilizing the Fuji Subaru Line mountain road, according to Izumi.
Democratizing Access to Mount Fuji
Izumi explains, "Constructed nearly six decades ago during Japan's motorization era, the Fuji Subaru Line provided a direct gateway for visitors and families to reach a point halfway up the mountain.
It democratized the Mount Fuji experience, making it accessible to people from all corners of the country."
Musical Welcome on the Road to Mount Fuji
Today, as travelers embark on their journey to the fifth station from Tokyo using this route, they are greeted by a brief rendition of a folk song played by sensors installed along the road.
Ode to Mount Fuji and the Harsh Reality
Penned by Sazanami Iwaya in 1911, "Fuji no Yama" or "The Mountain of Fuji" pays homage to this beloved tourist destination.
The lyrics exalt the magnificence of Mount Fuji, hailing it as "Japan's greatest mountain" as it "rises above the clouds," all the while adorned in a "kimono of snow."
Overcrowding Challenges and Consequences
These lyrics sharply contrast with the reality on the ground, where experts are pointing to a significant decline in the mountaineering experience on Mount Fuji due to overcrowding.
Izumi, the Yamanashi official, notes that visitors can no longer drive private cars up to the fifth station unless they are fully electric, but this restriction has led to an increase in the number of buses transporting large groups of visitors to the station.
Furthermore, the large crowds of hikers are placing considerable strain on the mountain's limited toilet facilities and its four medical stations, he adds.
Appeal for Responsible Tourism
At the bustling fifth station, where busloads of hikers converge to embark on the Yoshida trail—the most popular of the mountain's four routes—Tomoyo Takahashi, an employee of the Mount Fuji conservation fund, encourages them to contribute 1,000 yen ($7) to support the mountain's cleanliness.
"It's reminiscent of Disneyland here due to the overwhelming number of people," she tells CNN Travel.
"Not everyone contributes the 1,000 yen, which saddens me. There should be a mandatory entrance fee that is significantly higher, ensuring that only visitors who genuinely appreciate Mount Fuji's heritage make the journey."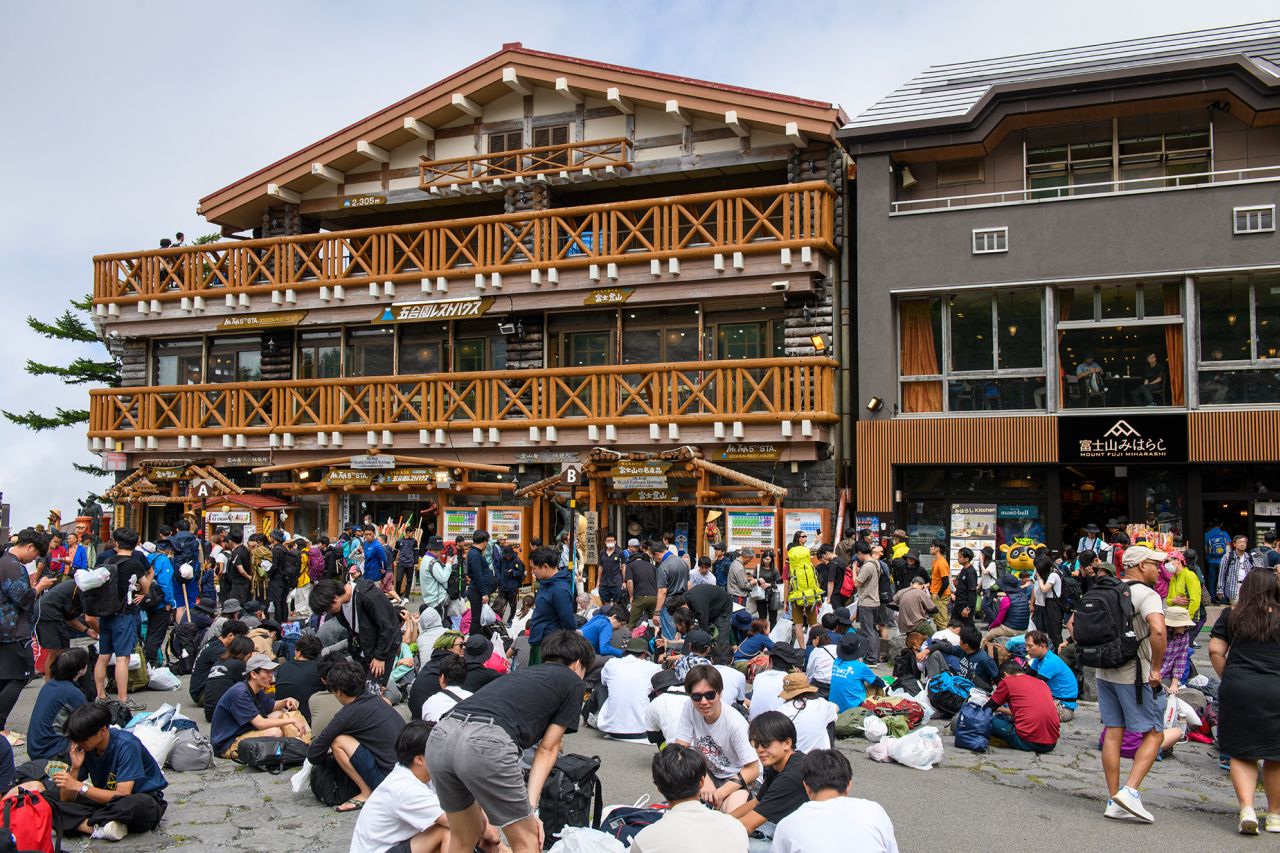 Challenges Faced by Seasoned Hikers on Mount Fuji
The decline in the mountaineering experience is particularly pronounced among seasoned hikers, as noted by Kiyotatsu Yamamoto, a national parks and Mount Fuji specialist at the University of Tokyo.
Congestion and Trail Jams
"Congestion and trail traffic jams represent a major source of frustration for climbers," Yamamoto explains. "Hikers seeking to witness the sunrise all converge near the summit, causing sections that used to take two hours to climb now to require four hours."
Booking Challenges for Prepared Hikers
Vito Fung Yiu Ting, a hiker from Hong Kong, shares his experience, stating that he had to book a night in a mountain lodge at least three months in advance of his Fuji visit.
"I was fortunate to secure a spot," he tells CNN Travel upon returning from Mount Fuji's summit. "I was aware the summit would be extremely crowded, as I had watched several YouTube videos before coming, but it was still a worthwhile experience."
Risks of "Bullet Climbing"
However, not all visitors plan meticulously ahead.
The risk of altitude sickness and hypothermia has risen due to a practice known as "bullet climbing," in which hikers commence their ascent at night, persisting until dawn without staying in a mountain lodge to acclimatize to the changing air pressure, explains Sakurai, the Mount Fuji ranger.
Unwise Practices of Inexperienced Hikers
Yamamoto further highlights that some inexperienced hikers resort to sleeping in washrooms for warmth, discarding climbing equipment on the trail, or camping in areas where it is prohibited.
Transitioning from Quantity to Quality: Preserving Mount Fuji's Iconic Beauty
Efforts to safeguard Mount Fuji have evolved from a focus on quantity to quality in tourism over the years.
The Fujisan Club's Cleanup Initiative
One noteworthy initiative is led by the Fujisan Club, a non-profit organization committed to Mount Fuji's preservation.
Between 2004 and 2018, they orchestrated 992 cleanup operations in the mountain's foothills, engaging 74,215 volunteers who collectively collected 850 tonnes of litter.
In a more recent development, the group introduced garbage patrols using electric bikes equipped with cameras, which capture GPS data and generate maps detailing the types and amounts of trash in specific areas.
Nanai Tatsuo, a Fujisan Club volunteer, describes this endeavor as "the world's first attempt at garbage patrol using e-bikes and AI."
Balancing Visitor Numbers: Challenges and Solutions
To enhance the visitor experience, officials have imposed a daily limit of 4,000 climbers on the popular Yoshida trail, as suggested by Yamamoto, the national parks specialist. However, enforcing this target proves to be a formidable challenge.
Unlike the United States, Japanese national parks and World Heritage sites lack physical barriers to restrict entry.
The closure of access roads for hikers necessitates legislative changes and local government regulations, resulting in slow progress, according to Yamamoto.
He has proposed the establishment of a system whereby only visitors with parking reservations or climbers with lodge bookings are granted permission to ascend Mount Fuji.
Revolutionizing Mountain Access
Furthermore, Izumi mentions that the local government envisions a fundamental transformation in how people access the mountain.
One option involves constructing a light rail transit system atop the Fuji Subaru Line road, thereby preventing cars and buses from traveling to the fifth station.
This approach aims to streamline crowd control by requiring individuals to purchase train tickets and adhering to designated departure and arrival times.
Additionally, Izumi suggests organizing educational lectures on these trains, educating passengers about Mount Fuji and proper mountaineering practices.
Addressing Over-Tourism Urgently
"Fuji-san is crying out for help. We can't afford to wait for improvements; we must address the issue of over-tourism immediately," he emphasizes.
RELATED CTN NEWS:
The Lethal Surge: Fentanyl's Deadly Role In The '4th Wave' Of The U.S. Overdose Crisis
Imran Khan Appeals For Post-Arrest Bail In Cipher Case Following Rejected Plea
Ken Paxton's Resounding Acquittal: GOP's Hard-Right Victory In Historic Impeachment Trial