Avatarly Review: AI Avatar Generator to Make Your Profile Photo Stand out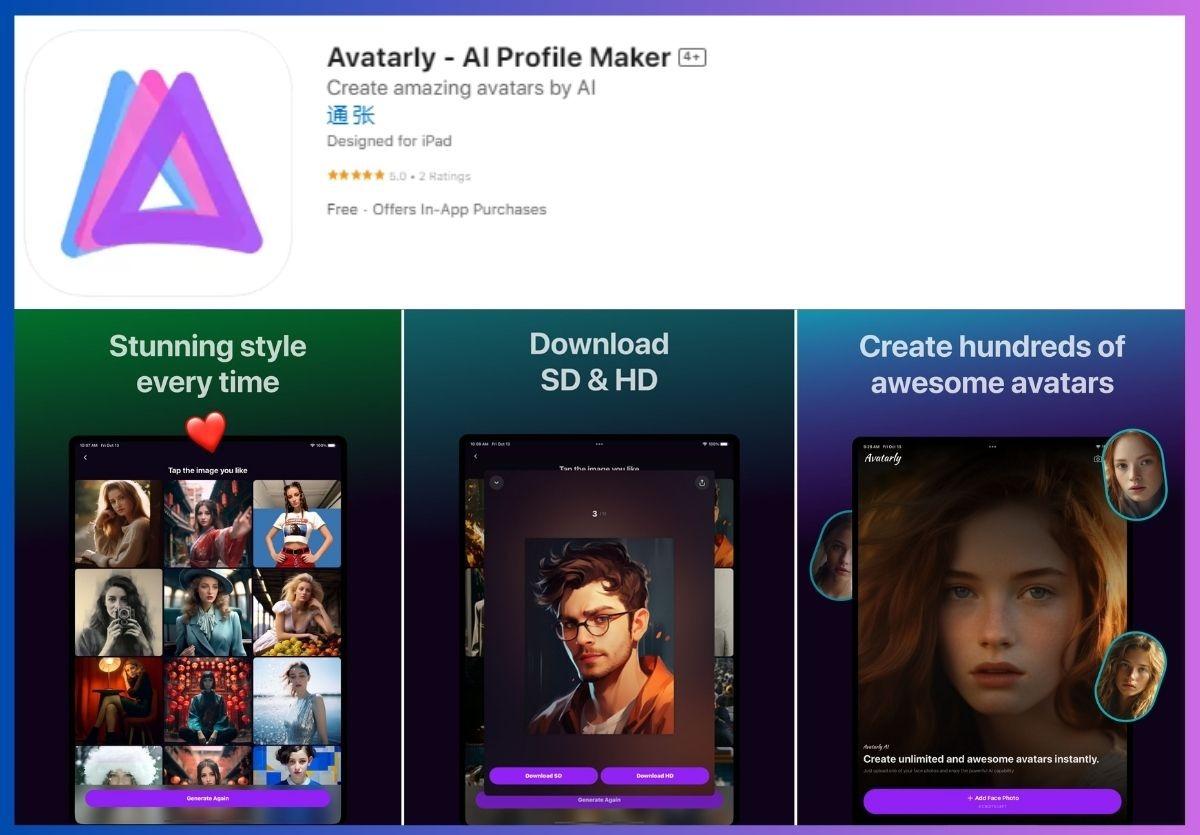 Introduction
AI art is getting popular, and it's easy to see why. Artificial intelligence (AI) lets you make pictures with just your imagination. You can create fantastic worlds or unique things, like a cat with feathers. In the past, making digital art required a lot of learning and time on the computer. But now, thanks to AI art tools, you can create impressive artwork with just a few words.
Among AI art tools, there's a category called AI avatar generators, and that's what we'll talk about here. These tools help you make profile pictures or videos for the internet and social media. AI avatars are a fun way to show your personality in the images you use online.
In this article, we will walk you through Avatarly, a brand-new avatar generator, to create stunning avatars based on your upload. If you want to get an easy solution to update your social media profile pictures, Avatarly is an excellent tool.
What is an AI Avatar Generator?
An AI avatar generator is a unique tool that uses clever computer programs and intelligent technology to make unique AI avatars. These avatars are like digital characters that you can use on the internet. People often use them as profile pictures on social media.
You can start making your AI avatar using a selfie or a photo of yourself, or you can even write some words to describe what you want. What's remarkable is that AI avatars aren't just pictures; some can even make videos of your digital character.
You can use these avatars in video games, when you're live on the internet, for teaching, or in work presentations. AI avatar generators let you enjoy and get creative with your online appearance. Whether you want to look like your favourite cartoon character or add some pizzazz to your profile picture, these tools can help you.
What is Avatarly
In the digital world, we often use avatars to represent ourselves online. These avatars can be on social media, in games, or for professional profiles. Avatarly is an AI Avatar maker that uses innovative technology (artificial intelligence or AI) to help you excitingly create your avatars.
With Avatarly, you can turn your photos into cool avatars. You don't need to be a computer expert to use it because it's easy to understand. This introduction is just the beginning of your journey into Avatarly, where you'll see how AI technology can make your digital identity memorable.
Highlights of Avatarly
1. Transform Selfie into Digital Avatars Instantly:
Avatarly's hallmark feature is its ability to convert your ordinary selfie or portrait into captivating digital avatars in seconds. Using advanced artificial intelligence, Avatarly enhances your image and brings it to life as a unique digital character, effortlessly bridging the gap between your authentic and digital selves. This instant transformation ensures that you can update your online presence swiftly and with creative flair.
2. Generate 12 Unique Profile Pictures with Only One Upload:
With a single photo upload, Avatarly doesn't just stop at creating one avatar; it offers 12 distinct and imaginative profile pictures. Each avatar boasts a different style or mood, allowing you to choose the one that best matches your current vibe or suits the platform you're using. This variety ensures you have options for different online contexts, all from just one input.
3. Re-Creation Feature Allows You to Explore More Styles:
Need to be content with the initial avatars? No problem. Avatarly's re-creation feature lets you explore even more styles and looks until you find the perfect match for your digital identity. With this feature, you can keep experimenting, tweaking, and refining your avatars until they align precisely with your personality and preferences.
4. Export HD-Quality Avatars for Any Purpose:
Avatarly doesn't just focus on the creative process; it ensures that the result is of the highest quality. You can export your avatars in high-definition (HD) quality, making them suitable for various purposes, from professional use to sharing on social media, gaming, or wherever your digital identity takes you.
This feature guarantees that your avatars shine brightly and look impressive wherever you decide to showcase them.
Generate Stylish Avatars with Avatarly (Step by Step)
Creating your unique avatars with Avatarly is a straightforward and enjoyable process. Follow these simple steps to get started:
Step 1: Download Avatarly
Begin your avatar creation journey by downloading the Avatarly app from the Apple App Store. Install it on your iOS device to access the power of AI-driven avatar generation.
Step 2: Open the App
Once the app is installed, open Avatarly. You'll be greeted with a user-friendly interface to make the avatar creation process seamless.
Step 3: Upload Your Selfie
Choose a clear and well-lit selfie or portrait that you'd like to transform into an avatar. Make sure the image contains only one face for the best results.
Step 4: Initiate Avatar Creation
Click the "Make Avatars" button to kickstart the AI-driven image-processing magic. Avatarly's algorithms will work their charm on your photo.
Step 5: Customize Your Avatars
In just a matter of seconds, Avatarly will transform your original image into a collection of unique digital avatars. You'll notice your face integrated into various creative templates. Feel free to explore the options, each offering a different style or mood.
Step 6: Choose Your Favorite
Avatarly doesn't stop at one avatar; it provides 12 distinct profile pictures. Peruse the collection and select the one that resonates with you or suits your specific purpose.
Step 7: Export Your Avatar
Once you've found the perfect avatar, you can export it. Choose between the standard-quality "Download SD" option or the high-quality "Download HD" option, depending on your intended use.
Your newly generated avatar is now ready to be used across various online platforms, whether it's social media, gaming, professional networking, or any digital context where you'd like to showcase your unique digital identity.
With Avatarly, creating personalized avatars is not only easy but also filled with creative possibilities. Try it out and discover how AI technology can make your online presence more engaging and visually striking.
Pros and Cons
Pros:
It provides a quick and seamless process for generating avatars from your selfies, saving time and effort.
It offers a diverse range of customization options, allowing you to experiment with different styles, moods, and designs.
Easily change and update your profile image on various online platforms.
Prioritizes user privacy and security by not storing or sharing personal data, giving users peace of mind.
An easy-to-use interface makes avatar customization accessible to users of all skill levels.
Cons:
It doesn't allow users to select a specific style or mood for their avatars before the generation process. Y
While Avatarly offers a free version of the app, it may limit the download of high-definition (HD) images
Currently, Avatarly is only available on iOS devices, with restricted access for Android and other users.
Conclusion:
In conclusion, Avatarly is a fantastic AI avatar creation tool for creating unique avatars that can make your online identity look great. It's easy to use and offers quick avatar creation and privacy protection. However, there are a few things to remember, like being unable to choose a style before making avatars and some limitations on downloading high-quality images for free.
Despite these minor issues, Avatarly is a handy tool for making your online profile picture stand out. If you want to make your digital presence more interesting, Avatarly is worth checking out.
SEE ALSO: Meta's Proposed $14 Monthly Ad-Free Instagram Subscription Sparks Privacy Debate In Europe