Robert F. Kennedy Jr. Dumps the Democrat Party Runs for President as an Independent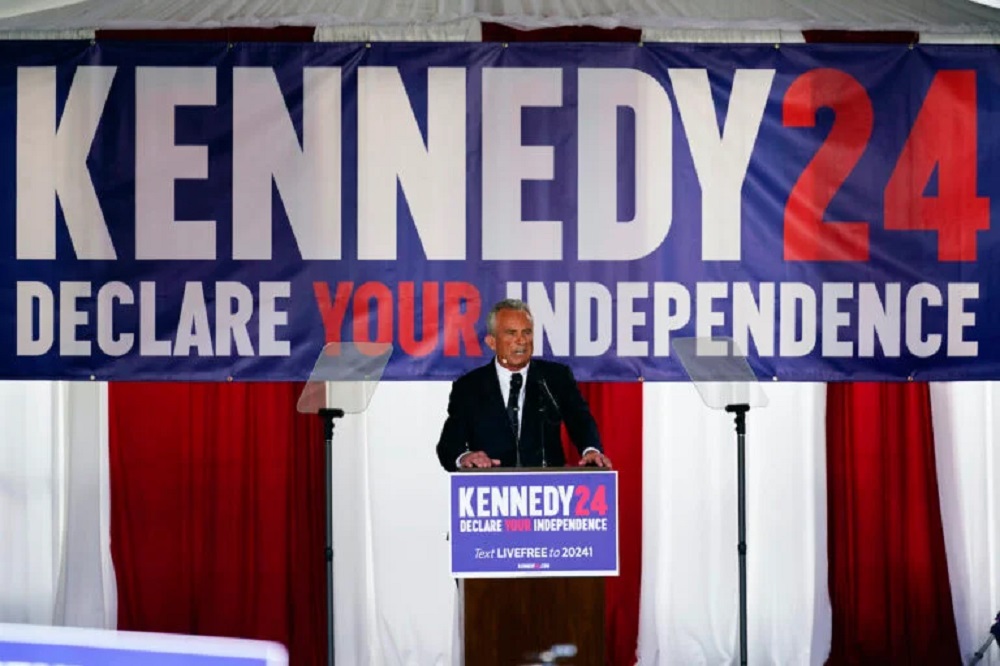 US Presidential candidate Robert F. Kennedy Jr, the son of former Senator Bobby Kennedy, declared on Monday that he will run as an independent rather than as a member of the Democratic Party.
Kennedy sought to portray himself as a unifier and a voice for voters who are tired of the country's party splits and animosity, describing them as a barrier to progress.
"People stop me everywhere, in airports, hotels, and on the street." And they remind me that this country is primed for a historic shift… "I'm here today to declare myself an independent candidate," Kennedy addressed the audience assembled in front of the National Constitution Centre.
American Values 2024, a super-PAC that supports the candidate, has received $17 million, according to co-founder Tony Lyons, who spoke to Reuters at the event. This is an increase from the $10 million revealed in July. He anticipates an additional $10 million in revenue following the announcement.
Kennedy's statement complicates a rematch between President Joe Biden, a Democrat, and former President Donald Trump, the Republican frontrunner in polls, in 2024. Both continue to be unpopular with broad segments of the American populace.
"Bobby might share the same name as our father, but he does not share the same values, vision, or judgement," Kennedy's siblings – Kerry Kennedy, Rory Kennedy, and Joseph Kennedy II – said in a statement on Monday. "Today's announcement is deeply upsetting for us."
Kennedy's Backers Against Trump or Biden
Kennedy's deep-pocketed backers, legendary name, and lack of enthusiasm for Trump or Biden, according to political gurus, might give his candidature gravity.
According to a Reuters poll released last week, he could garner the backing of one in every seven US voters and steal votes from both Biden and Trump. Third-party candidates have failed to win presidential elections in the United States, but they have had a significant impact on who does.
Last week's Democratic National Committee meeting in St. Louis was both dismissive and worried.
"Other than his name, what does he have?" He is an abomination to his family's legacy. "It's a disgrace," said Ken Martin, the Democratic Party's chairman in Minnesota. Others were cautious.
"It's going to be a razor-thin race, so every vote counts." "We can't go into this election with rose-colored glasses," said Charles Wilson, leader of the Democratic Party of Washington, DC.
Difficulties independent candidates
Many Democrats also highlight the difficulties independent candidates have in getting on general election ballots in many states, such as gathering tens of thousands of signatures.
"It's a huge undertaking." "The two major parties have made it impossible for third-party candidates to get on the ballot," said Diane Sare, an independent candidate for the United States Senate in New York who attended Kennedy's announcement.
The Trump campaign and the Republican National Committee did not respond to calls for comment.
Brian Noble is a 42-year-old Army veteran who served during the Iraq war and has become disillusioned with American politics.
He voted for President Barack Obama in 2008, but has not voted in the subsequent elections. He is so committed to a Kennedy candidature that he drove from Alabama to attend the announcement on Monday.
"I believe he's telling the truth," Noble remarked.
About Robert F. Kennedy Jr.
Robert F. Kennedy Jr. (RFK Jr.) is an American environmental lawyer, activist, and author. On January 17, 1954, he was born in Washington, D.C., USA.
He is the third of eleven children born to Ethel and Robert F. Kennedy, the former United States Attorney General and Senator, and President John F. Kennedy's younger brother.
RFK Jr. is well-known for his environmental and public health activism. He has been especially involved in environmental preservation, vaccination safety, and opposition to some aspects of the pharmaceutical industry.
His stance on vaccine safety has been divisive, since he has expressed concerns about vaccines and their alleged ties to autism, a viewpoint that is not shared by mainstream medical and scientific opinion.
Kennedy is a co-founder and chairman of the Children's Health Defence, an organisation that opposes vaccine mandates and advocates for vaccine choice and vaccine safety studies.
His vaccination views have been heavily criticised by the scientific community and public health specialists, who believe that vaccines are an important tool in the prevention and control of infectious illnesses.
It is crucial to note that RFK Jr.'s vaccine beliefs are not backed by scientific or medical consensus, and vaccine safety has been widely researched and validated by multiple major scientific organisations.
Vaccines are important for disease prevention and management, as well as maintaining herd immunity, according to public health experts.
Keywords: campaign robert f kennedy jr, jr to run for president,kennedy jr to run