Unity Announces New Install-Based Fees, Sparks Concerns Among Game Developers
(CTN NEWS) – Unity, the versatile game engine behind popular titles like Rust, Hollow Knight, and Pokémon Go, has introduced a contentious new fee structure for developers, set to go into effect next year.
Independent game developers wasted no time reacting to the announcement, with many expressing concerns that this policy could potentially stifle smaller game projects.
Meanwhile, confusion has rippled through the developer community as they grapple with the uncertainties surrounding its impact on their financial outcomes.
Unity's attempts to shed light on the matter have, rather ironically, added to developers' frustration, generating even more inquiries from those with games currently in progress or actively utilizing the engine.
The newly unveiled Runtime Fee, disclosed in a Unity blog post on September 12th, hinges on the number of installations that a game, developed using the Unity engine, accumulates, as well as the revenue it generates.
Although this fee won't become effective until January 1, 2024, it will be applicable to any game that meets specific criteria regarding annual revenue thresholds and lifetime install counts.
We leverage our own proprietary data model, so you can appreciate that we won't go into a lot of detail, but we believe it gives an accurate determination of the number of times the runtime is distributed for a given project.

— Unity (@unity) September 12, 2023
Unity's New Installation Thresholds and Fees Create Confusion Among Developers
Unity's recent announcement of installation thresholds and associated fees has triggered widespread confusion and concern within the developer community.
The new thresholds and charges vary based on subscription plans and revenue levels, leading to uncertainty for developers, especially those working on free-to-play games or charity bundles.
Thresholds and Charges:
Unity Personal and Unity Plus Plans:

Threshold: $200,000 in revenue within one year and 200,000 lifetime installs.
Charges: $0.20 per game installation exceeding the subscription-specific thresholds.

Unity Pro and Unity Enterprise Accounts:

Threshold: $1 million in revenue and 1 million lifetime installs.
Charges for Unity Pro Developers: Varied fees ranging from $0.02 to $0.15 per installation beyond their prescribed limits.
Charges for Unity Enterprise Developers: Costs ranging from $0.01 to $0.125 per additional installation.
Lower Costs in Emerging Markets:
Developers in emerging markets will experience lower costs per installation exceeding their respective thresholds, offering some relief from the additional fees.
Impact and Concerns:
The introduction of these fees has left the developer community grappling with various concerns:
Free-to-Play Game Developers:

Uncertainty: Developers of free-to-play games are uncertain about potential financial liabilities resulting from excessive installations, which could impact their profitability.

Charity Bundle Creators:

Worries: Developers who participate in charity bundles are worried about potential repercussions for supporting charitable causes. They fear the added installation fees could affect the overall proceeds going to charity.
Unity's new installation thresholds and associated fees have generated considerable confusion and apprehension among developers, particularly those working on free-to-play games or charity initiatives.
As the developer community seeks clarity and evaluates the financial implications of these changes, the impact on the gaming industry's landscape remains uncertain.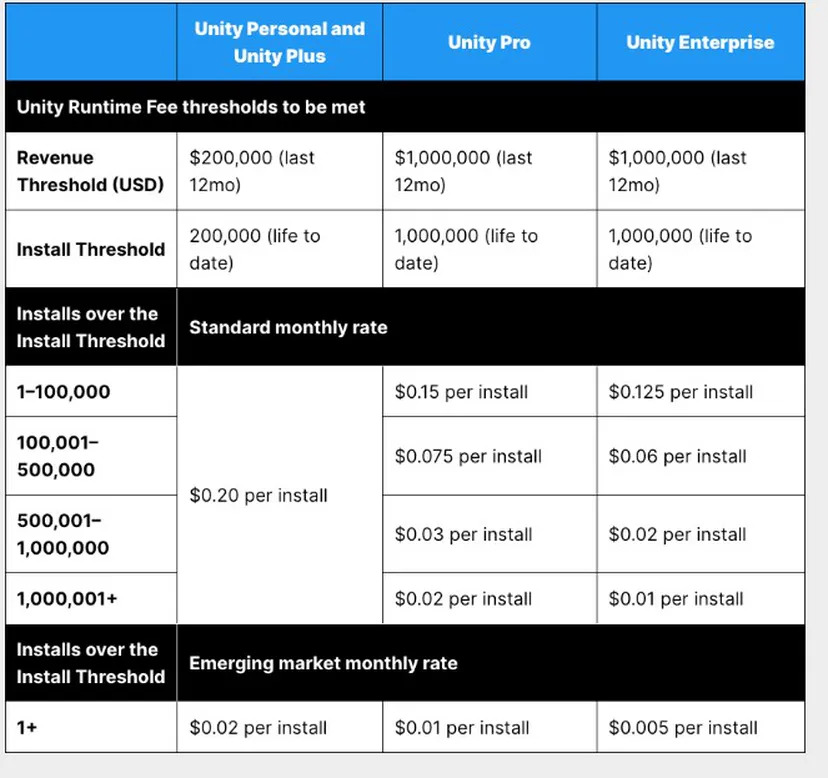 Unity's Recent Policy Changes Draw Criticism from the Gaming Community
The gaming community, especially independent creators, has been vocal in its criticism of Unity's recent policy changes.
These changes have raised concerns about the significant reduction in a creator's potential earnings from their games and the heightened financial risks in an already precarious industry.
This situation becomes even more challenging for developers collaborating with publishers, where revenue is often shared. For developers with moderately successful games, the imposition of fees diminishes their chances of covering their costs, let alone making a profit.
To illustrate the potential impact, developer Aggro Crab presented a hypothetical scenario: "Another Crab's Treasure will be available for free to install for the 25 million Game Pass subscribers.
If even a fraction of those users download our game, Unity's fees could severely dent our income and jeopardize the sustainability of our business."
"This concern arises before factoring in sales on other platforms, pirated installations of our game, or multiple installations by the same user," they added.
Innersloth, the developer behind "Among Us," echoed these sentiments, stating, "This would harm not only us but game studios of all sizes and budgets.
If this policy is implemented, we might have to delay the release of content and features that our players actually want, or even consider moving our game to a different engine, as others are also contemplating. However, many developers may not have the time or resources to do the same."
Developer Fabraz pointed out the potential consequences, noting, "Even something as simple as releasing a demo suddenly becomes a financial risk."
While digital demo festivals like Steam Next Fest can be crucial for attracting attention to a game, the installation fee could place a burden on the team behind a popular demo, potentially putting them into debt before they've earned a single dollar from the game.
There's also no guarantee that users who install the demo will actually play it.
Ashley Ringrose of SMG Studio added, "For free-to-play games, this cost will make Unity an expensive engine to use unless monetized correctly. You could launch a viral hit but still earn very little over the threshold."
Unity has attempted to address some concerns by stating that the Unity Runtime Fee won't apply to games distributed in charity bundles like Humble Bundle or those on Itch.io. However, the company has not clarified how it will track these specific installations.
Game developer and consultant Rami Ismail offered a hypothetical scenario if tracking was not possible, citing the Itch.io charity bundle for Racial Equality and Justice:
"If you made a game that just reached $200K in revenue with a 50/50 publisher split and chose to support, for example, this charity bundle for Racial Justice, you could end up in debt of up to $60K."
RELATED CTN NEWS:
Epic Games Store Free Games Next Week Until 14th September
Excited To Play Starfield With DLSS Upscaling? Check Out The Mod Available!
Exciting Lineup: PlayStation Plus Free Games Unveiled For September 2023