Russia's Invasion Of Ukraine Enters Its 3rd Day: Here's What We Know So Far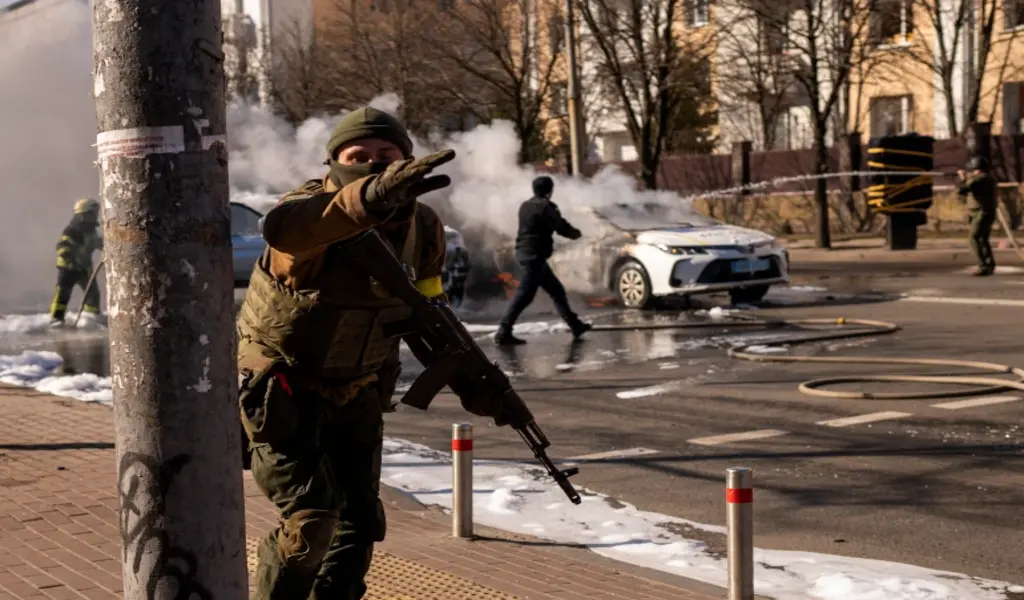 The Russian invasion forces have surrounded Ukraine's capital in an apparent encirclement following a barrage of airstrikes against cities and military bases in the country.
The sound of frequent artillery blasts could be heard in Kyiv in the early hours of Saturday. According to Reuters news agency, these blasts came from an unspecified location outside the city center.
The invasion of Ukraine began early on Thursday with missile attacks on cities and military bases, followed by a multipronged ground assault that called in troops from several different locations.
Must Read: Ukraine-Russia: What Does Putin Want In Ukraine?
Russian troops march on
In northeastern Ukraine, the Russian military encircled Sumy and Konotop on Friday, saying it was ensuring civilian safety.
Russian Defense Ministry Spokesman Major General Igor Konashenkov reported that their forces have destroyed 211 Ukrainian military installations, including 17 command centers, 19 air defense missile systems, 39 radar units, 67 tanks and six warplanes.
The Russian military also said it captured a strategic airport outside Kyiv, which gave it the opportunity to quickly build up forces to take the capital.
The Russian military announced late on Friday it had taken over Melitopol, a city near the Azov Sea. However, no independent verification was available.
Ukraine's military shot down a Russian transport plane carrying paratroopers near Vasylkiv, a city 40km south of Kyiv. The exact number of paratroopers on board is unclear, but the II-76 can carry up to 125.
This night they will storm'
Volodymyr Zelenskyy, a Ukrainian president, told European leaders in a video link-up late on Thursday that it might be the last time they would see him alive amid signs that Russia is plotting to overthrow him.
On Friday, Zelenskyy released a video of himself and his top aides outside the presidential office in Kyiv to reassure Ukrainians that he and other top officials were staying.
In a bleak statement, he warned of an impending Russian assault on Kyiv and other cities in the country and appealed for a ceasefire.
Russia vetoes UN resolution on Ukraine attack
On Friday, Russia vetoed a resolution calling for an immediate ceasefire and withdrawal of all troops from Ukraine by the UN Security Council. Eleven countries voted in favor, while Russia, China, India, and the United Arab Emirates abstained.
As a result of the United States-drafted resolution's failure, supporters can now call for a quick vote on a similar resolution in the 193-member UN General Assembly, where vetoes do not apply. An assembly vote has not been scheduled yet.
Sanctions against Russia
On Friday, the US, United Kingdom, Canada, and the EU announced they were sanctioning Putin and his foreign minister, Sergey Lavrov. EU member states unanimously agreed to freeze their assets.
Even more sanctions, including booting Russia out of SWIFT, the dominant global financial transaction system, are still possible, say EU ministers.
Maria Zakharova, a spokeswoman for the Russian Foreign Ministry, said the sanctions illustrate the West's "total helplessness." "Who are you going to talk to? "A nuclear power, a great country; who are you going to play with?" Zakharova said in televised remarks.
Starting Friday, Russia's civil aviation authority forbade UK flights to and over Russia in response to a British ban on Aeroflot flights.
Also Check: