Thailand's Personal Debt Load Getting Worse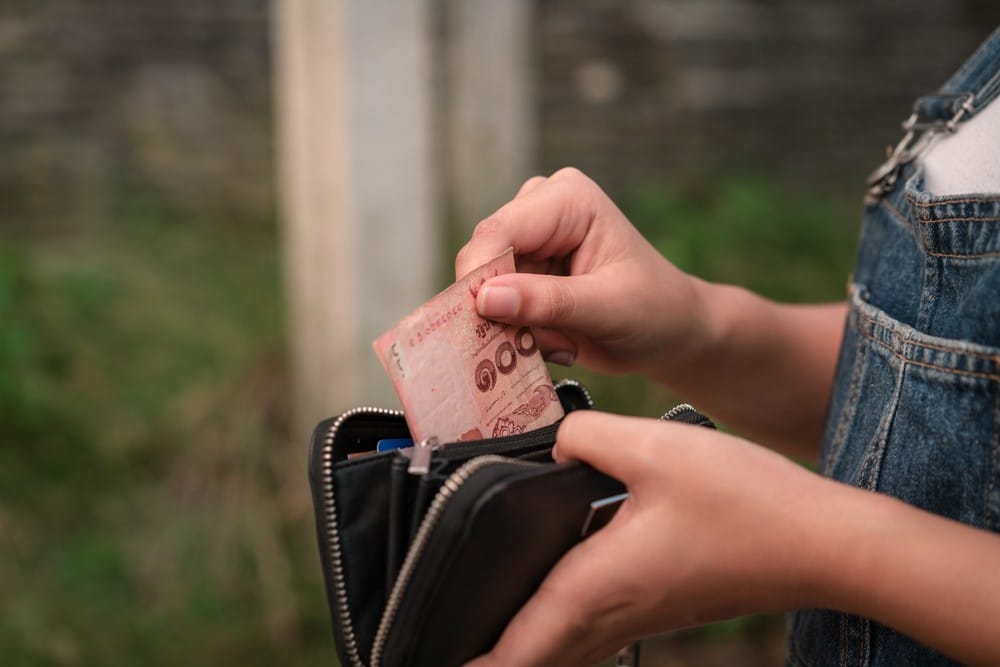 A recent poll in Thailand has revealed a high number of unsecured loan borrowers utilise more than 50% of their income for repayments. According to TMBThanachart Bank analytics, the proportion of seriously indebted borrowers has risen to 30% of all unsecured loan debtors.
The statistic covers credit card and personal loan borrowers with credit limits ranging from 10 to 25 times their monthly income.
As a result, more than half of their income is utilised for debt repayments, according to TMBThanachart Bank's economic analytical department. Sixty-two percent of households are in debt due to insufficient emergency funds.
Furthermore, according to Naris Sathapholdeja, the head of TTB analytics, 50% of households have a lower debt repayment ability if their income is dropped by 20% from the regular amount.
During the pandemic, around 4.5 million accounts were designated as non-performing loans (NPLs), accounting for 45% of the entire outstanding loan value.
The majority of distressed debts involve individual borrowers in the agricultural sector.
Around 4,600 households have enrolled in state financial institutions' debt restructuring programmes. An estimated 42% of people have obtained an informal loan or borrowed from a loan shark, with the average informal loan amounting to 54,300 baht per person.
"The amount owed to loan sharks by retail borrowers is quite high because the majority cannot access banking industry loan services, primarily due to income uncertainty," Mr Naris explained.
In other circumstances, borrowers may have exhausted their maximum credit line from a bank or credit card company and turned to loan sharks, he said.
Individual borrowers are becoming indebted at a younger age, according to the Bank of Thailand and ttb analytics. Early-career workers aged 25-29 account for 58% of the total, whereas NPLs account for 25%.
The younger generation is responsible for the majority of personal, auto, motorbike, and credit card loans.
According to Mr Naris, household borrowers are in debt for longer periods of time. 60% of total retail borrowers over the age of 60 are still indebted, with an average debt of roughly 400,000 baht per individual.
The minimum payment obligation contributes to long-term debts. Approximately 40% of credit card and personal loan borrowers choose minimum debt payments. As a result, their debt time is prolonged, and they are unable to break free from the debt cycle, he claims.
During the pandemic, the Bank of Thailand approved lowering the minimum monthly payment from 10% to 5% of the outstanding sum. As the economy improves, it plans to hike the rate to 8% next year and 10% in 2025.
According to Mr Naris, unsecured loans account for 68% of total household debt, with credit cards and personal loans accounting for 39% and 29%, respectively. Furthermore, these loans are not used to produce income but rather for normal consumption rather than investment.
The increased financial burden is also responsible for the country's growing household debt. According to ttb analytics, around 32% of all retail borrowers have four loan accounts per person.
Increasing the Minimum Wage in Thailand
Meanwhile, the Ministry of Labour has reached an agreement with business leaders to postpone the government's vow to raise the daily minimum wage to 400 baht, urging that it be phased in in accordance with inflation and economic growth.
On Tuesday, Prime Minister Srettha Thavisin announced in parliament that the government would meet with employer and employee representatives to consider raising the minimum wage to 400 baht.
On the campaign road, the Pheu Thai Party established a more ambitious objective of raising the daily wage to 600 baht by 2027, provided economic conditions allow.
"If we raise the minimum wage to 400 baht, we must consider inflation and GDP," said Labour Minister Pipat Ratchakitprakarn, deputy leader of the Bhumjaithai Party.
"Given the current economic conditions, the wage should rise by 2%."
Mr Pipat made the remarks during a meeting with members of the Federation of Thai Industries (FTI) on Friday, who had counselled caution on pay rises.
A rate of 400 baht would be 13% more than the existing limit of 354 baht in Chon Buri. Wages range from 328 to 354 baht depending on province. In Bangkok, the rate is 353 baht.
Mr. Pipat stated that his government is aware that firms, particularly small and medium-sized organisations, cannot afford to pay a higher wage due to high operational costs and liquidity issues.
The Employers' Confederation of Thai Trade and Industry previously stated that it objected with the 400-baht rate because it could force enterprises with significant financial obligations to lay off workers.
According to Mr. Pipat, a new minimum wage will be debated by a tripartite wage committee comprised of employers, employees, and government representatives, with a decision expected in November.
According to FTI chairman Kriengkrai Thiennukul, up to 20 of the FTI's 45 sectors are labor-intensive and pay varying salary rates under 400 baht, while the balance pay more than 400 baht.
Factories that employ a large number of people are particularly vulnerable to wage increases, he claims.
"If the tripartite wage committee agrees to raise wages, it should consider inflation and GDP." "Wages should also be adjusted in accordance with workers' abilities," he stated.
According to the FTI, Thailand currently has 40.3 million workers, with 2.7 million of them being migrant workers from bordering countries.
Manufacturing employs between 5 and 6 million people. The Social Security Fund covers about 12-13 million workers.
In order to address a manpower shortfall, the FTI wants the government to make agreements with surrounding nations to import additional people.
"Thailand requires more than 300,000 workers to serve many industries and perform dirty, dangerous, and difficult jobs that many Thai workers do not do," said Suchart Chantaranakaracha, vice-chairman of the FTI.