Severe Rainfall And Flooding Wreak Havoc In New York City And Surrounding Areas
(CTN News) – Severe rainfall and flooding on Friday created extremely hazardous conditions for the morning commute, resulting in subway and rail service suspensions and the closure of a terminal at LaGuardia Airport.
The weather forecasts are strengthening the anticipation of heavy rain concentrated in the New York City area from Friday through Saturday morning.
A flood watch remains in effect until 6 a.m. on Saturday for the entire tri-state area, with rainfall rates expected to reach 1-2 inches per hour at times.
Across the region, a minimum of 2-4 inches of rainfall can be anticipated, with some areas potentially receiving 5-8 inches before the storms dissipate.
By 11 a.m., certain parts of New York City had already experienced five inches of rainfall.
Flash flood warnings were issued for a significant portion of NYC and its surrounding counties in New Jersey, the Hudson Valley, and extending into Connecticut through the early afternoon, with the possibility of further extensions.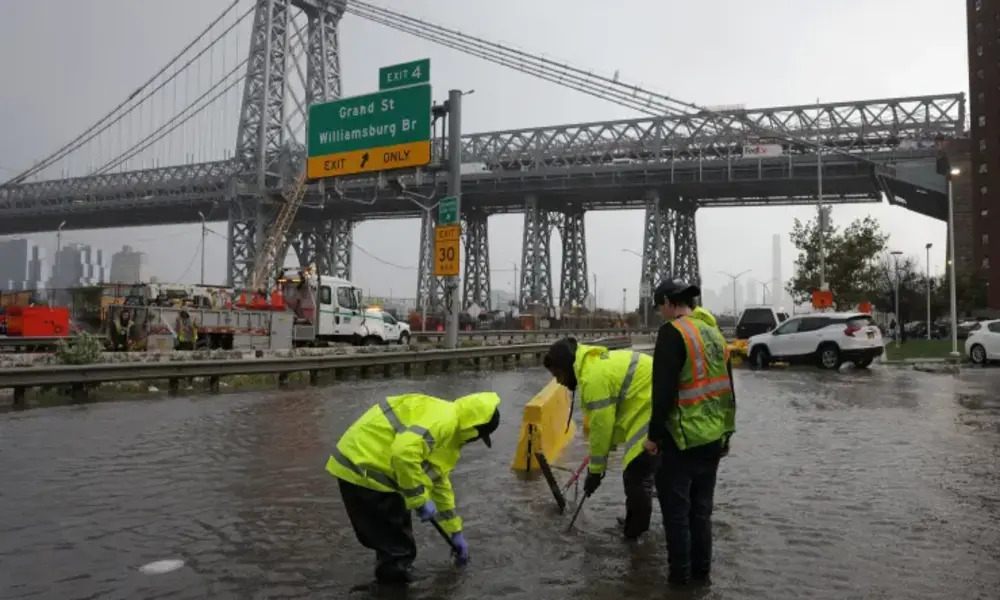 Governor Kathy Hochul Declares State of Emergency for Severe Rainfall
New York Governor Kathy Hochul has declared a state of emergency for the affected areas.
Hochul stated, "I am officially declaring a State of Emergency in New York City, the Hudson Valley, and Long Island due to the severe and dangerous rainfall currently impacting the region, with expectations of its continuation for the next 20 hours.
In anticipation of this storm, we mobilized thousands of State personnel, and I have instructed all State agencies to provide every necessary resource to address this extreme weather event.
It is of utmost importance that all New Yorkers take the required precautions and avoid flooded roads, which are particularly perilous during flash floods."
The morning commute was plagued by heavy rain, and conditions are expected to deteriorate further, with widespread impacts extending into the afternoon and evening.
The heavy rainfall, coming on the heels of last weekend's drenching by the remnants of Ophelia, could lead to significant flooding in much of the tri-state area.
Due to the ground already being saturated from four days of continuous rain last weekend, receiving such a large amount of precipitation in a short period is more than sufficient to trigger severe flooding and flash flood situations.
MTA and LIRR Precautions Ahead of Severe Weather
The Metropolitan Transportation Authority (MTA) has taken precautions ahead of the storm, and Chairman Janno Lieber assured that the system would remain operational throughout the storm. However, he acknowledged that disruptions were possible in flood-prone trouble spots.
The Long Island Rail Road (LIRR) also had extra personnel on standby to promptly address any issues that might arise.
Depending on the weather conditions, some bridges may need to be closed, taking into account factors like wind and rainfall.
Several subway lines were suspended during Friday morning, with others discontinuing service through flooded stations, particularly in Brooklyn.
The MTA's subway account posted on X (formerly Twitter), "Due to heavy flooding, there is extremely limited subway service available. Service has been suspended at many stations."
New York City Mayor Eric Adams also declared a state of emergency for the city, urging residents to stay home if possible and take shelter if they are at work or in school, emphasizing the ongoing danger.
Governor Hochul highlighted the restoration of subways, trains, and overall transportation infrastructure as a top priority.
Coastal areas, such as the Jersey Shore, continue to face risks, enduring persistent gusty winds, rough seas, and higher high tides.
Coastal flooding remains a concern due to the influence of a full moon, which will elevate tide levels and potentially lead to minor coastal flooding. Additionally, rough surf will contribute to further beach erosion.
While severe storms with damaging wind, hail, or tornadoes are not expected, heavy rainfall remains the primary concern.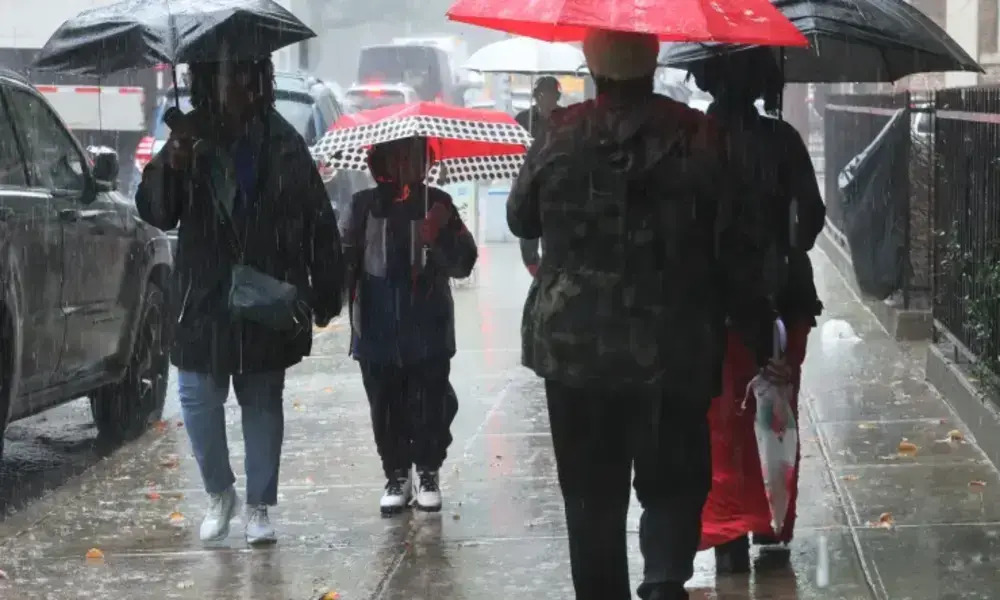 New York City and New Jersey Issue Travel Advisory Amidst Severe Weather Threat
The New York City Emergency Management Department has issued a travel advisory for the entirety of Friday and Saturday morning.
NYC Emergency Management Commissioner Zach Iscol emphasized caution, stating, "All New Yorkers need to exercise caution. If you must travel, consider using public transportation and allow for extra travel time.
If you need to drive, do not attempt to navigate flooded roadways. For those residing in basement apartments, particularly in flood-prone areas, be prepared to relocate to higher ground."
The city has activated its flash flood plan and will dispatch crews to inspect catch basins and roadways in flood-prone regions.
New Jersey Governor Phil Murphy urged residents to exercise care and emphasized the importance of avoiding flooded roads, saying, "I have instructed my team to prepare for the storm and to coordinate in advance with county and local authorities."
In Hoboken, Mayor Ravi Bhalla issued a warning to residents to take necessary precautions. Bhalla stated,
"The City of Hoboken is gearing up for what is expected to be a significant storm with prolonged periods of heavy rainfall, likely resulting in flooding in low-lying areas of Hoboken. I urge residents, especially those in garden-level apartments, to prepare ahead of the storm.
Additionally, I encourage residents and visitors to avoid driving during peak rainfall periods whenever possible.
Although our flood pumping stations are operational, and our resiliency parks are strategically designed to contain water to the best of their capacity, the prolonged severity of the weather may exceed our infrastructure's ability to prevent rainwater from inundating the streets."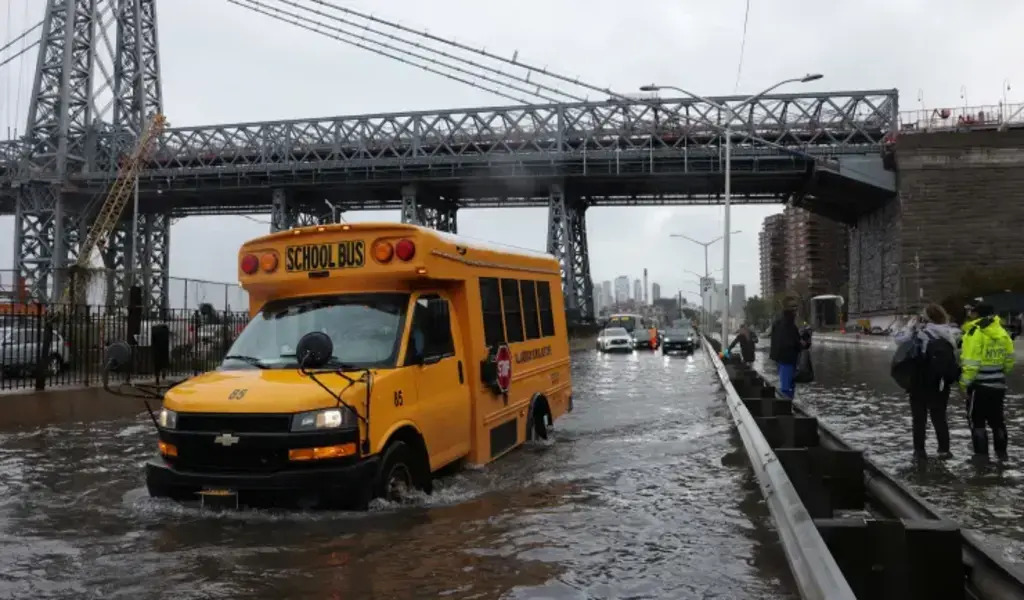 Weather Update and School Decision in New York City
New York City Public Schools have made the decision to keep their doors open on Friday, with a recommendation for students and staff to allocate extra time for their commute.
However, the Mets vs. Phillies game scheduled at Citi Field for Friday has been postponed and rescheduled as part of a doubleheader on Saturday.
Fortunately, the period of rain and adverse conditions won't persist for an extended duration this time. These conditions are expected to continue into Saturday morning, after which the showers will cease.
The remainder of the weekend appears promising, especially Sunday, which is anticipated to bring sunny skies and temperatures in the mid-70s.
Following the weekend, warmer and rain-free weather will dominate the week ahead, with temperatures remaining in the mid-70s. Tuesday might even see temperatures reaching around 80 degrees, offering a taste of summer-like weather during the first week of October.