Pirate-Themed Ship Restaurant Sinks In Pattaya Beach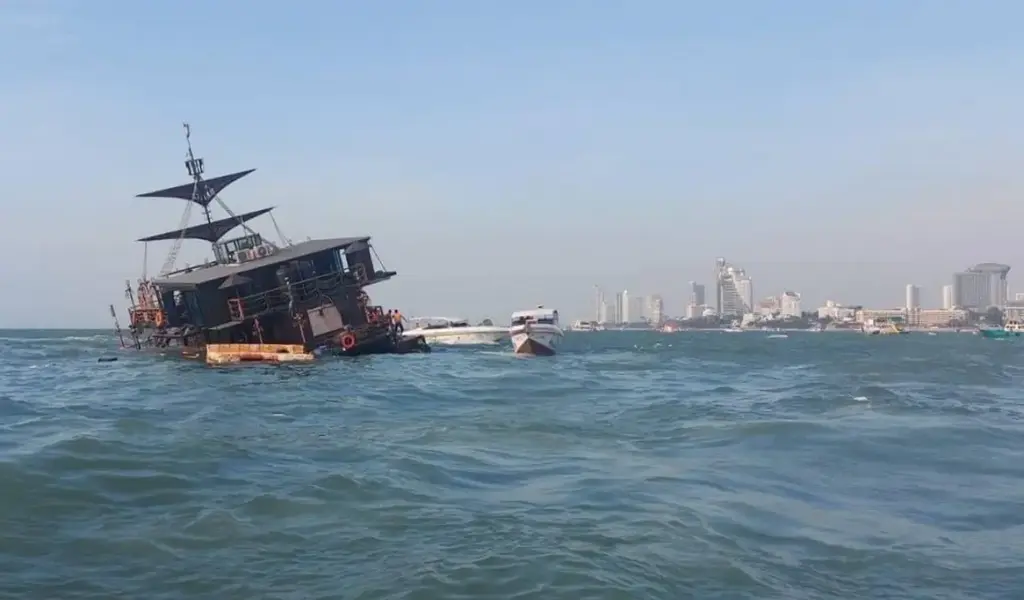 (CTN NEWS) – BANGKOK – Yesterday, a pirate-ship-themed bar and restaurant capsized off the coast of Pattaya in eastern Thailand. Fortunately, poor weather prevented the eatery from being open for business.
The "Krakenian Private of Pattaya" was floating down Pattaya Beach from Bali Hai Pier, not far from Central Pattaya, when the Sawang Boriboon Rescue Foundation received word that it was slowly sinking.
All of the crew members on board the two-story ship were saved safely. No accidents or fatalities were reported.
Based on the early investigation, it is possible that the boat's water pump broke, leading water to drain from the boat inefficiently.
READ MORE: Officials Predict 12 Million Tourists To Visit Phuket This Year
On November 18 of last year, the cafe officially opened for business. It can accommodate up to 150 customers at once.
The Krakenian is described on the boat's Facebook page.
"The Kraken, The Private Of Pattaya,
opened a new cafe in the middle of the ocean. The only pirate ship in Pattaya with a distinctive interior design able to start the treasure search for everyone."
It is a coffee and restaurant. Live music, food, drinks, and squid fishing activities.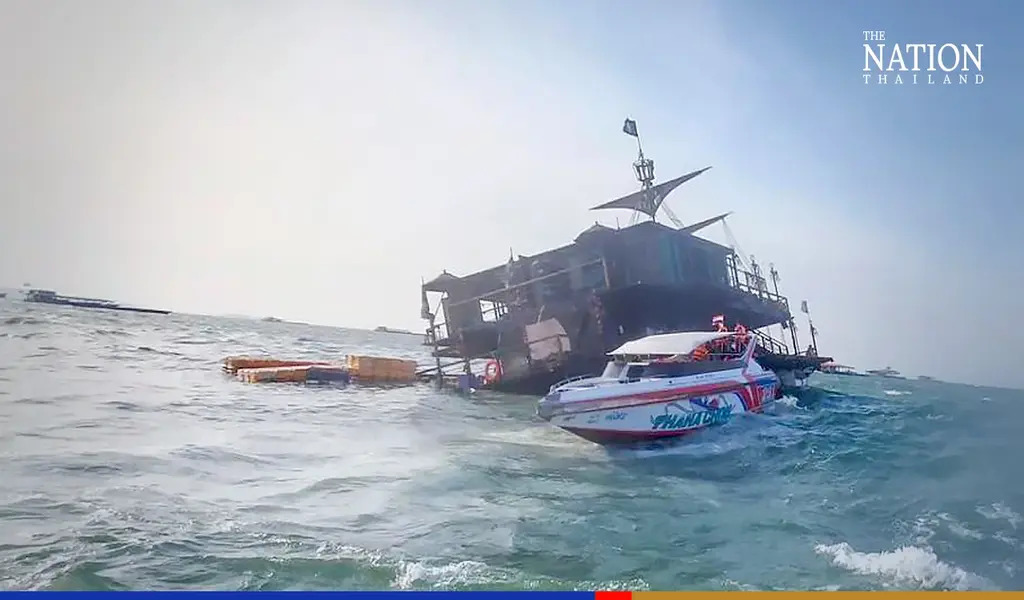 READ MORE: Singapore Ranks 5th Least Corrupt Country In 2022 Corruption Perceptions Index
800 Baht got you a boat ride, one free drink, and a free fishing hook at the Krakenian.
Tony, a 37-year-old witness, claimed that at about 3 p.m., he spotted a boat floating in the water that resembled a pirate ship beginning to tilt.
According to Tony, the boat's contents spilled into the water, and cushions and other belongings washed up on the shore.
The restaurant was shut down for several days by the Marine Department owing to inclement weather, according to Pichet Thanornchart, a 41-year-old shareholder of the pirate ship.
According to Pichet, the ship began to lean to the left as water entered the boat's left side. The boat only partially sank.
Pichet continued, "It's good that the boat wasn't operating."
RELATED CTN NEWS:
Singapore Ranks 5th Least Corrupt Country In 2022 Corruption Perceptions Index
Officials Predict 12 Million Tourists To Visit Phuket This Year
Boeing Delivers The Last 747 Jumbo Jet As It Bids Farewell