Italy's PM Warn Over Hamas Trap, Promotes Two-State Solution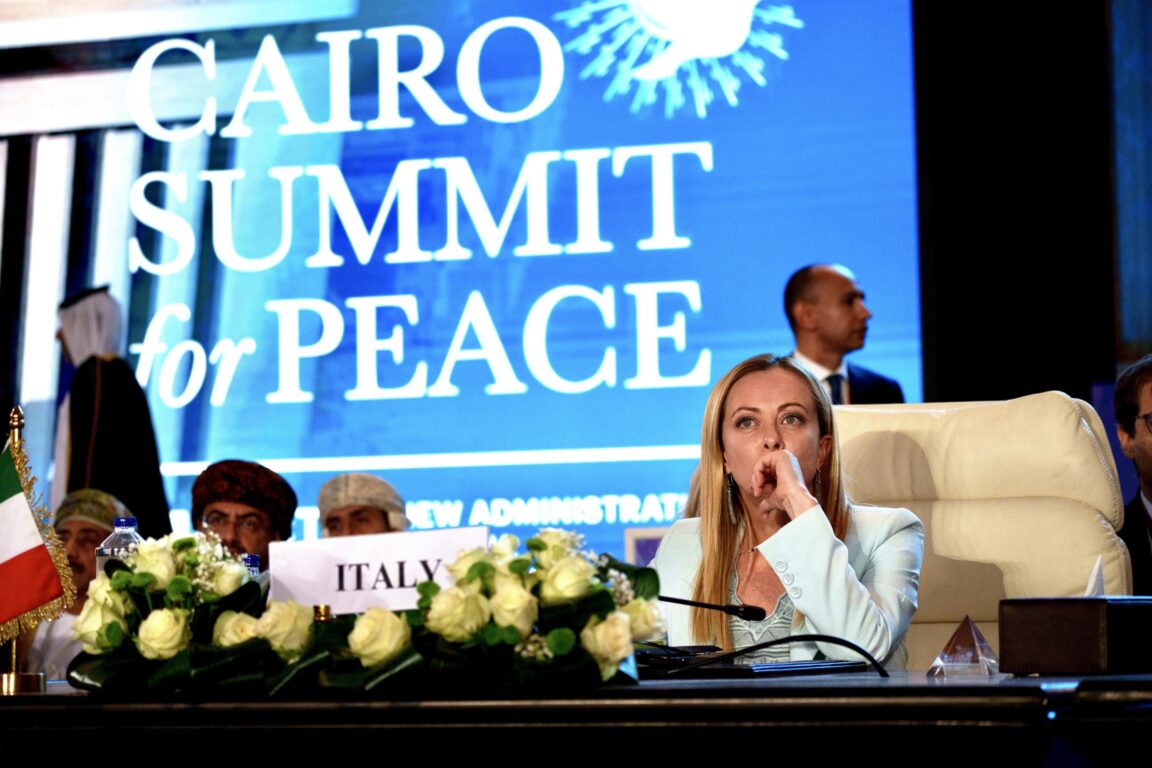 On Saturday, Italian Prime Minister Giorgia Meloni said the international community must prevent an escalation in the conflict between Israel and Hamas by establishing a path towards the two-state solution.
After a Hamas onslaught on Gaza that killed 1,400 people, Israeli Defence Minister Benny Meloni made these comments at a peace summit in Cairo, Egypt.
"Although our starting points are far apart, our interests overlap perfectly: that what is happening in Gaza does not become a much wider conflict, a religious war, a clash of civilisations," Meloni stated in Italian.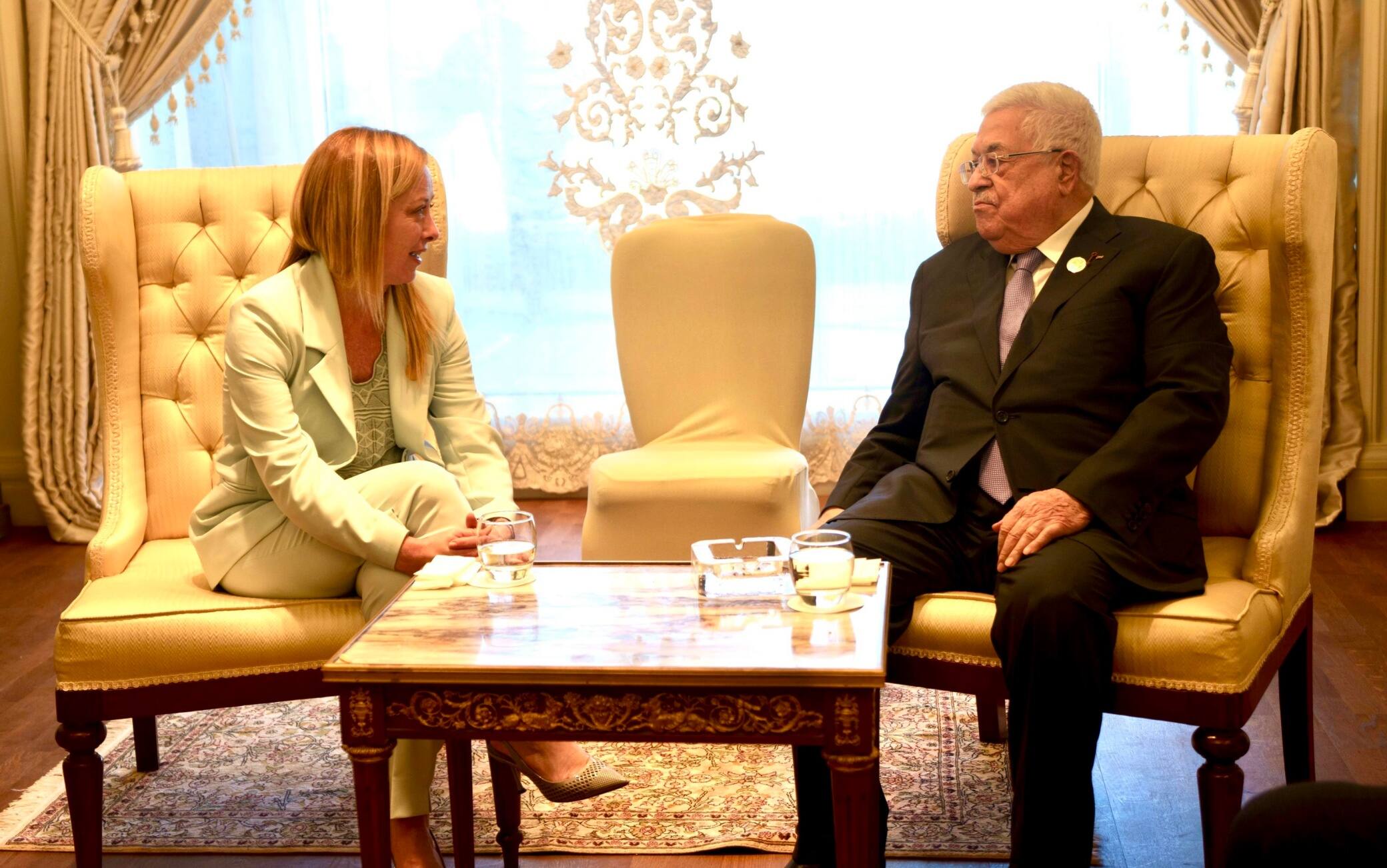 "I have the impression that this was the real aim of the Hamas attack, not to defend the rights of the Palestinian people, but an attack that would create an unbridgeable gap between the Palestinians and the Israelis, meaning that the target is all of us, and we cannot fall into this trap, which would be very stupid."
Before heading to Tel Aviv to meet with Israeli Prime Minister Benjamin Netanyahu, the Italian premier met with Palestinian President Mahmoud Abbas in Cairo.
Meloni told reporters that he and Abbas talked about the importance of working towards a de-escalation of the Israel-Hamas war and a two-state solution, in which Israel and the Palestinian territories would each have their own sovereign state.
"I hope that there is a responsibility on the part of whole international community, and it seems to me that there is, to speed up this process and provide a structural solution to the conflict," said Meloni.
She emphasised the importance of establishing a timeline for a two-state solution.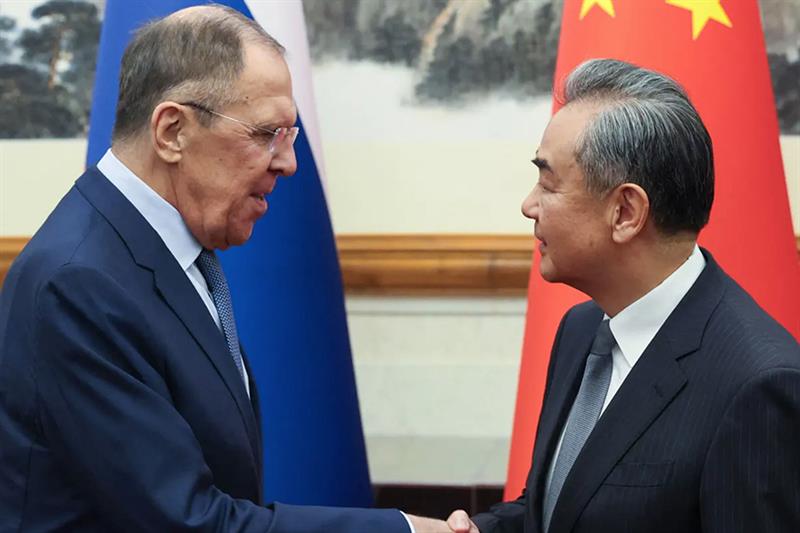 Meanwhile, a top Chinese official said on Friday that China and Russia have the same perspective on the Palestinian issue and will attempt to work together to assist build a two-state solution for Israel and the Palestinians.
China's Middle East envoy Zhai Jun met with Russia's representative to the Middle East and Africa, Mikhail Bogdanov, on Thursday in Qatar.
According to a statement released by the Chinese foreign ministry on Friday, Zhai said, "the fundamental reason for the current situation of the Palestine-Israel conflict is that the Palestinian people's lawful national rights have not been guaranteed."
Zhai added, "China and Russia have the same position on the Palestine question, and China is ready to maintain communication and coordination with Russia to promote de-escalation of the situation."
The two nations hope to "play a positive role in resuming talks for peace between Palestine and Israel, truly implementing the two-state solution, and promoting a comprehensive, just, and enduring solution to the Palestinian question at an early date," Zhai added.
In the latest demonstration of Chinese determination to expand its involvement in the Middle East, China dispatched Zhai to negotiate a ceasefire between Israel and Hamas.
According to Russia's Tass state news agency, the two parties reaffirmed their "unwavering focus on closely coordinating efforts for the political settlement of this and other crises in the Middle East and North Africa region."
Despite its opposition to attacks on civilians, China has not criticised the Hamas strike that sparked the most recent conflict. China believes the United States is too supportive of Israel. As Israel continues to bomb Gaza in preparation for a future ground invasion, the UN has instead called for an immediate cease-fire to safeguard civilians.
Foreign Ministry spokesman Mao Ning said Friday that China believes major powers should be objective and impartial when dealing with international hot spot issues.
When meeting with Bogdanov, Zhai expressed Beijing's regret over "a great number of civilian casualties caused by the Palestine-Israel conflict and the sharp deterioration of the humanitarian situation in Palestine."
To the Chinese, Hamas is not a terrorist organisation but a "resistance movement," in contrast to the Israeli and other perspectives.
As the United States moves its focus elsewhere in the world, many believe China may attempt to portray itself as a mediator and increase its influence in the region. However, President Joe Biden is currently in Israel as a result of the new conflict in Gaza.
Chinese officials confirmed that Zhai had a meeting with Mohammed Abdulaziz al-Khulaifi, the minister of state for foreign affairs in Qatar.
Mao, a spokesperson for the Foreign Ministry, stated that Zhai would visit other Middle Eastern countries, but she didn't provide any other information about the trip.
According to a Chinese statement on his meeting with Chinese leader Xi Jinping this week, Egyptian Prime Minister Mostafa Madbouly said that "Egypt and other Arab countries highly appreciate China's consistent and just position on the Palestinian question and expect China to play a bigger role in solving the current crisis."
Madbouly was in Beijing to participate in a summit on China's Belt and Road infrastructure-building programme, and Xi informed him that stopping the war and preventing a major humanitarian crisis are the main priorities.
He said China "stands ready to strengthen coordination with Egypt and other Arab countries to work for a comprehensive, just and enduring solution to the Palestinian question," according to the Chinese statement.
Israel Seeks To Sever Gaza Relations Following Conflict With Hamas