Chinese Woman Rides 4,000 Miles to Thailand to Train Muay Thai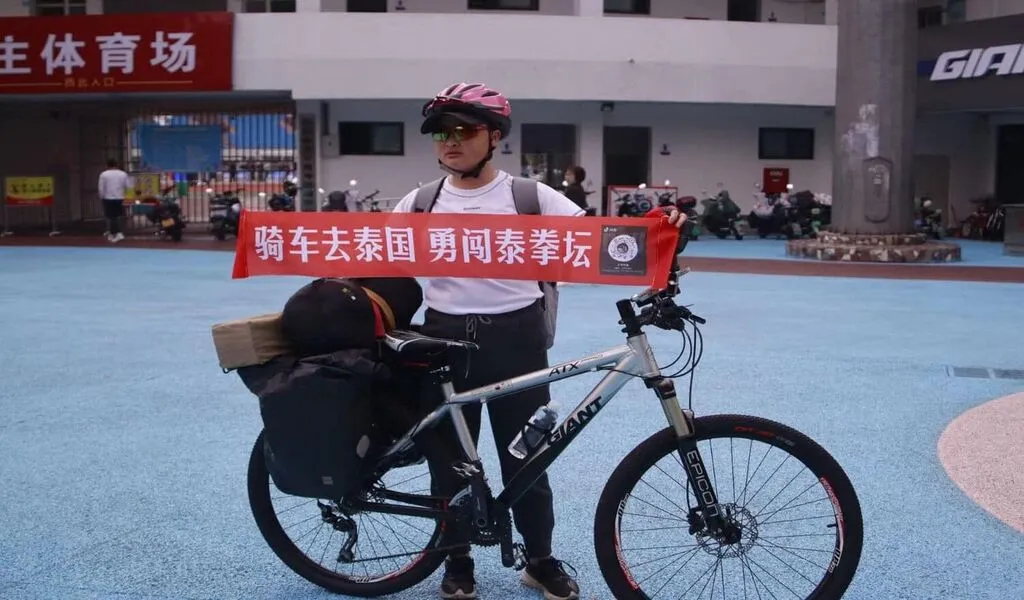 Chinese Woman Rides 4,000 Miles to Thailand to Train Muay Thai – In a remarkable story that has captured the imagination of the internet, a Chinese woman, Li Zhenxiang, has gone viral on the Chinese social media platform Weibo for embarking on an extraordinary journey.
Li is cycling an incredible 4,000 kilometers from her hometown in China to Thailand with a mission to train alongside the famous Muay Thai boxer Sombat "Buakaw" Banchamek.
Li's ambitious journey mirrors the growing global interest in Muay Thai, as evidenced by a teenager in the United States who recently made waves in the Muay Thai community.
4,000-Kilometer Cycling Adventure: From China to Thailand
The American teenager, known as @reed_harringron23 on Instagram, made a bold promise to his followers. He pledged to undertake a task suggested by one of his followers once his Instagram follower count reached the coveted 200,000 mark.
The challenge he received was no small feat: learn Muay Thai in Thailand, win a competition in the "Land of Smiles," and then return to the United States to compete in the Ultimate Fighting Championship (UFC).
What makes this story even more extraordinary is that Buakaw, a Muay Thai idol, noticed the teenager's post and offered to support and mentor him during his training in Thailand. The young American is now in the process of raising funds for his journey to Thailand, thanks to Buakaw's guidance.
Inspired by this viral challenge and her passion for martial arts, Li Zhenxiang took to social media to announce her own commitment to Muay Thai training. Her goal is nothing short of remarkable.
She plans to spend 40 days cycling from Muanyang City in Sichuan province to Chiang Mai province in northern Thailand. Once there, she will practice her boxing skills with Buakaw and find a Muay Thai gym in Bangkok, where she intends to continue her training for another six months in preparation for competing in five to six Muay Thai tournaments.
In an interview with the Chinese media agency Chengdu Daily Star News, Li shared that her love for martial arts, especially Muay Thai, was ignited three years ago, inspired by the film "Million Dollar Baby."
Li acknowledges that her journey will undoubtedly be filled with challenges, including weather conditions, language barriers, adapting to different lifestyles, and the intensity of her training. However, her determination and commitment to Muay Thai drive her forward.
Buakaw himself has endorsed Li's journey, sharing her story on Facebook. He encouraged his followers to support and welcome Li as a fellow Muay Thai enthusiast, expressing pride that foreigners are becoming captivated by Thailand's national martial art. Buakaw eagerly anticipates the arrival of both Li and the American teenager, looking forward to sharing his expertise and passion for Muay Thai with them.
This extraordinary tale is a testament to the power of social media in connecting individuals with shared interests and ambitions, transcending borders and cultures in the pursuit of their dreams.