California Passes Landmark $20 Minimum Wage Hourly For Fast Food Workers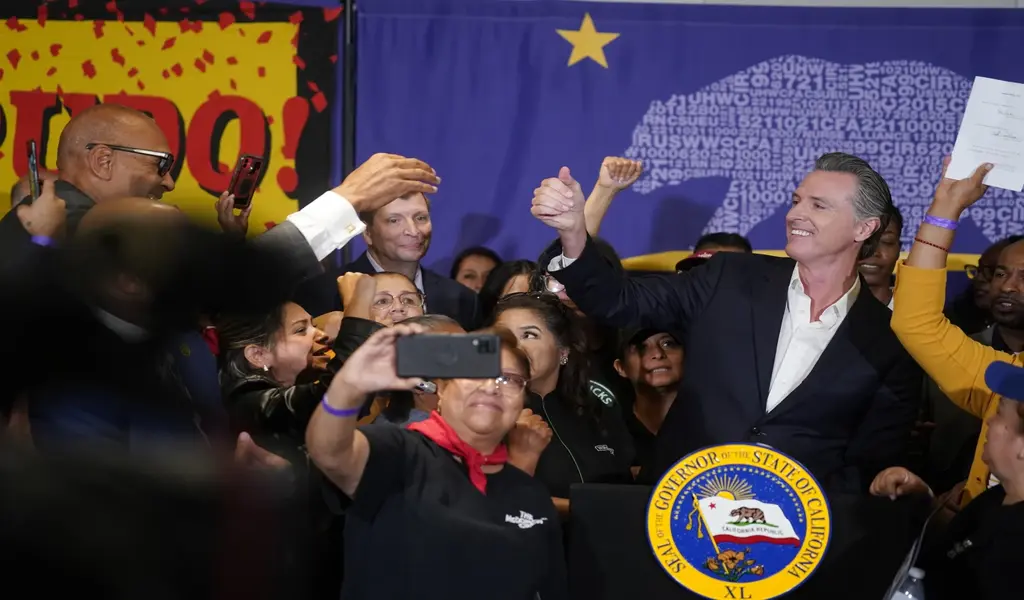 (CTN News) – In a significant move aimed at improving the livelihoods of fast food workers and their families, California has passed a new law raising the minimum wage for fast food employees to $20 per hour, scheduled to take effect on April 1 next year.
This wage hike, signed into law by Democratic Governor Gavin Newsom, is a clear acknowledgment of the vital role that these often-underappreciated workers play as primary earners in low-income households.
Fast Food Workers: The Backbone of Low-Income Households
When this law becomes effective, California will boast the highest guaranteed base salary for fast food workers in the entire industry. Notably, the state already maintains one of the highest minimum wages for all other workers at $15.50 per hour in the United States.
Governor Newsom's decision to sign this legislation was accompanied by a jubilant gathering of workers and labor leaders in Los Angeles.
In doing so, he dispelled the outdated notion that fast food jobs are solely intended for teenagers seeking their first foray into the workforce.
Newsom stressed the importance of recognizing the contributions and sacrifices made by fast food workers and of creating a more stable industry for them.
This development highlights the significant influence of labor unions in California, the nation's most populous state, which have worked diligently to organize fast food workers and advocate for improved wages and working conditions.
Crucially, this legislation represents a temporary resolution to a contentious dispute between labor and business groups regarding industry regulation.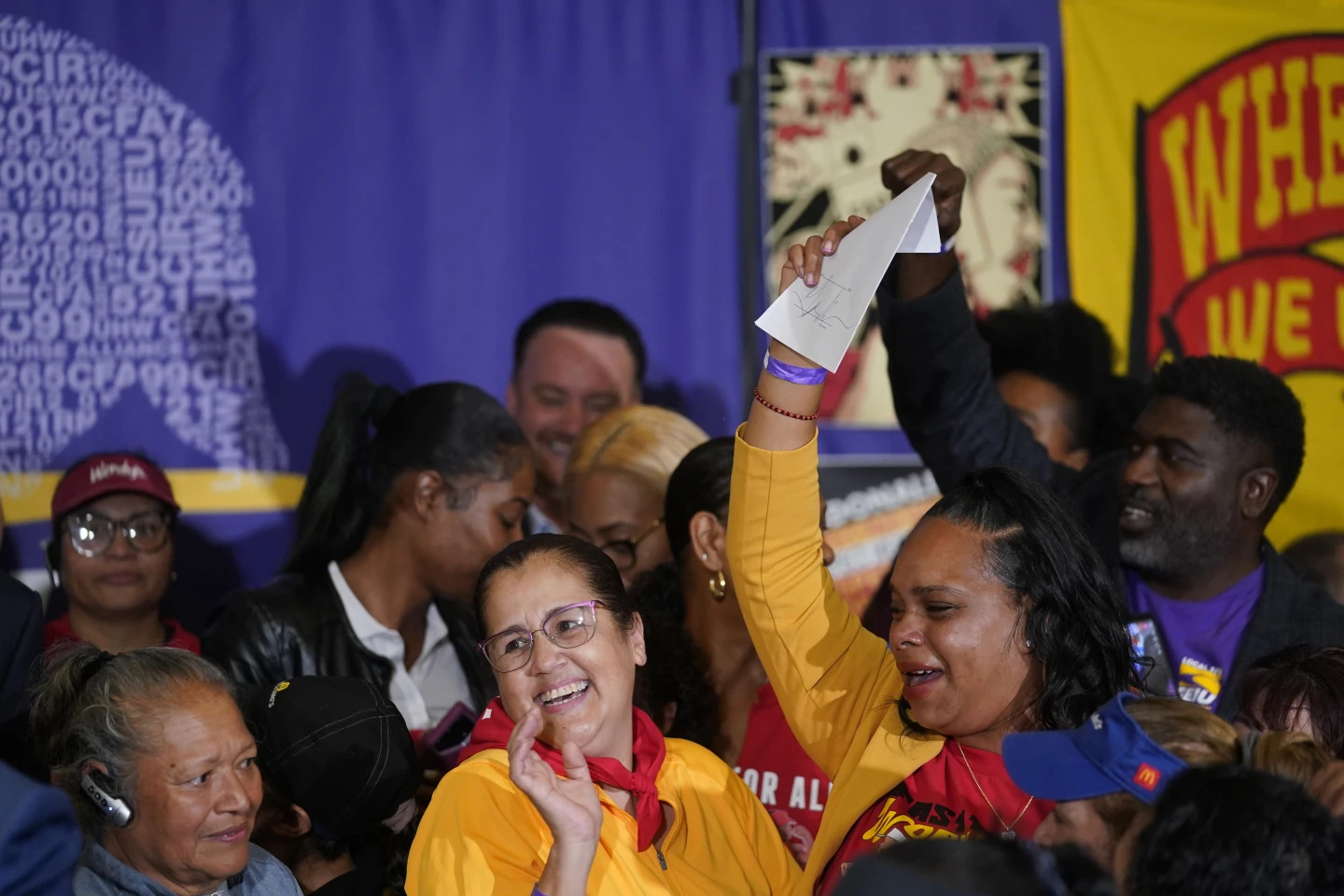 California Labor Unions and Fast Food Industry Reach Compromise on Wages and Liability
In exchange for higher pay, labor unions have agreed not to pursue making fast food corporations liable for the actions of their independent franchise operators in California, a move that could have disrupted the industry's established business model.
Simultaneously, the industry has withdrawn a referendum related to worker wages from the 2024 ballot.
Governor Newsom aptly described these negotiations as moving a "tectonic plate," underscoring the tremendous effort required to reach a consensus during the final weeks of the state legislative session.
Mary Kay Henry, president of the Service Employees International Union International, described this law as the culmination of ten years of labor advocacy, including 450 strikes held across the state in the past two years.
The significance of this moment was deeply felt by Anneisha Williams, a mother of six, who works at a Jack in the Box restaurant in Inglewood.
Williams, holding back tears during a news conference, spoke about her children, who have stood alongside her during strikes and protests. She emphasized that this wage increase is for their future.
Governor Newsom's decision to sign this law may help rebuild his relationship with organized labor, following criticism for vetoing a separate bill designed to protect truck drivers' jobs amid the rise of self-driving technology.
Unions have been a pivotal source of campaign funding for Newsom's political career.
This landmark wage increase will apply to fast-food restaurants with at least 60 locations nationwide, with the exception of establishments that produce and sell their own bread, such as Panera Bread.
Fast Food Workers in California Earn an Average of $16.60 per Hour Currently
Currently, fast food workers in California earn an average of $16.60 per hour, equating to just over $34,000 annually, according to the U.S. Bureau of Labor Statistics.
This falls below the California Poverty Measure for a family of four, which accounts for housing costs and publicly-funded benefits.
However, the $20 minimum wage is just a starting point.
The legislation establishes a Fast Food Council with the authority to annually increase this wage until 2029, either by 3.5% or by the change in averages for the U.S. Consumer Price Index for urban wage earners and clerical workers, whichever is lower.
This change marks an important step towards economic justice for fast food workers in California. However, the focus now shifts to another group of low-wage workers in the state awaiting their own minimum wage increase.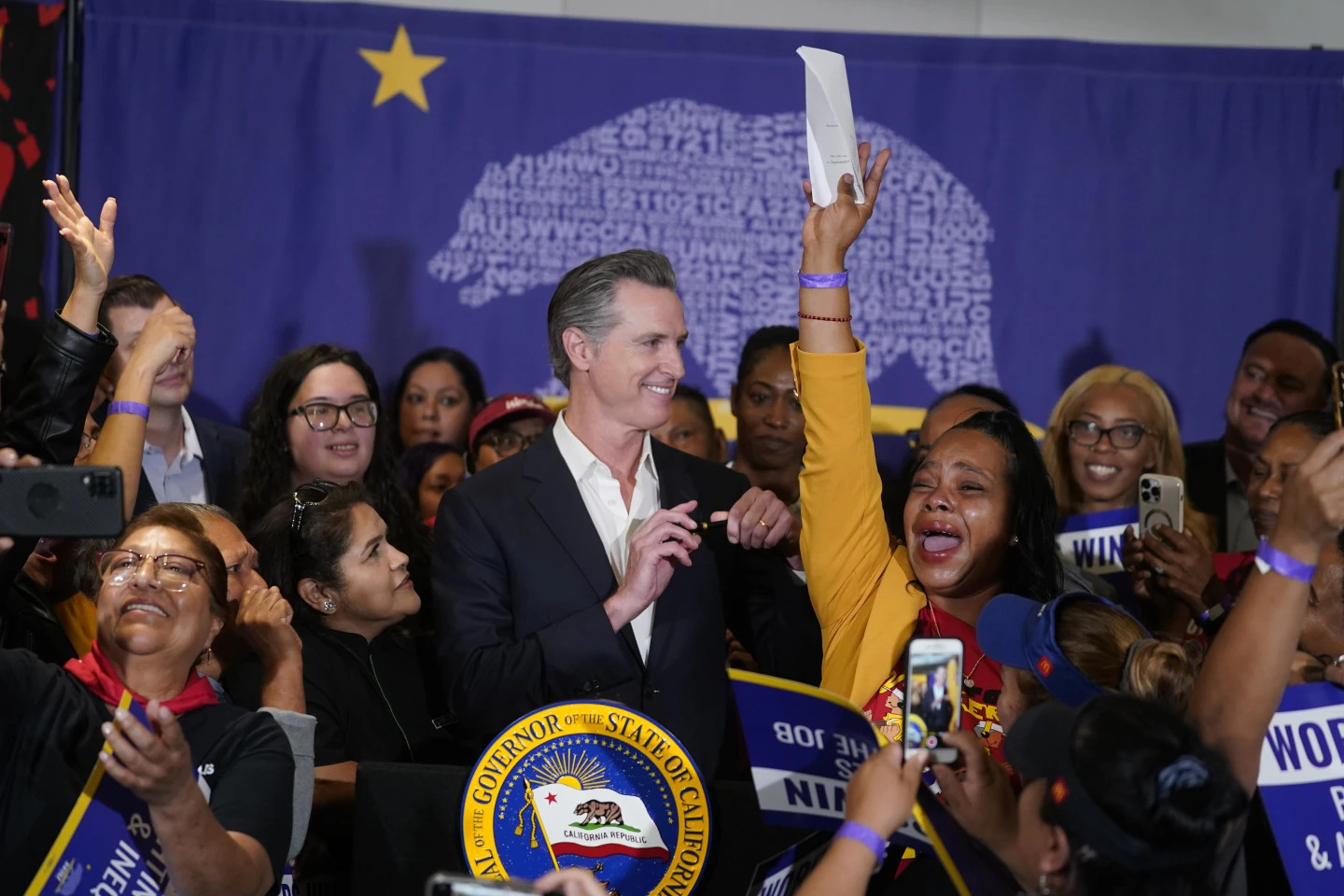 Wage Increase for Non-Physician Healthcare Workers in California
Lawmakers have recently passed a separate bill aimed at gradually raising the minimum wage for healthcare workers to $25 per hour over the next decade.
While this raise wouldn't apply to doctors and nurses, it would benefit the majority of other healthcare workers at hospitals, dialysis clinics, and other healthcare facilities.
Governor Newsom has not yet indicated whether he will sign this healthcare wage increase into law. The issue is complicated by the state's Medicaid program, which constitutes the primary source of revenue for many hospitals.
The Newsom administration has estimated that this wage increase could cost the state billions of dollars in increased payments to healthcare providers.
Supporters of the wage increase argue that the state's expenses would be offset by a reduction in the number of individuals relying on publicly funded assistance programs, as suggested by a study from the University of California-Berkeley Labor Center.
In conclusion, California's decision to raise the minimum wage for fast food workers to $20 per hour is a momentous step towards recognizing the contributions and needs of low-income workers in the state.
It reflects the power of organized labor and underscores the ongoing struggle for economic justice and fairness for all workers, setting a positive example for other states to follow in pursuit of a more equitable society.