Thailand's Central Bank Backtracks on Economic Growth Forecasts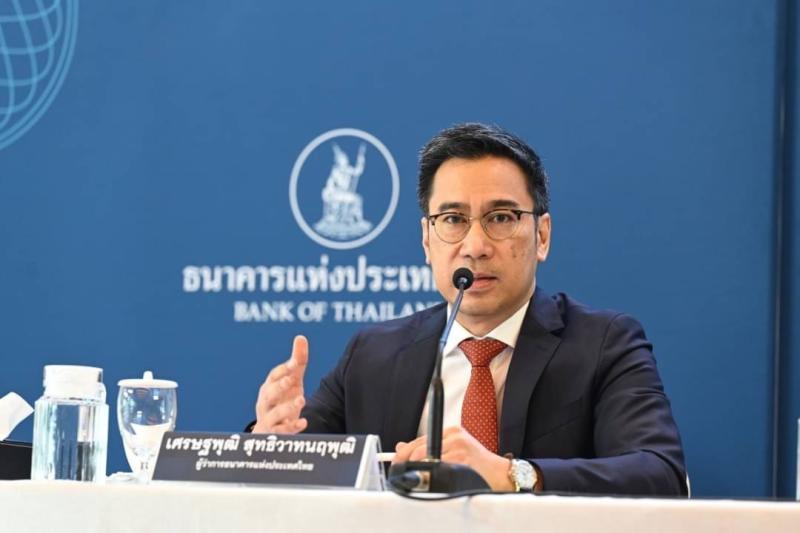 Thailand's economy is recovering, aided by tourism and consumption, yet growth forecasts may need to be lowered lower due to weak exports this year, according to Bank of Thailand (BoT) governor Sethaput Suthiwartnarueput on Wednesday.
"Previously (the forecast) was 3.6%, but due to the slowdown, this number will probably need to be adjusted down to the mid-3% range this year," Mr Sethaput said at a central bank seminar.
In May, the central bank reaffirmed its economic growth predictions of 3.6% this year and 3.8% in 2024. Last year, the GDP grew by 2.6%.
"Exports have been soft due to global issues," he said, adding that private spending and tourism would help the country's recovery continue, and that the country anticipates 29 million foreign visitors this year.
Thailand's exports are likely to fall between 0.5% and 1% this year, unchanged from a previous projection, according to the Thai National Shippers' Council on Tuesday.
Slowing global output has impacted demand for exporters, according to council head Chaichan Chareonsuk at a press conference.
However, shipments of some agricultural products and autos in the remaining five months should improve exports, he said.
Furthermore, India's prohibition on a big chunk of its rice exports should provide a favourable opportunity for Thailand, the world's second-largest rice exporter, to sell rice at better rates, according to vice-chairman Suparp Suwanpimolkul.
The council anticipates 8.5 million tonnes of rice exports this year, up from 7.9 million tonnes last year.
Mr. Sethaput stated that inflation is falling quicker than predicted and that interest rate choices will be based on the economic outlook rather than short-term statistics.

Tourism and Thailand's economy
Meanwhile, tourist operators are hoping that Pheu Thai would form a government because the party has a track record of governing, with the sector anxious for state steps to maintain good tourism policy and remove persisting hurdles.
According to Sisdivachr Cheewarattanaporn, head of the Association of Thai Travel Agents (Atta), a Pheu Thai coalition government might emerge because the party has experience managing the country and a track record of strengthening the economy.
He believes that such a government may spur more economic growth than previous military-backed governments accomplished.
According to Mr. Sisdivachr, such a government would prioritise economic initiatives, including making tourism a main growth engine.
Based on Pheu Thai's previous administration's track record, he said there were programmes that helped with tourism promotion and should be reintroduced, such as marketing the Chinese film Lost in Thailand, which created a buzz for Thai tourism among mainland travellers.
Mr Sisdivachr, on the other hand, believes that the government's objectives should be to address continuing issues such as the lengthy visa application procedure and tourist safety.
According to Adith Chairattananon, honorary secretary-general of Atta, the Bhumjaithai Party might reclaim control of the Tourism and Sports Ministry since Phiphat Ratchakitprakarn, the party's deputy leader, hired many prominent officials in state agencies while he was in charge.
According to Mr. Adith, in this circumstance, the same tourism policy may remain with no big adjustments.
He stated that he supports environmental policies such as low-carbon and sustainable tourism, as well as extending the hours of operation for entertainment establishments in defined zones.
Mr Adith, on the other hand, stated that the planned 300-baht tourism tax should be postponed because foreign tourism demand has yet to fully recover, and the fee collection technique is unknown.
According to Thienprasit Chaiyapatranun, vice-president of the Thai Hotels Association, hotel operators are hoping that the incoming government will set a one-year deadline to help lower the operational cost burden for hotels, while also trying to impose an acceptable electricity tax rate.
He stated that hoteliers urge the government to launch a new phase of the domestic stimulus effort, particularly for secondary tourism destinations that may not recover as quickly as large tourism towns.