Bangkok ASEAN Bombers Sentenced to 50 Years in Prison
A Criminal Court in Thailand has handed down harsh prison sentences to three men found guilty of taking part in the bombs that shook various locations in Bangkok and were suspected to be designed to disgrace the Asean foreign ministers' meeting, which is being hosted in the capital city on August 2, 2019.
Sentences varied from life in prison, commuted to 40 years, to 170 years in jail, with the maximum sentence spent being 50 years.
Lu-ai Sae Ngae, 27, Wildon Maha, 33, and Muhamad Ilham, alias Baeli Sa-i, 31, were named in the complaint brought by public prosecutors.
The three defendants were charged with making homemade bombs and concealing them in fruit cans and boxes between July 13 and August 2, 2019, together with 18 other suspects who remained at large.
They then planted bombs at various government facilities, including the Royal Thai Police office's name sign, on the Rama 1 road footpath, in front of the office of the defence permanent secretary in Pak Kret district, Nonthaburi province, and in front of the Royal Thai Armed Forces Command headquarters in the government office complex on Chaeng Watthana road.
Another device was planted near the Chong Nonsi BTS station, as well as near the entrance to the King Power Mahanakhon Tower.
Except for one, all of the bombs went off at various times on August 2nd. Two people were hurt in one explosion.
The Asean foreign ministers' meeting in Bangkok ended on July 31 without incident. From October 31 to November 4, it was followed by the 35th Asean Summit and accompanying meetings.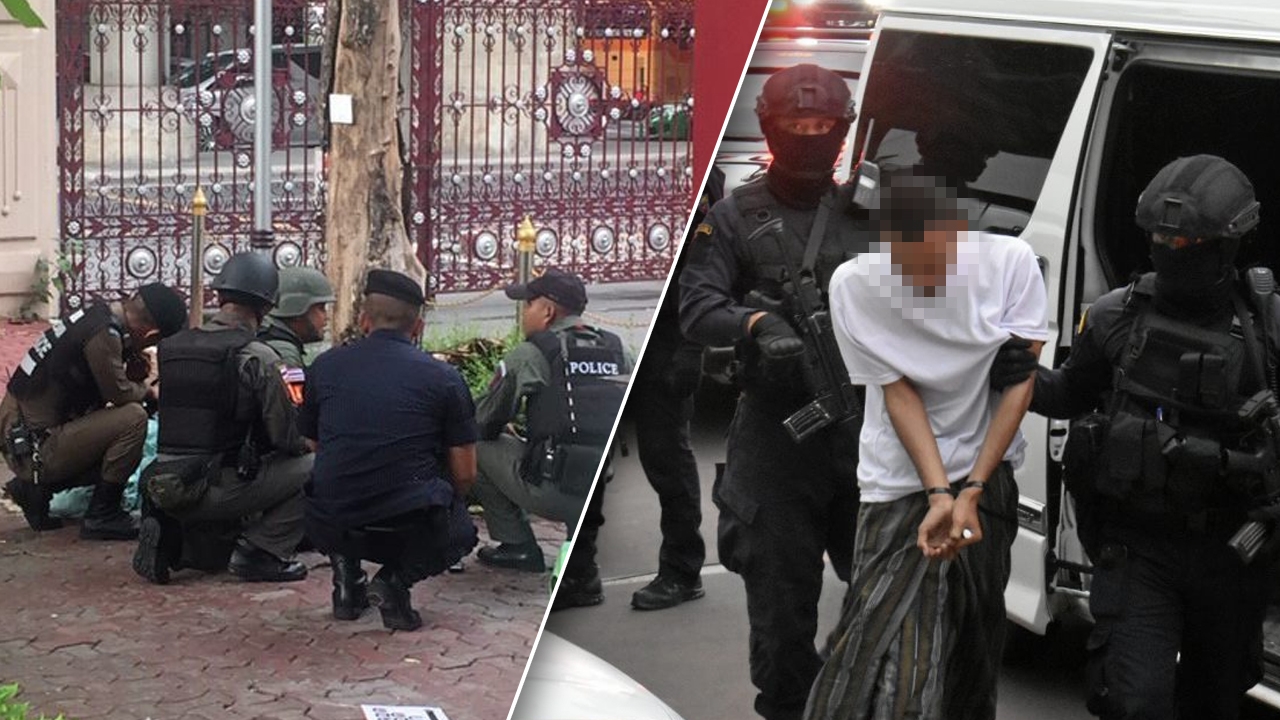 On August 13, 2019, police detained two of the accused, Lu-ai Sae Ngae and Wildon Maha. Muhamad Illham, the other suspect, was detained on September 2. They were charged with terrorism, illegal assembly, attempted murder, bombs that resulted in injuries and property damage, and illegally possessing explosives in violation of numerous articles of the Criminal Code.
They rejected the allegations, were denied bail, and were imprisoned at Bangkok Remand Prison. On Monday, the three defendants were escorted from the prison to hear the court's verdicts.
The court sentenced both Lu-ai Sae Ngae and Wildon Maha to life in prison. Because of their useful statements, the sentence was commuted to 40 years and four months.
Muhamad Ilham, the third defendant, was found guilty on multiple counts and sentenced to 170 years and nine months in prison. The law limits his prison sentence to 50 years.