UK's Top Cop Chastised Over Handling of Palestinian Protests in London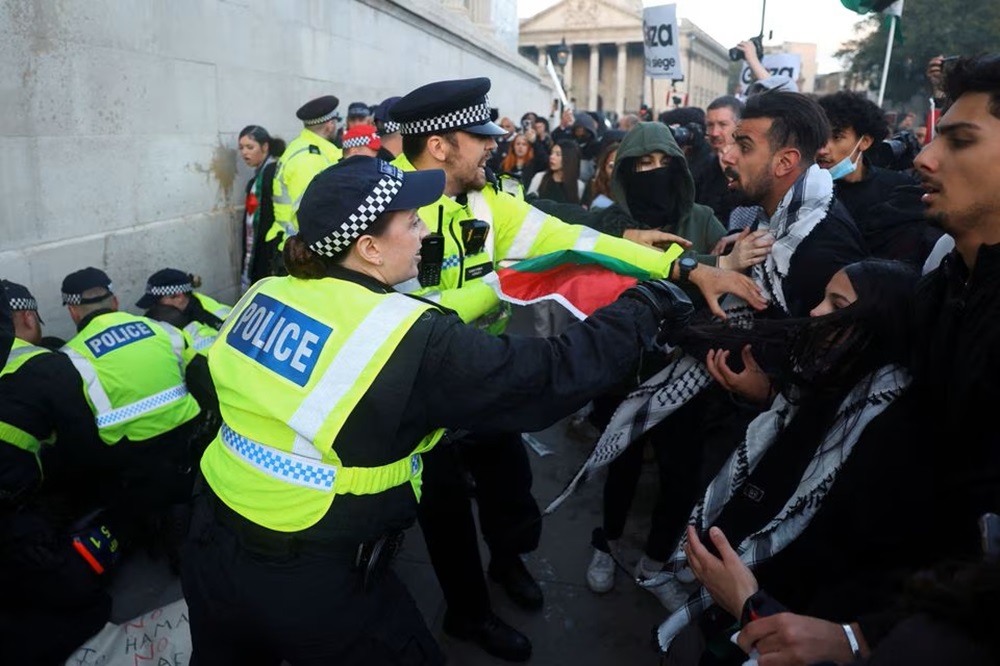 In reaction to criticism of how his police officers handled pro-Palestinian protests in London, Britain's top cop indicated that he would accept a revision of the legal definition of extremism.
Since a deadly rampage by Hamas gunmen in Israel on Oct. 7, and Israel's retaliatory attacks on Gaza since then, there have been massive pro-Palestinian demonstrations in London and other major UK cities, as well as vigils by Jewish groups in solidarity with hostages taken by the militants.
Some British lawmakers have chastised London police for failing to arrest protesters yelling "jihad" at a pro-Palestinian march. The police eventually stated that the remark may have several meanings, determining that no crime had occurred.
The director of London's Metropolitan Police department, Mark Rowley, said his officers would "ruthlessly" arrest anyone who commits a hate crime, but prosecutions would only be pursued if the law was committed.
"There is scope to be much sharper in how we deal with extremism within this country," he said Sky News at the time. "The law was never designed to deal with extremism, there's a lot to do with terrorism and hate crime but we don't have a body of law that deals with extremism and that is creating a gap."
According to one government official, ministers are reconsidering the legal definition of extremism in order to combat hate crimes such as antisemitism. According to the official, this activity began with the Israeli attacks.
According to Reuters, the administration is also considering revisions to terrorist legislation.
Reuters reached out to a spokesman for the Department for Levelling Up, Housing, and Communities, which is in charge of investigating the legal definition of extremism.
Hate crimes on the rise in London
Anti-Semitic and Islamophobic occurrences in London have nearly doubled in just over a week, according to police data released on Friday, following Hamas terrorists' attack on southern Israel about three weeks ago and Israel's ensuing bombardment of Gaza.
Tensions have risen in the UK and elsewhere since Hamas gunmen rampaged through Israeli towns and Israel besieged Gaza in response, with pro-Palestinian demonstrations and vigils held by Jewish groups in solidarity with hostages, some of whom are British, kidnapped by the militants.
Commander Kyle Gordon reported 408 antisemitic events in the British capital so far this month, compared to 28 in the same period last year, and 174 Islamophobic offences, compared to 65 in the same period last year.
In both cases, the figures were nearly double what they had been a week before.
"My colleagues continue to ruthlessly deal with any acts of hate crime that they encounter," Kyle said in a statement. "Since the start of the Israel-Hamas conflict, we have made 75 arrests linked to the conflict."
Last week, over 100,000 demonstrators marched in a march coordinated by the Palestine Solidarity Campaign, and in the aftermath, police were chastised by several MPs for not being stricter on slogans screamed by some participants.
On Monday, London Police Commissioner Mark Rowley met with Home Secretary Suella Braverman, following which he stated that legislation would need to be modified if the government desired firmer action.
Kyle stated that 2,000 cops would be on duty around the capital on Saturday, when another pro-Palestinian march is scheduled.
"Our most experienced and knowledgeable officers are working on the policing of these events, making sure we're utilising all of the legislation available to us to its fullest extent," he told reporters. "We will not tolerate hate crime in this city." We will take strong measures against anyone who commits such acts."
Meanwhile, Commander Dominic Murphy of the London Metropolitan Police's Counter Terrorism Command said his officers had opened slightly under ten investigations into online material given to police by members of the public.
Some officers had also been dispatched to Israel to assist foreign ministry workers and any investigations that may arise as a result of the Hamas strike.
Since the Gaza war began, there has been a rise in recorded threats against Jewish and Muslim communities in several nations, including the United States.