Canada's Prime Minister Justin Trudeau Continues to Enrage India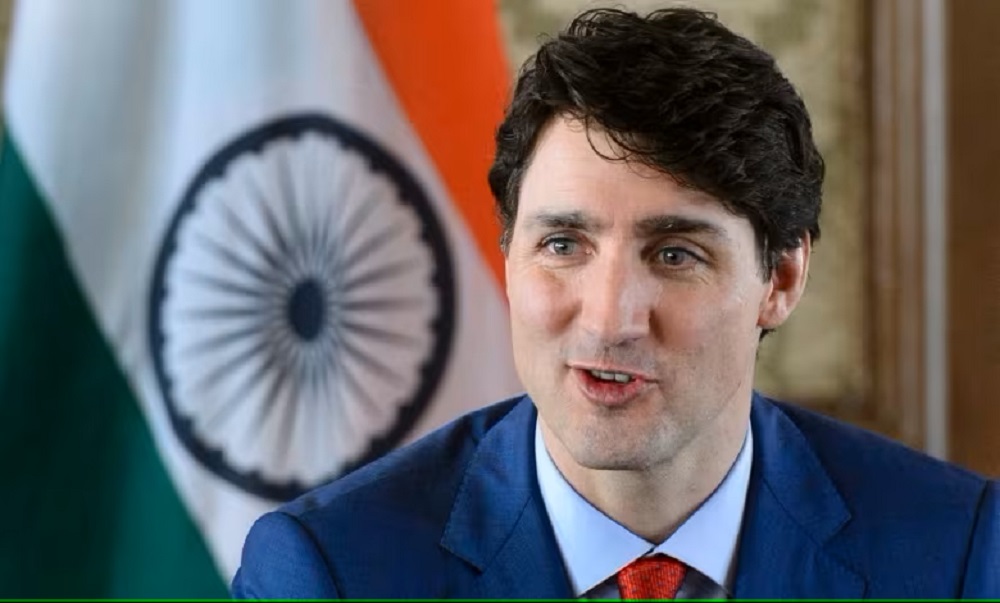 Canadian Prime Minister Justin Trudeau has escalated his criticism of India, claiming that the Indian government's crackdown on Canadian diplomats is complicating life for millions of people in both nations.
Trudeau spoke a day after Canada announced the withdrawal of 41 diplomats in response to an Indian threat to remove their status unilaterally.
Indians are enraged over Justin Trudeau for suggesting "credible allegations of a potential link" between Indian government agents and the June murder of Sikh-Canadian separatist Hardeep Singh Nijjar in a Vancouver neighbourhood.
"The Indian government is making it extremely difficult for millions of people in India and Canada to go about their daily lives." "And they're doing it by violating a fundamental principle of diplomacy," Trudeau said.
"It's something that has me very concerned for the well-being and happiness of millions of Canadians who trace their ancestry to the Indian subcontinent," he said during a televised press conference in Brampton, Ontario.
According to Trudeau, the expulsion of some of Canada's diplomats will impede travel and trade and create issues for Indian students studying in Canada. However, many people believe Trudeau is pandering to Canada's Sikh community for votes.
Around two million Canadians, or 5% of the total population, are of Indian descent. India is by far Canada's greatest source of international students, accounting for over 40% of study permit holders.
The Indian foreign ministry had denied violating the Vienna Convention on Diplomatic Relations.
"The state of our bilateral relations, the much higher number of Canadian diplomats in India, and their continued interference in our internal affairs warrant a parity in mutual diplomatic presence in New Delhi and Ottawa," the Canadian Embassy in Delhi said in a statement. Canada currently maintains 21 diplomats in India.
Trudeau's diplomatic blunder
The US State Department somewhat backed  Trudeau in the diplomatic controversy saying "We have urged the Indian government not to insist upon a reduction in Canada's diplomatic presence and to cooperate in the ongoing Canadian investigation," Matthew Miller, a spokesperson for the ministry, said.
Canada's relationship with India has been severely strained since September 18, when Prime Minister Justin Trudeau declared, "Canadian security agencies have been actively pursuing credible allegations of a potential link between agents of the Government of India and the killing of a Canadian citizen, (Sikh separatist leader) Hardeep Singh Nijjar."
The government of Indian Prime Minister Narendra Modi deemed the allegation "irrational." That could possibly be the case or not. However, the diplomatic repercussions of this unfounded allegation have been significant thus far.
Every nation has expelled its diplomats, and India has ceased granting Canadians visas. At present, the bilateral relations between the two nations are in a shambles, leaving future commerce and tourism in a precarious position.
Just why would Trudeau act in this manner?
Some in the Indian press contend that Trudeau's political survival is in the hands of NDP leader Jagmeet Singh, an outspoken Sikh who has expressed strong disapproval towards the Indian government. India reportedly denied Singh, who was born in Canada, a visa in 2013 on the grounds of remarks he allegedly made regarding the Indian government's management of anti-Sikh unrest in 1984.
Singh penned the following following Trudeau's denunciation of India: "Sikh-Canadians have consistently harboured suspicions that India was infringing upon the democratic liberties of the Canadian people. "The prime minister's announcement yesterday validates these suspicions."
In actuality, however, Trudeau's statement reinforces suspicions rather than confirming them, relying on ambiguous intelligence. The intelligence, which was provided to the Associated Press by a Canadian official, was obtained through the surveillance of Indian diplomats and was obtained from an ally.
Even so, India asserts that Ottawa has been uncooperative. Arindam Bagchi, a spokesman for the Ministry of External Affairs of India, stated on September 21 that Canada had not provided any conclusive details regarding this case at that time, prior to it, or since.
Conducting a worldwide smear campaign against India was a dubious, if not irresponsible, decision on the part of Trudeau. Former Indian high commissioner in Canada Vikas Swarup questioned Ottawa's management of the affair at a recent conference in Banff, Alberta. "The allegations that have been put forth are denied by me." He advocated for the unveiling of the truth in a public setting. "An individual remains innocent until proven guilty."
However, this will never occur. Trudeau enlisted a friend, David Johnston, to investigate allegations that China meddled in Canada's electoral process when opposition parties demanded transparency.
Because investigators would require access to classified documents, which are inaccessible to the public due to their classified nature, he stated that a public investigation is impossible.
By employing the catch-22 reasoning, the classified intelligence regarding purported misconduct by India will remain undisclosed, as it is not permissible to disclose. This implies that the prime minister's allegation regarding India will remain unknown to the public.
The inquiry that Canadians have is whether Singh is the legitimate prime minister of Canada and why Trudeau committed this action. Their partnership has apparently now also harmed the Canadian people diplomatically in addition to economically.