India Forces Canada's PM Trudeau to Withdraw 41 Diplomats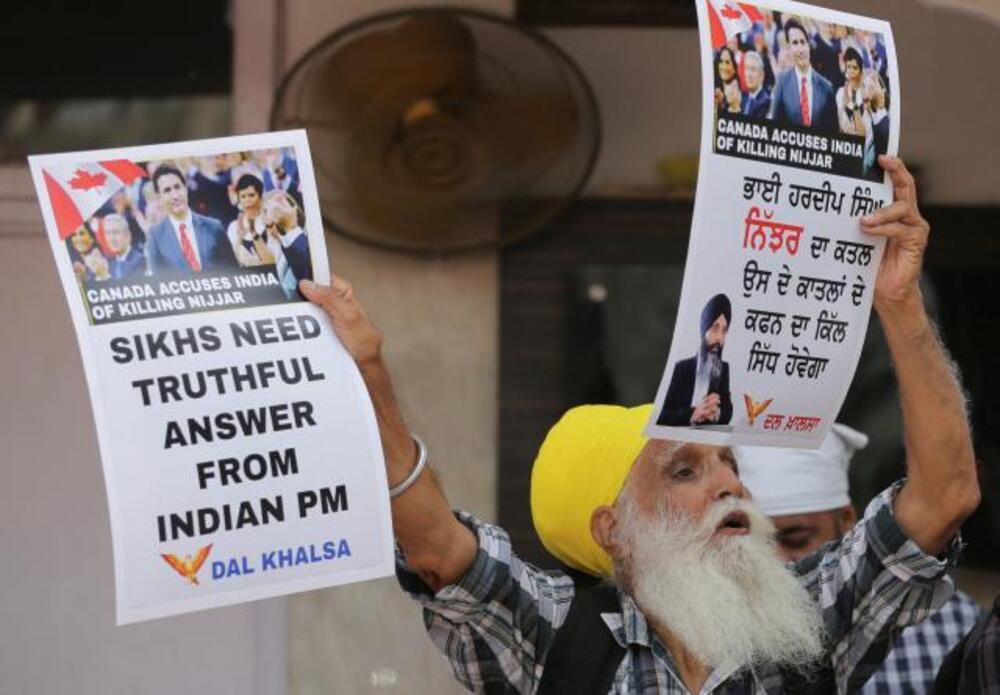 In an escalation of their conflict over the death of a Sikh separatist in Canada, India forced the expulsion of 41 diplomats on Thursday after the Indian government announced it would suspend their diplomatic immunity.
These actions follow Canada's Justin Trudeau's unproven accusations that India was complicit in the June assassination of Canadian citizen Hardeep Singh Nijjar in a Vancouver suburb. India has accused Canada of harboring separatists and "terrorists," but has refuted claims that it had any hand in the murder as "absurd" and taken diplomatic action as a result.
Canada has withdrawn 41 of its 62 diplomats from India, together with their families, Foreign Minister Mélanie Joly said on Thursday. Twenty-one Canadian diplomats will remain in India, according to Joly.
"Forty-one Canadian diplomats and their 42 dependents were at risk of having their immunity stripped on an arbitrary date and this would put their personal safety at risk," Joly said. We have farewelled our diplomats and their families.
Joly stated that Canada would not threaten to remove diplomatic immunity for Indian diplomats because such a move would be unprecedented and illegal under international law.
Removing diplomatic protections and immunity all at once is a violation of the Geneva Convention on Diplomatic Relations and a serious breach of international law. "It's unreasonable and escalatory to make such a threat," Joly remarked.
According to Joly, the decision by India will have repercussions for the quality of life for people in both countries. Apparently, Canada is suspending its in-person services in the cities of Chandigarh, Mumbai, and Bangalore.
Arindam Bagchi, a spokesman for India's Ministry of External Affairs, has earlier demanded fewer Canadian diplomats in his country since their numbers greatly exceeded those of India.
In June, masked gunmen killed Nijjar, a 45-year-old Sikh leader in Surrey, outside Vancouver. Canadian Prime Minister Justin Trudeau claimed last month that there were "credible allegations" of Indian involvement in the killing.
US Back India Over Trudeau
Nijjar, a Canadian citizen of Indian descent, has been the subject of terrorism links allegations from India.
Canada has not taken action in response to India's cancellation of Canadian visas. After Canada expelled a high-ranking Indian diplomat, India responded by expelling a high-ranking Canadian diplomat.
It looked like Trudeau was attempting to defuse the diplomatic standoff when he told reporters that Canada was "not looking to provoke or escalate."
A separate Canadian official earlier told The Associated Press that surveillance of Indian diplomats in Canada, as well as intelligence provided by a major ally, formed the basis for the claim of India's involvement in the killing.
Canada is a part of the "Five Eyes" intelligence-sharing agreement together with the United States, the United Kingdom, Australia, and New Zealand; the official stated that Canadian officials and Indian diplomats were involved in the communications. The official was unwilling to speak publicly about the issue and hence talked on the condition of anonymity.
India's most recent expulsions are only adding fuel to the fire of resentment between the two countries. After tense exchanges with Indian Prime Minister Narendra Modi at the last Group of 20 conference in New Delhi, Canada called off a scheduled autumn trade mission to India.
In light of the escalating tensions, U.S. Secretary of State Antony Blinken met with his Indian counterpart. According to a U.S. official, this issue was discussed. U.S. authorities have been careful not to lay blame in the assassination of Nijjar, despite acknowledging that the charges could have an impact on relations with India.
Nijjar, a plumber by trade, was also a leader in the waning effort to establish an independent Sikh country, Khalistan. During the 1970s and 1980s, a brutal Sikh insurgency rocked north India, resulting in the deaths of thousands of people and the capture or execution of many major Sikh leaders.
While the political influence of the Khalistan movement has diminished, it still maintains many adherents in the Indian state of Punjab and the sizeable foreign Sikh diaspora. Sikh separatists haven't actively infiltrated Indian territory in years, although the government has warned of a return attempt on numerous occasions.
Canada Cuts India Student Visas
Marc Miller, minister of immigration of Canada, said that in 2022, Indians made up the largest group of immigrants to Canada across all categories (permanent residents, temporary foreign workers, and international students).
Miller claimed that because of India's attempt to revoke immunity, the Canadian immigration service would be drastically cutting back on the number of people working in the country's India office. Miller claims that less personnel will make it harder to issue visas and permits.
According to senior Canadian officials, India is unmovable on the issue of the number and rank of Canadian diplomats for whom it will waive diplomatic immunity. In addition, Indian officials stated that the country will revoke a number of permissions, including those allowing spouses to work in India and the use of diplomatic number plates.
Canadian retaliation to India's most recent action would serve no purpose, according to University of Toronto political professor Nelson Wiseman.
Wiseman claimed that the expulsion of Canadian diplomats shows "the thin skin of the Indians" and implies that the Indians are aware of their role in the murder of a Canadian in Canada. As the author puts it, "they are trying to deflect attention from their lack of cooperation with Canada in the investigation of the murder."