Your Perfect Guide to Planning a Dubai Desert Safari Trip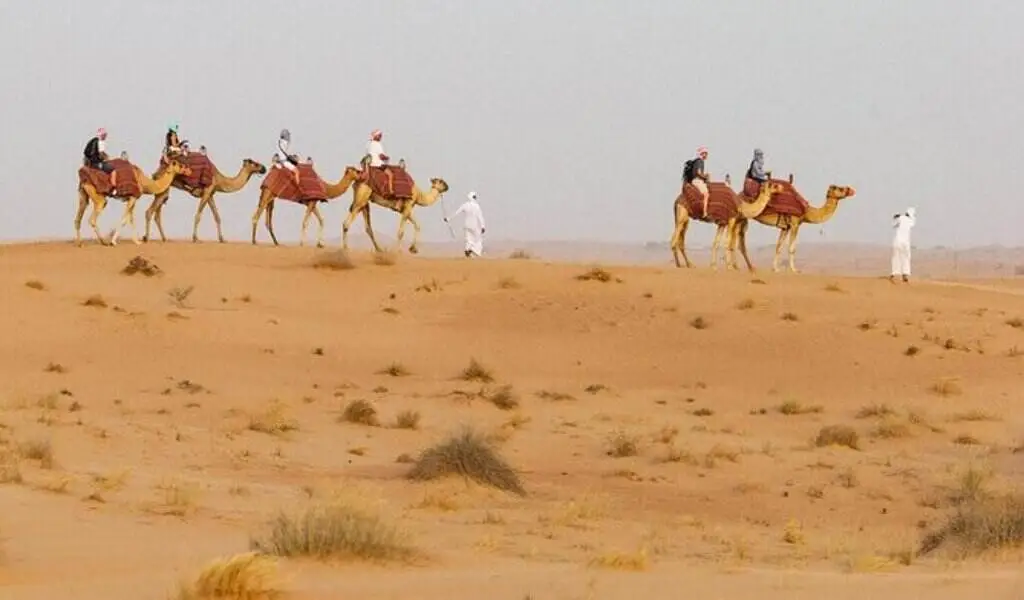 Dubai is famous for its beautiful desert views and exciting activities, which makes it an ideal place for an incredible desert safari trip. Whether you're a nature enthusiast, an adrenaline junkie, or simply seeking a unique cultural experience, this guide will provide you with all the essential information you need to plan your dream trip.
From choosing the right time to visit and selecting the best safari packages to packing tips and must-try activities, we've got you covered.
Discover the best seasons for a desert safari in Dubai
The weather in the desert can vary greatly throughout the year. The ideal time for Dubai desert safari with Dune Bashing is during the cooler months, from November to March, when temperatures are more pleasant.
At this time, the weather is pleasant, making it perfect for outdoor fun and witnessing breathtaking sunsets in the desert. However, if you prefer a more adventurous experience with a touch of heat, you can visit during the summer months, but be prepared for scorching temperatures.
Selecting the Perfect Safari Package
Dubai offers a variety of safari packages to cater to different preferences and budgets. When selecting the perfect safari package, consider the duration of the trip, the activities included, and the level of comfort you desire. You can choose between short or full-day desert safaris or even spend the night in traditional Bedouin camps.
These packages include thrilling activities like driving over sand dunes, riding camels, trying sandboarding, and enjoying traditional performances such as belly dancing and falcon shows. It's important to read reviews and compare prices from reputable tour operators to ensure you choose a reliable and high-quality safari experience that suits your interests.
Learn what to pack for a comfortable and enjoyable desert adventure
Some essential items to pack include lightweight and breathable clothing to combat the heat, a hat to protect your head from the sun, sunglasses to shield your eyes, and sunscreen to prevent sunburn.
Don't forget to bring a refillable water bottle to stay hydrated throughout the day. It's important to wear comfortable shoes because you might walk on sand or engage in activities like riding camels. Also, don't forget to bring a camera to capture the beautiful desert views and create lasting memories of your trip.
Explore the transportation options available
To reach Dubai's desert safari destinations, you have several transportation options. Lots of companies make it easy by picking you up and dropping you off at your hotel or a meeting spot.
Another choice many people like is renting a car and driving to the desert on your own. However, it's important to familiarize yourself with the driving rules and regulations in Dubai and ensure you have the necessary permits, if required.
Learn essential safety tips to keep yourself safe
Safety is of utmost importance during a desert safari trip. Before starting your trip, it's important to follow specific rules to make sure you stay safe and have a stress-free time. Listen to the instructions provided by your tour guide or driver, especially when participating in activities like dune bashing.
Make sure to fasten your seatbelt and grip tightly during the exciting ride. Remember to drink plenty of water to keep yourself hydrated and try not to spend too much time in the sun without shade. Follow proper etiquette when interacting with wildlife and respect the fragile desert ecosystem.
Uncover the exciting activities
A trip to the desert safari provides an array of exciting activities for people who love adventure. Some of the exciting activities you can enjoy during your desert safari include:
Dune Bashing: Hop into a 4×4 vehicle and embark on an exhilarating ride over the sandy dunes. Hold on tight as the skilled drivers navigate the undulating terrain, providing you with an adrenaline-pumping experience.
Camel Riding: Try riding on a calm and magnificent camel, the traditional way of traveling in the desert. Feel the gentle swaying motion and enjoy the incredible views of the desert scenery from a special perspective.
Sandboarding: Channel your inner adventurer and try sandboarding, a thrilling activity similar to snowboarding but on sand dunes. Experience the thrill of sliding down sandy slopes on a special board, feeling an exciting rush as you glide smoothly over the soft sand.
Quad Biking: For those seeking an extra dose of excitement, quad biking is a popular choice. Hop on a four-wheeled all-terrain vehicle and maneuver through the desert trails, experiencing the thrill of speed and adventure.
Sunset Watching: Witness the magical transformation of the desert as the sun sets below the horizon. Find a comfortable spot and marvel at the vibrant hues painting the sky, casting an enchanting glow over the golden sands.
Cultural Experiences
You can enjoy traditional entertainment such as mesmerizing belly dancing performances, captivating fire shows, and enchanting tanoura dances.
Indulge in delicious Arabic cuisine, with a buffet of mouthwatering dishes ranging from grilled meats to flavorful mezze spreads. You can also adorn yourself with henna tattoos, a beautiful art form that adds an artistic touch to your hands or feet.